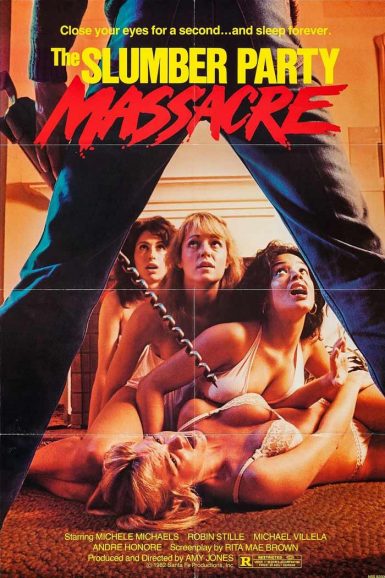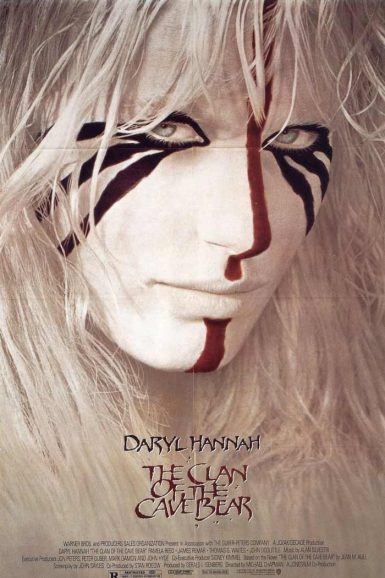 The Slumber Party Massacre
The Clan of the Cave Bear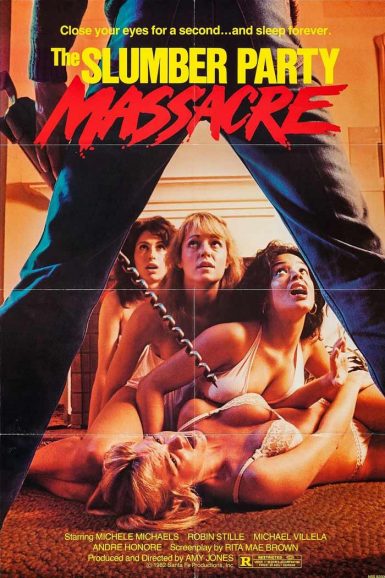 The Slumber Party Massacre
While our allotment of advance tickets has sold out online, some additional tickets will be available to purchase at the door on a first come, first served basis on the night of the show. Box office & doors open roughly one hour before the first film. For shows that have sold out online, in-person ticket purchases are limited to 2 tickets per person.
Penned by feminist icon and Rubyfruit Jungle author Rita Mae Brown as a full-fledged parody, director Amy Holden Jones wisely balances the line, playing it straight so the film works both as a white knuckle thrill-ride and a pointed commentary on the male-driven stalk-and-slash cycle. And The Slumber Party Massacre is one of the most-beloved of the era, the ultimate driller killer slashterpiece, a streamlined tour de force pulsing with energy that barrels forward while piling up bodies, pizza, snappy dialogue and phallic imagery as a wide-eyed, power-tool-wielding maniac crashes the high school basketball team's pajama jam. One thing's for sure, no one's getting any sleep tonight!
Director

Amy Holden Jones
Starring

Michelle Michael, Robin Stille, Michael Villella, Andrew Honore, Debra De Liso, David Millbern
Year

1982
Rated

R
Country

USA
Format

35mm
Running Time

76 minutes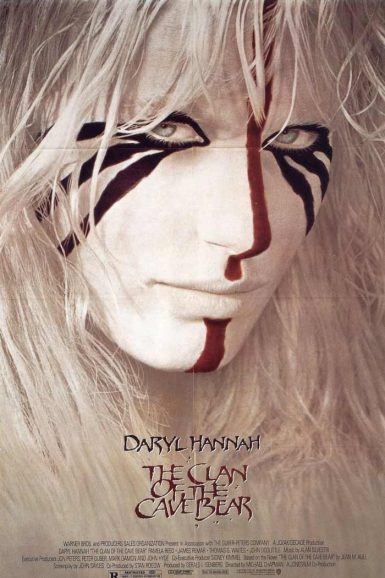 The Clan of the Cave Bear
Daryl Hannah, Pamela Reed and James Remar star in director (and acclaimed Taxi Driver cinematographer) Michael Chapman's adaptation of Jean M. Auel's novel about the possible prehistoric interactions between the now-extinct Neanderthals and mankind's ancestors the Cro-Magnon. Featuring cinematography by future Speed director Jan de Bont and a script by John Sayles that has a minimal amount of narration along with dialogue utilizing sign language that's translated with subtitles.
Director

Michael Chapman
Starring

Daryl Hannah, Pamela Reed, James Remar, Thomas G. Waites, John Doolittle, Curtis Armstrong
Year

1986
Rated

R
Country

USA
Format

35mm
Running Time

98 minutes
Upcoming Showtimes
7:30 pm
The Slumber Party Massacre
9:15 pm
The Clan of the Cave Bear