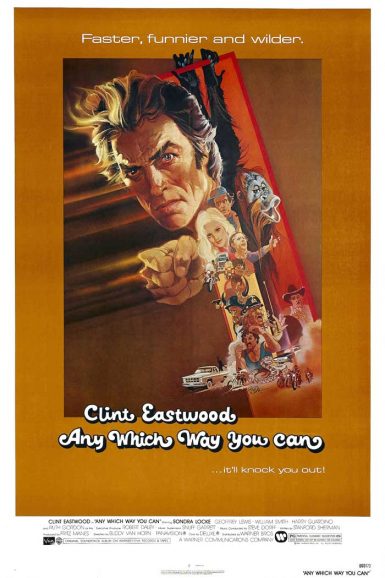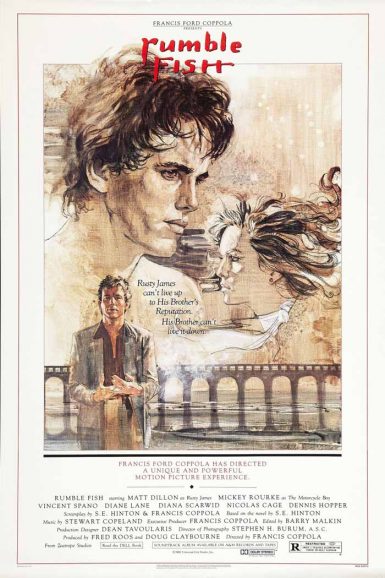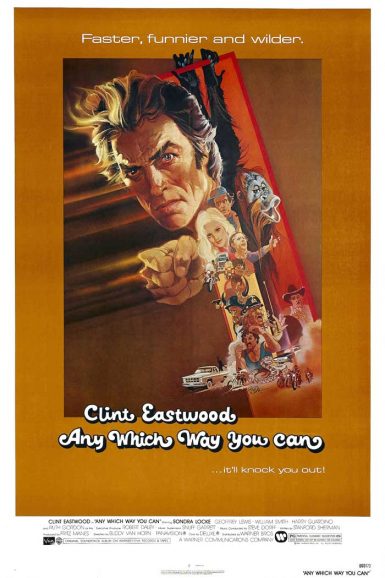 Any Which Way You Can
Bare-knuckled brawler Philo Beddoe (Clint Eastwood), his cousin Orville (Geoffrey Lewis), and their orangutan pal Clyde return for a new bout of madcap mayhem in the wilder, faster, funnier sequel to Every Which Way But Loose – a knockout, pull-no-punches action comedy that's 110% over-the-top entertaining. But when Philo decides to retire and back out of a big bout with champion Jack Wilson (William Smith), the mob kidnaps his old flame (Sondra Locke) and it will take the full muscle of both fighters teaming together to get her back.
"Where else, in the space of 115 minutes, can you find a country & western road picture with two fights, a bald motorcycle gang, the Mafia, a love story, a pickup truck, a tow truck, Fats Domino, a foul-mouthed octogenarian, an oversexed orangutan and a contest for the bare knuckle championship of the world?" – Roger Ebert
Director

Buddy Van Horn
Writer

Stanford Sherman
Starring

Clint Eastwood, Sondra Locke, Geoffrey Lewis, William Smith, Harry Guardino, Ruth Gordon, C.J. the Orangutan
Year

1980
Rated

PG
Country

USA
Format

35mm
Running Time

116 minutes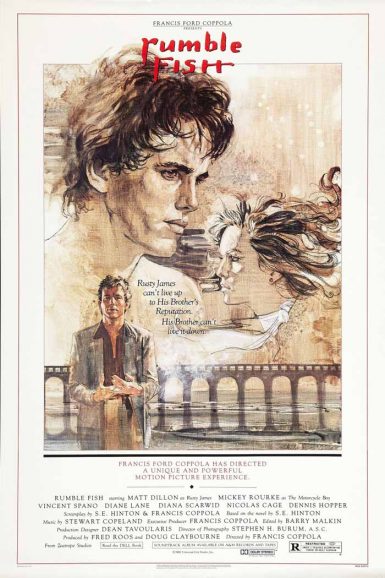 Rumble Fish
Francis Ford Coppola's stylish update of the S.E. Hinton novel is a visual knockout, a dreamlike coming-of-age tale that the director calls an "art film for teenagers." Gorgeously shot by Stephen H. Burum on high-contrast black-and-white film, Rumble Fish follows a restless street tough, Rusty James (Matt Dillon, excellent in his third Hinton adaptation in three years), hanging with friends (Nicolas Cage, Vincent Spano), fooling around with his girl (Diane Lane), getting in fights, and being trapped in Tulsa with his alcoholic father (Dennis Hopper). But when his brother, the mythical Motorcyle Boy (Mickey Rourke), returns to town, it could change fates for everyone. With the legendary William Smith in a key supporting role as the lawman who's long had it in for Motorcyle Boy.
Director

Francis Ford Coppola
Writer

Francis Ford Coppola based on the novel by S.E. Hinton
Starring

Matt Dillon, Mickey Rourke, Diane Lane, Dennis Hopper, Diana Scarwid, Vincent Spano, Nicolas Cage, Chris Penn, Laurence Fishburne, William Smith
Year

1983
Rated

R
Country

USA
Format

35mm
Running Time

94 minutes
Upcoming Showtimes
7:30 pm
Any Which Way You Can