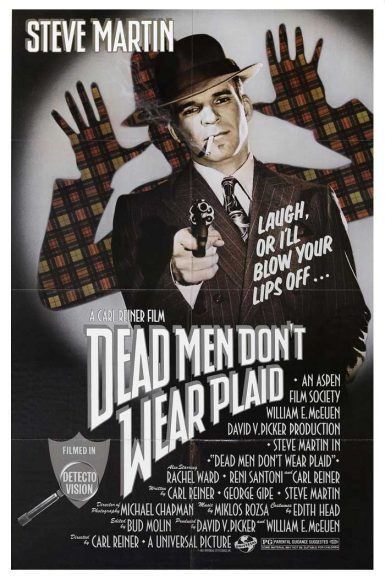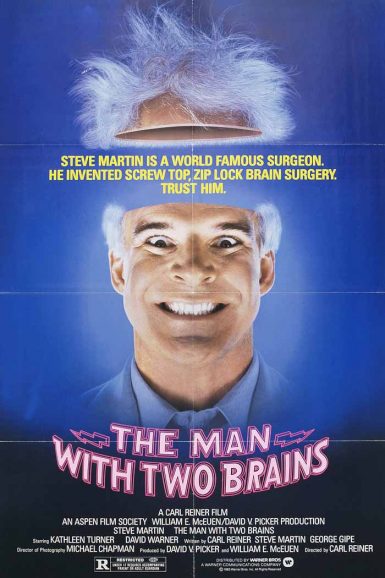 Dead Men Don't Wear Plaid
The Man with Two Brains
Buy Tickets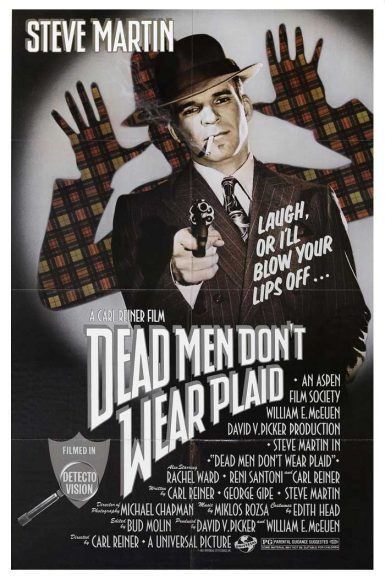 Dead Men Don't Wear Plaid
Carl Reiner's Dead Men Don't Wear Plaid is a high concept, expertly edited mix of vintage film noir footage seemlessly combined with Steve Martin as a rough & ready private dick. Hot on a new case, Martin gets help from his friends Alan Ladd, Barbara Stanwyck, Veronica Lake, Burt Lancaster, Humphrey Bogart & many others, interweaving material from more than 15 classic hard-boiled classics to spin a hysterical new tale!
"[Dead Men Don't Wear Plaid is] such an engaging joke that anyone who loves old movies will find it irresistible. And anyone who loves Steve Martin will be fascinated by his sly performance, which is pitched exactly between the low comedy of The Jerk and the highbrow Brechtianisms of Pennies from Heaven." – David Ansen, Newsweek
Director

Carl Reiner
Starring

Steve Martin, Rachel Ward, Carl Reiner and archive footage of Alan Ladd, Barbara Stanwyck, Veronica Lake, Burt Lancaster
Year

1982
Country

USA
Format

35mm
Running Time

88 minutes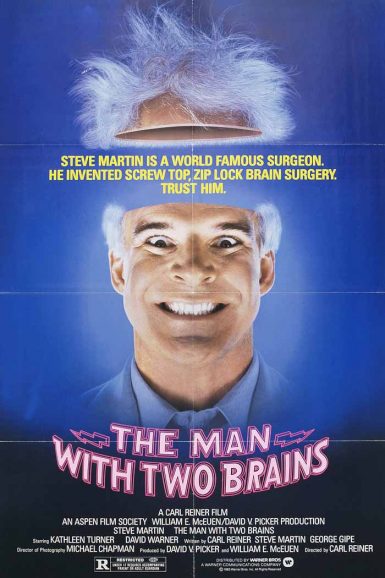 The Man with Two Brains
Director Carl Reiner and Steve Martin teamed up for this funny science-fiction spoof with Martin as a pioneering brain surgeon victimized by his gold-digging new wife (Kathleen Turner). When the two combine Martin's medical convention trip with their honeymoon, they learn the city of Vienna is being terrorized by the Elevator Killer. Just by chance, Martin runs into a mad scientist (David Warner) who has found a way to keep brains alive in jars. He's been recycling the grey matter from the Elevator Killer's victims, and when Martin visits his lab, he falls in love with a female brain (voiced by an uncredited Sissy Spacek). Coincidentally, Martin's vicious new wife, Turner, is the Elevator Killer's next victim. Can you tell where we're going with all this?
"This is the most assured and hilarious of the three Martin-Carl Reiner collaborations." – Richard Schickel, Time
"Hilarious. Underrated Martin." – Jeffrey M. Anderson, San Francisco Examiner
"Martin wasn't a particularly dirty comic on his various albums, but The Man With Two Brains is brazenly R-rated, hilariously filthy, and the film feels like it could have only happened with [Steve Martin and Carl Reiner] working together." – Drew McWeeny, HitFix
Tim Lucas discusses The Man With Two Brains on the New Beverly blog.
Director

Carl Reiner
Starring

Steve Martin, Kathleen Turner, David Warner, Paul Benedict, Richard Brestoff, James Cromwell
Year

1983
Rated

R
Country

USA
Format

35mm
Running Time

90 minutes
Upcoming Showtimes
7:00 pm
Dead Men Don't Wear Plaid
9:00 pm
The Man with Two Brains