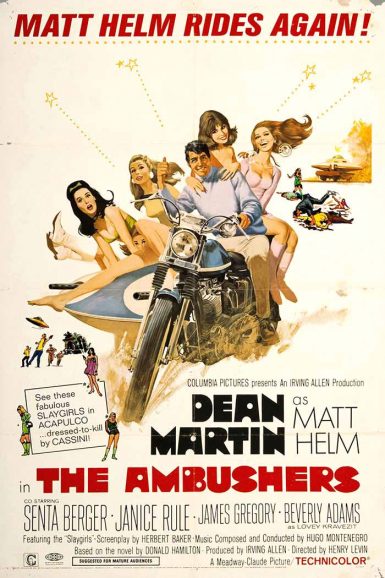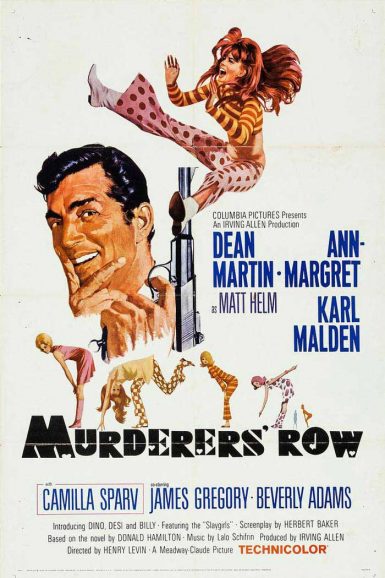 The Ambushers
Vibrant IB Technicolor 35mm print!
Murderers' Row
Buy Tickets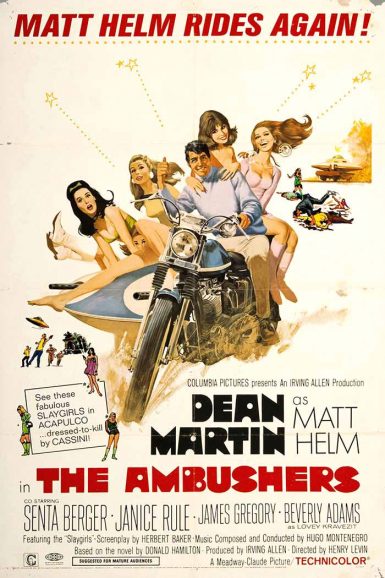 The Ambushers
Come and join us as Dean Martin continues his goofily good-natured romp through mod sixties territory as boozy, chick magnet superspy Matt Helm. We're screening an I.B. Technicolor print of this third installment of the Helm series, following Dino as he investigates how a secret government flying saucer was hijacked by a revolutionary leader (Albert Salmi) in the Mexican jungle. He takes along a former saucer pilot and fellow ICE agent, Janice Rule (The Swimmer, 3 Women), whose memory of the hijacking is blank. Along the way, Helm runs afoul of beautiful villainess Senta Berger (Major Dundee) who works for the evil organization, The Big O. James Gregory, Kurt Kasznar and Beverly Adams round out the cast.
"He gets boozed and stays boozed, and there are more would-be jokes about drinking in this movie than you could distill from an entire weekend of W. C. Fields. There is even a fight sequence inside a giant vat of beer, and kindly old Matt Helm dispatches one of his enemies by pushing him into a beer intake valve." – Roger Ebert
Director

Henry Levin
Starring

Dean Martin, Senta Berger, Janice Rule, James Gregory, Albert Salmi, Kurt Kasznar
Year

1967
Country

USA
Format

IB Technicolor 35mm
Running Time

102 minutes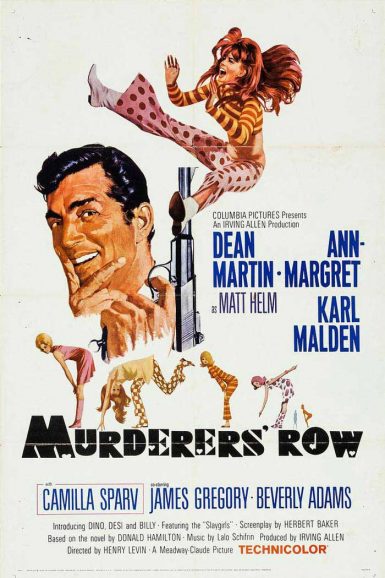 Murderers' Row
Dean Martin has his work cut out for him in his second outing as Matt Helm, with co-star Ann-Margret virtually stealing the film as the wild, mod, frug-crazy daughter of a scientist kidnapped by villain Julian Wall (Karl Malden). A top man in evil group, The Big O, Wall wants the abducted researcher to implement his heliobeam invention – which harnesses energy from the sun – for wicked purposes as the ultimate weapon. Before Helm gets involved, The Big O goes on a global killing spree of secret agent good guys, and Helm fakes his own demise, all the better to go deep undercover. Helm's boss, Mac (James Gregory) sends him to the French Riviera as the best place to start his search for the missing scientist. In the process, Helm not only runs into Ann-Margret, but a gorgeous villainess (Camilla Sparv) and his real life son, Dean Paul Martin, performing a Boyce & Hart song with his pop group Dino, Desi & Billy in a Mediterranean discotheque.
"Nobody can go-go dance their little heart out quite like Ann-Margret, in knockout costumes by Moss Mabry… Margret goes all out, coming across like a Hanna-Barbera heroine and even proves quite adept as an action girl in the exciting hovercraft chase climax. Director Henry Levin… maintains a zesty, comic book pace" – Andrew Pragasam, The Spinning Image
Director

Henry Levin
Starring

Dean Martin, Ann-Margret, Karl Malden, Camilla Sparv, James Gregory, Beverly Adams
Year

1966
Rated

Approved
Country

USA
Format

35mm
Running Time

105 minutes