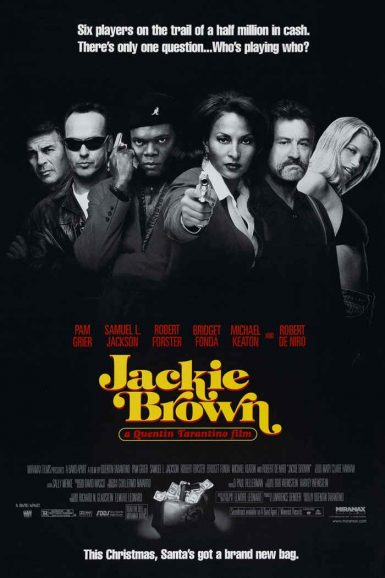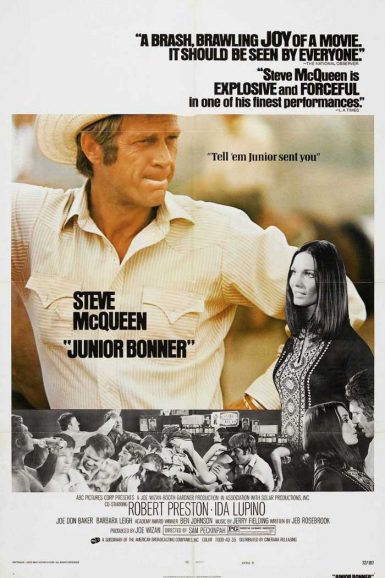 Jackie Brown (20th Anniversary)
Gorgeous 35mm print from Quentin Tarantino's personal archive!
Junior Bonner
Buy Tickets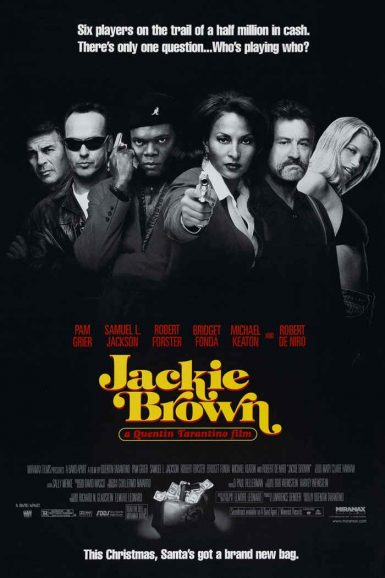 Jackie Brown (20th Anniversary)
20th Anniversary Celebration!
A stewardess, a gun runner, a bail bondsman, a federal agent, an ex-con and a stoned-out beach bunny are all on the trail of half-million dollars in Quentin Tarantino's Jackie Brown, a mesmerizing, all-star adaptation of Elmore Leonard's novel Rum Punch. But who's getting played and who's gonna make the big score?
"This is the movie that proves Tarantino is the real thing, and not just a two-film wonder boy. It's not a retread of Reservoir Dogs or Pulp Fiction, but a new film in a new style, and it evokes the particular magic of Elmore Leonard – who elevates the crime novel to a form of sociological comedy. 4 Stars." – Roger Ebert
Kim Morgan discusses Jackie Brown on the New Beverly blog.
Read an Entertainment Weekly cover story on Jackie Brown in Tarantino's Vault.
View the full set of Spanish lobby cards for Jackie Brown in Tarantino's Vault.
Director

Quentin Tarantino
Starring

Pam Grier, Robert Forster, Samuel L. Jackson, Bridget Fonda, Michael Keaton, Robert De Niro, Michael Bowen, Chris Tucker
Year

1997
Rated

R
Country

USA
Format

35mm
Running Time

154 minutes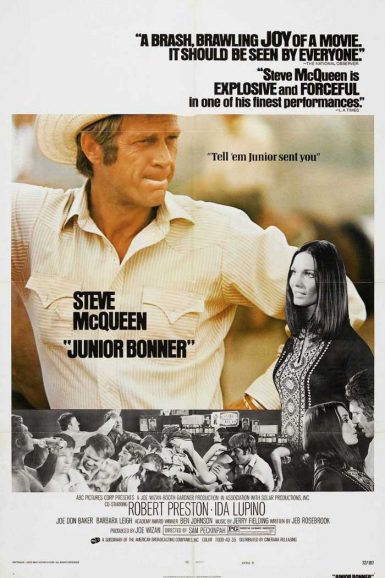 Junior Bonner
Hot off the ultra-violent Straw Dogs, Sam Peckinpah decided to tell a more character-driven, low-key story with Junior Bonner, about an over-the-hill rodeo cowboy J.R. Bonner (Steve McQueen) who reconnects with his estranged family on the eve of big competition in his hometown. His father (Robert Preston) just lost all his funds on a bad silver prospect. His brother (Joe Don Baker) is trying to sell off half the town as a mobile-home subdivision. And his long-suffering mother (Ida Lupino) has to pick up the pieces once again. The Bonners' prideful charm poignantly connects to the Peckinpah's explorations of masculinity and the changing American way of life. It's rugged and rowdy as his violent films, but with none of the bloodshed. He's taking it easy, but he still takes it.
"Junior Bonner may be the least Peckinpah-like in content, but it's very much like his other work in spirit." – Keith Phipps, AV Club
"Junior Bonner, which looks like a rodeo film and sounds like a rodeo film, is a superior family comedy in disguise." – Vincent Canby, The New York Times
Ariel Schudson discusses Junior Bonner on the New Beverly blog.
Director

Sam Peckinpah
Starring

Steve McQueen, Robert Preston, Ida Lupino, Ben Johnson, Joe Don Baker, Barbara Leigh
Year

1972
Rated

PG
Country

USA
Format

35mm
Running Time

100 minutes