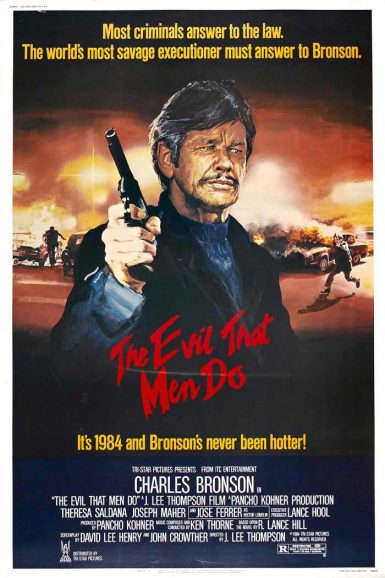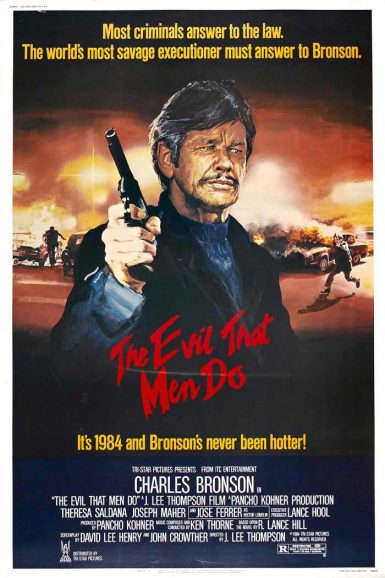 The Evil That Men Do
In the execution of justice, there is no executioner like CHARLES BRONSON. In one of Chuck's most notoriously seedy '80s actioners, he plays a former CIA assassin pulled out of retirement to avenge the death of his friend at the hands of a sadistic doctor in a Latin American torture facility. But as he picks off bad guys one by one, he discovers a brutal trail of political corruption that could lead to the very top.
"A catalogue of pain and death, from the mutilated victims of the torturer to the trail of wasted baddies who were foolish enough to incur Bronson's wrath." – Time Out
"Whatever else Charles Bronson can do, audiences show up simply to watch him kill. Crowd favorites, in addition to the electrode sequence, were a barroom scene in which Mr. Bronson inflicts an unspeakable form of pain on an enemy, and another scene in which he shoots off someone's head. 'He was wearing a bulletproof vest,' Mr. Bronson says matter-of-factly, to explain why this particular victim required extra buckshot." – Janet Maslin, The New York Times
Chris D explores director J. Lee Thompson's extensive career on the New Beverly blog.
Director

J. Lee Thompson
Starring

Charles Bronson, Theresa Saldana, Joseph Maher José Ferrer, René Enríquez, John Glover, Raymond St. Jacques
Year

1984
Rated

R
Country

Mexico/USA/UK
Format

35mm print courtesy of the Academy Film Archive
Running Time

90 minutes