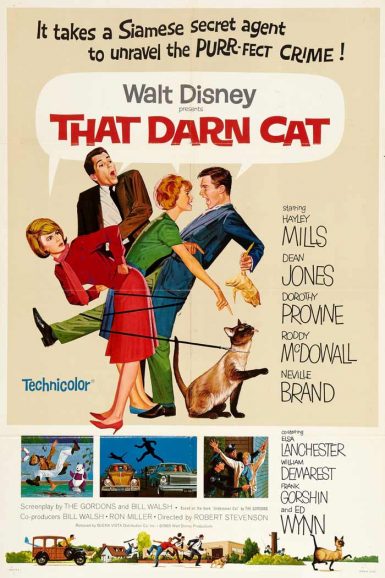 That Darn Cat! (IB Tech Print)
Vibrant I.B. Technicolor print!
Buy Tickets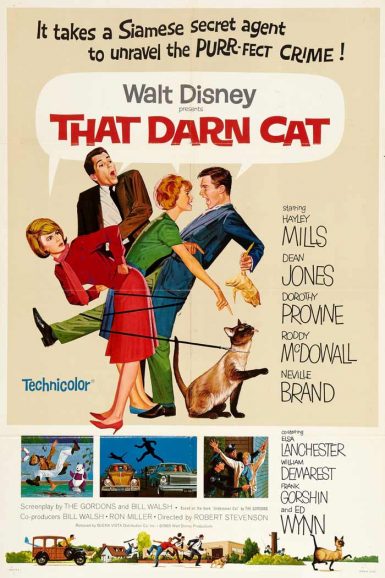 That Darn Cat! (IB Tech Print)
With the clue around his neck and the FBI on his tail, it will take the world's first Siamese cat special agent to unravel the purr-fect crime! The fur flies in Walt Disney's madcap mix of mirth, mystery and feline fun when a tomcat turns up with a lady's wristwatch for a collar that could be proof of a dangerous kidnapping. Now two sisters (Hayley Mills and Dorothy Provine) will team up with a highly allergic special agent (Dean Jones) to investigate. Veteran Disney director Robert Stevenson helms a family film classic featuring a stellar supporting cast that includes Roddy McDowall, Neville Brand, Elsa Lanchester, William Demarest, Frank Gorshin, and Ed Wynn.
Director

Robert Stevenson
Starring

Hayley Mills, Dean Jones, Dorothy Provine, Roddy McDowall, Neville Brand, Elsa Lanchester, William Demarest, Frank Gorshin, Ed Wynn
Year

1965
Country

USA
Format

I.B. Technicolor 35mm
Running Time

116 minutes