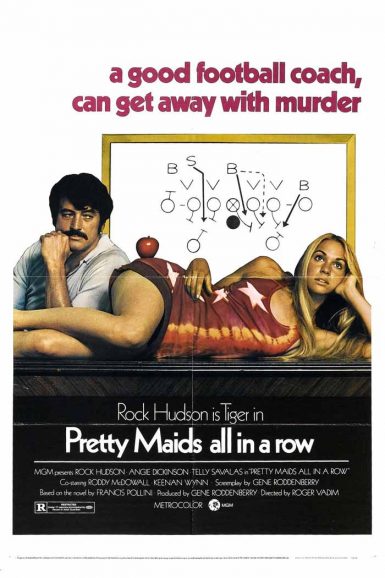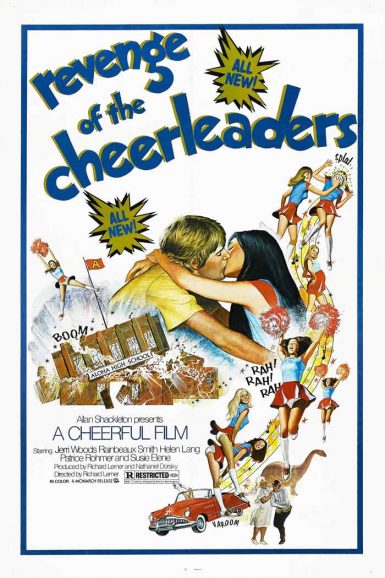 Pretty Maids All In A Row
Revenge of the Cheerleaders
Buy Tickets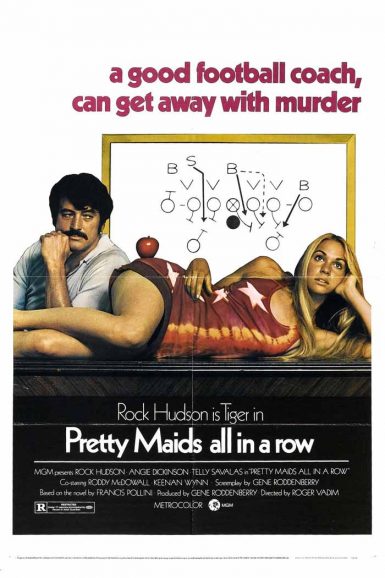 Pretty Maids All In A Row
Female students are dropping like flies in the sexy, darkly comedic 1971 thriller Pretty Maids All in a Row. Helmed by Roger Vadim, who'd dealt with prurient material before in …And God Created Woman, and written by Star Trek creator Gene Roddenberry, in his only feature writing credit, the film concerns itself with finding the killer of multiple comely young students of Oceanfront High School. Telly Savalas is the state police investigator on the case, and Rock Hudson is the prime suspect, a guidance counselor who's been doing a lot of "extra credit" work with his female charges both during and after school. Angie Dickinson and Roddy McDowall also appear as a very helpful new teacher and the high strung principal of the school, respectively. Loaded with dark humor, Pretty Maids… laid the groundwork for future cult classics such as Heathers and Scream.
View a collection of Pretty Maids All In A Row promotional stills on the New Beverly forum.
Marc Edward Heuck discusses Pretty Maids All In A Row on the New Beverly blog.
Kim Morgan discusses Pretty Maids All In A Row on the New Beverly blog.
Director

Roger Vadim
Starring

Rock Hudson, Angie Dickinson, Telly Savalas, John David Carson, Roddy McDowall, Keenan Wynn, James Doohan
Year

1971
Rated

R
Country

USA
Format

35mm
Running Time

91 minutes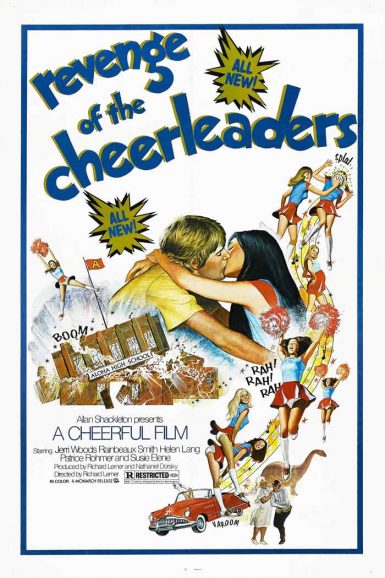 Revenge of the Cheerleaders
A naughty '70s sex comedy unleashed at the height of the grindhouse craze for cheerleaders! Cult film icon Cheryl "Rainbeaux" Smith leads a mischievous bevy of beauties from Aloha High, energetically shaking pom-poms, having fun and chanting sis-boom-bah in various states of undress. But when these girls unravel a sinister scheme to turn their school into a shopping mall, they'll have to shake and shimmy to save the day. Revenge of the Cheerleaders is a wildly entertaining drive-in riot featuring wild antics (drug-laced spaghetti!), plenty of nudity and the big screen debut of David Hasselhoff as the team's hotshot basketball star.
Director

Richard Lerner
Starring

Jerri Woods, Rainbeaux Smith, Helen Lang, Patrice Rohmer, Susie Elene, David Hasselhoff
Year

1976
Rated

R
Country

USA
Format

35mm
Running Time

88 minutes