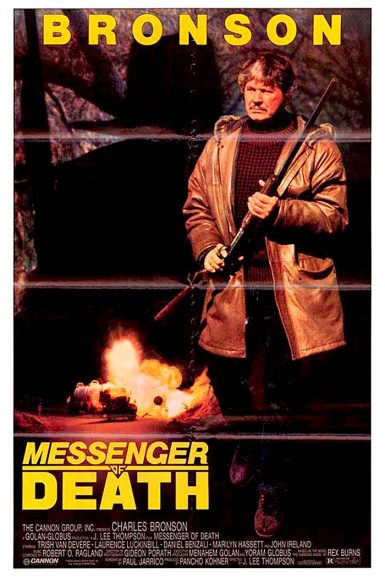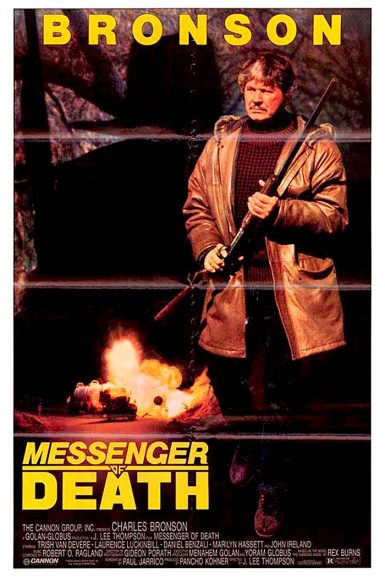 Messenger of Death
What the cops can't do, HE WILL. When a family is brutally massacred, a no-nonsense crime reporter (Charles Bronson) must cut through bureaucratic BS on a relentless quest to bring the killers to justice. But unraveling the mystery reveals a dangerous web of greed, corruption and religious retribution in an isolated Mormon sect, and an avenging angel will do anything to silence him.
"There are enough bodies, car-crushings and lingering scenes of victims crossing over into death to slake any aficionado's thirst for blood." – Richard F. Shepard, The New York Times
"A solid, efficient mystery, crisply directed by J. Lee Thompson and adapted by the veteran Paul Jarrico from a novel by Rex Burns. Messenger of Death is a genre piece from start to finish, nothing more, nothing less. But its cast is effective, and it gains from its Colorado locations, which include two religious communities that have the look of the real thing." – Kevin Thomas, Los Angeles Times
Chris D explores director J. Lee Thompson's extensive career on the New Beverly blog.
Director

J. Lee Thompson
Starring

Charles Bronson, Trish Van Devere, Laurence Luckinbill, Daniel Benzali, Marilyn Hassett, John Ireland
Year

1988
Rated

R
Country

USA
Format

35mm
Running Time

91 minutes