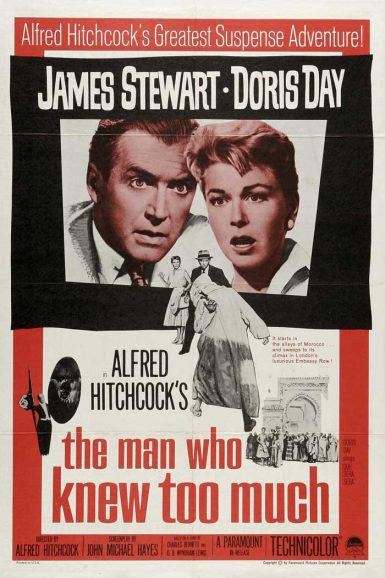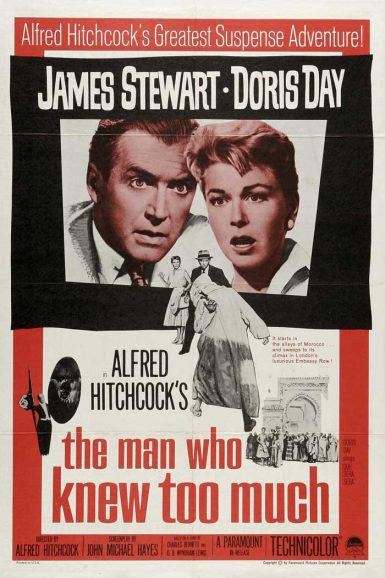 The Man Who Knew Too Much (1956)
The movie so nice, Hitch made it twice. The Man Who Knew Too Much is a remake of his own 1934 film about an innocent family caught up in political intrigue. Updated for the 50's, this version stars Jimmy Stewart as a Midwestern doctor vacationing in Morocco when a powerful secret falls into his arms and threatens both his family and a foreign politician. Red herrings and plays on appearances line this elegant conspiracy thriller from the proverbial Hitch. Doris Day gives an excellent, moving performance as Stewart's wife, both in acting and voice. Her career-long hit "Que Será, Será" originated in this film. At first, she wouldn't record it, calling it a "forgettable children's song." It went on to become her biggest musical hit and the theme song to her TV show; a fitting ironic postlude for one of Hitchcock's most ironic films.
"Making marvelous use of settings and locations, Hitchcock treats the viewer to superbly choreographed set-pieces." – Total Film
View a collection of The Man Who Knew Too Much lobby cards on the New Beverly blog.
Ariel Schudson discusses The Man Who Knew Too Much on the New Beverly blog.
Director

Alfred Hitchcock
Starring

James Stewart, Doris Day, Brenda de Banzie, Bernard Miles, Ralph Truman, Daniel Gelin, Christopher Olsen
Year

1956
Rated

PG
Country

USA/UK
Format

35mm
Running Time

120 minutes