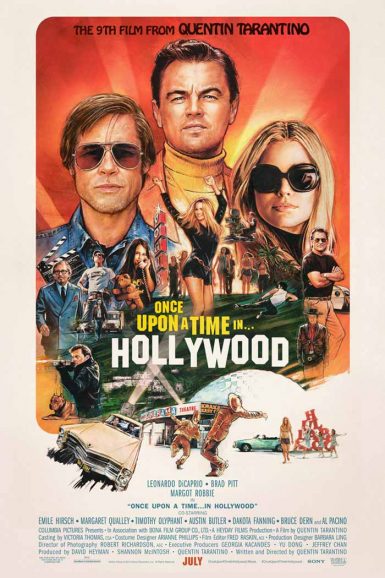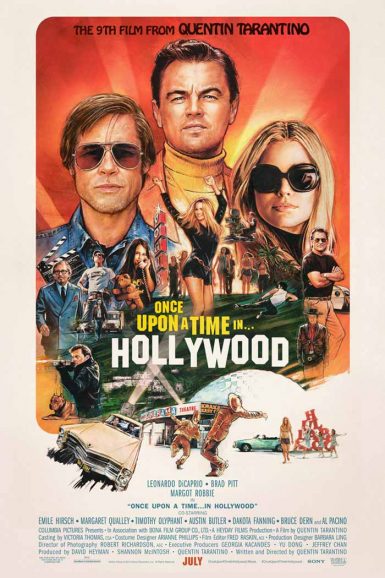 Once Upon A Time In… Hollywood
Quentin Tarantino's Once Upon a Time in… Hollywood visits 1969 Los Angeles, where everything is changing, as TV star Rick Dalton (Leonardo DiCaprio) and his longtime stunt double Cliff Booth (Brad Pitt) make their way around an industry they hardly recognize anymore. The ninth film from the writer-director features a large ensemble cast and multiple storylines in a tribute to the final moments of Hollywood's golden age.
"The film is Quentin Tarantino's magnum opus – a sweeping statement on an entire generation of American popular culture and an almost expressionistic rendering of the counterculture forming at its margins, gradually growing in influence." – Sam C. Mac, Slant Magazine
"As a film about making films, and the agony and ecstasy of everything we love about movies, Tarantino knocks it out of the park." – Hannah Woodhead, Little White Lies
"It's a heady, engrossing, kaleidoscopic, spectacularly detailed nostalgic splatter collage of a film, an epic tale of backlot Hollywood in 1969" – Owen Gleiberman, Variety
"An absolute blast, a pure, giddy rush of thrillingly confident, expansive filmmaking that showcases the most resonant and satisfying storytelling Tarantino has given us" – Jessica Kiang, Sight & Sound
Kim Morgan writes about Once Upon a Time in… Hollywood for the New Beverly blog.
Quentin Tarantino discusses Once Upon a Time in… Hollywood in an in-depth interview on the New Beverly blog.
Director

Quentin Tarantino
Starring

Leonardo DiCaprio, Brad Pitt, Margot Robbie, Emile Hirsch, Margaret Qualley, Timothy Olyphant, Austin Butler, Dakota Fanning, Bruce Dern, Al Pacino
Year

2019
Country

USA
Format

35mm
Running Time

161 minutes
Upcoming Showtimes
11:59 pm
Once Upon A Time In… Hollywood