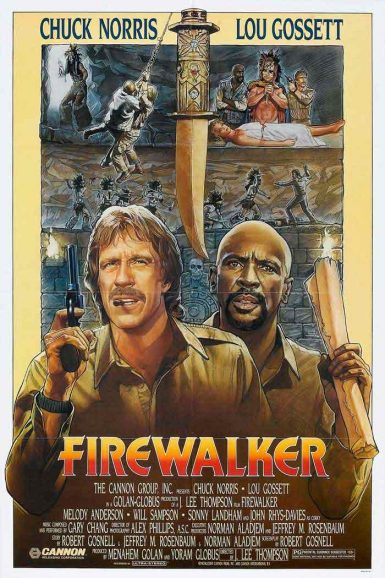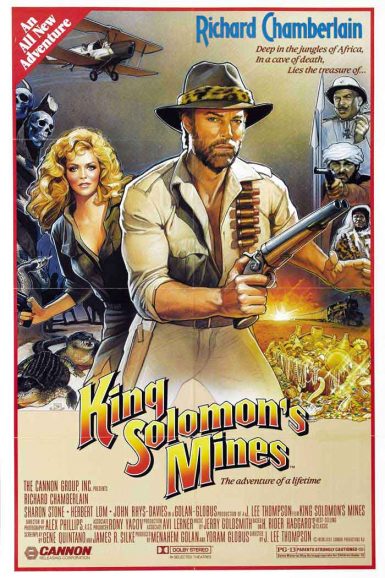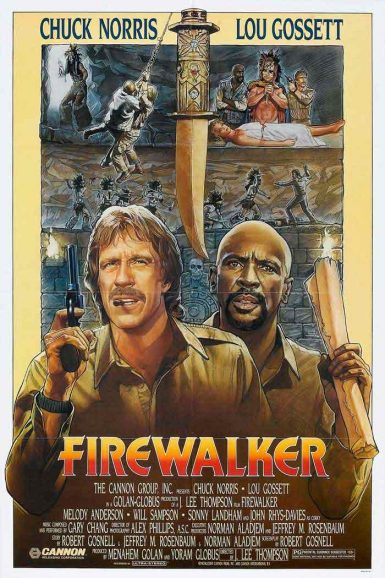 Firewalker
A pair of down-and-out treasure hunters venture out for one last score in the Cannon Group's answer to Indiana Jones! Martial arts superstar Chuck Norris and Oscar-winning Louis Gossett Jr are a hilarious duo of luckless adventurers searching for fame & fortune in J. Lee Thompson's fast-paced & good-natured action comedy Firewalker. When a blonde beauty (Flash Gordon's Melody Anderson) with a mysterious map walks into their lives, the trio embarks on a dangerous journey to Central America to find a bounty of Aztec gold. But along the way they'll have to cross deadly jungles and navigate ancient temples while battling hungry critters and vengeful spirits!
"A breezy, big-scale comedy-adventure!" – Los Angeles Times
Chris D explores director J. Lee Thompson's extensive career on the New Beverly blog.
Director

J. Lee Thompson
Starring

Chuck Norris, Louis Gossett Jr, Melody Anderson, Will Sampson, Sonny Landham, John Rhys-Davies
Year

1986
Rated

PG
Country

USA
Format

35mm
Running Time

104 minutes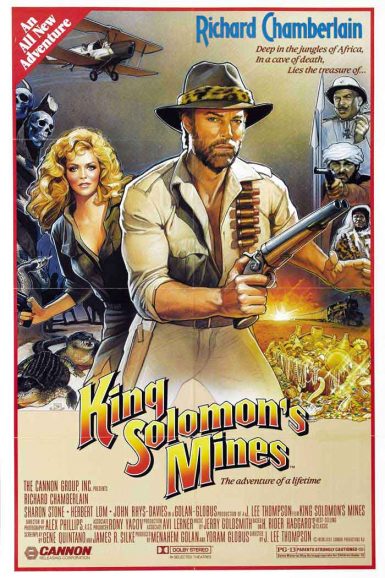 King Solomon's Mines
The greatest treasure known to man is about to be pursued by the boldest, most-daring hero ever seen on screen! Part thrill-seeking adventure, part Indiana Jones parody, the Cannon Group's fun-filled adaptation of King Solomon's Mines is overflowing with non-stop laughter and cliffhanger excitement! Richard Chamberlain stars as famed explorer Allan Quatermain, joining a whip-smart woman (Sharon Stone) in the search for her archeologist father. On a dangerous trek across Africa, they'll have to contend with a very hostile German military, a tribe of very hungry cannibals and, not-least-of-all, EACH OTHER! Co-starring legendary character actor Herbert Lom and Raiders of the Lost Ark's John Rhys-Davies.
Print courtesy of the British Film Institute
"A thrill a minute!" – The Hollywood Reporter
Chris D explores director J. Lee Thompson's extensive career on the New Beverly blog.
Director

J. Lee Thompson
Starring

Richard Chamberlain, Sharon Stone, Herbert Lom, John Rhys-Davies
Year

1985
Rated

PG-13
Country

USA/South Africa
Format

35mm print courtesy of the British Film Institute
Running Time

100 minutes