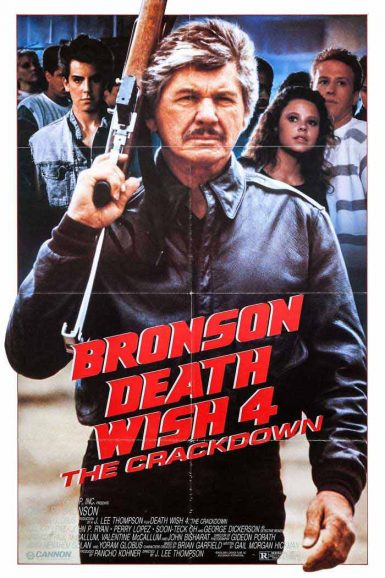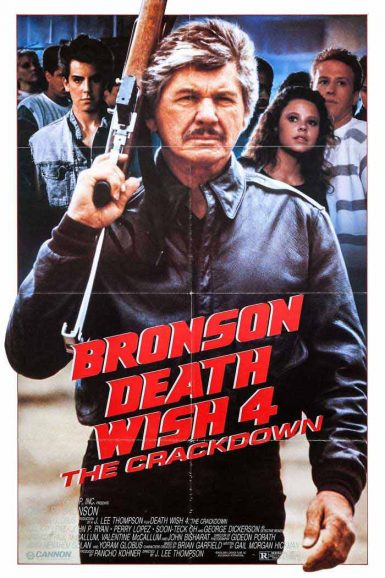 Death Wish 4: The Crackdown
Our favorite architect turned vigilante is back with a vengeance and this time the one man wrecking crew has declared war on the scourge of crack cocaine. After his new girlfriend's daughter dies of an overdose, Charles Bronson embarks on a vicious crackdown of the Los Angeles narcotics trade, dealing death to the drug pushers that plague the streets on his violent crusade against the organized crime cartels behind it all.
"Why Kersey is presented as a hero rather than a sociopath is something of a mystery, but the film makers' belief in a streetwise death penalty for drug dealers seems intended to give the audience license to settle back and enjoy the killings. In Death Wish 4 murder is literally an amusement, with some of the more spectacular killings set in a flashy roller-skating rink and on a bumper-car ride." – Caryn James, The New York Times
Chris D explores director J. Lee Thompson's extensive career on the New Beverly blog.
View the full set of German lobby cards for Death Wish 4 on the New Beverly forum.
Director

J. Lee Thompson
Starring

Charles Bronson, Kay Lenz, John P. Ryan, Perry Lopez, Soon-Tek Oh, George Dickerson
Year

1987
Rated

R
Country

USA
Format

35mm
Running Time

99 minutes