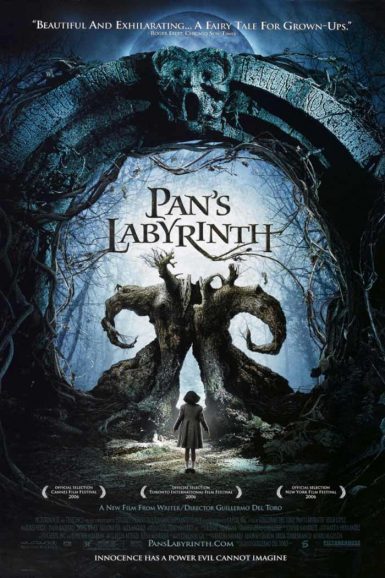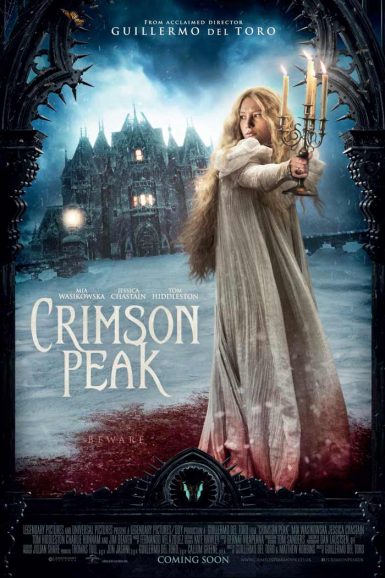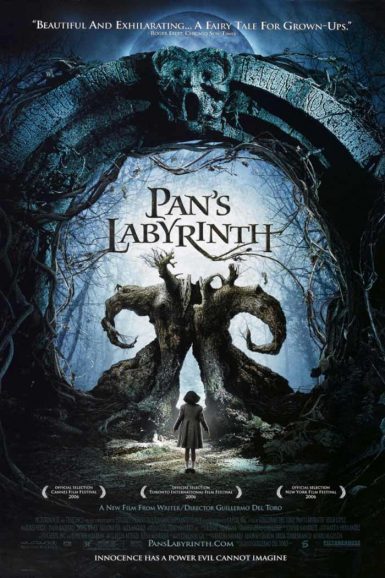 Pan's Labyrinth
Screening from a gorgeous 35mm print generously donated by Guillermo del Toro to Quentin Tarantino & the New Beverly Cinema!
Guillermo del Toro's haunting fairy tale for adults, Pan's Labyrinth intertwines real life horrors with phantasmagorical escape. Amidst the chaos of post-Civil War Spain, an imaginative young girl discovers a mysterious stone labyrinth, meets the spellbinding faun Pan, and is set on a path to save herself and her sickly mother, while the lines between fantasy and reality begin to blur. Academy Award winner for Best Cinematography, Best Art Direction and Best Makeup!
"Guillermo del Toro has crafted a masterpiece, a terrifying, visually wondrous fairy tale for adults that blends fantasy and gloomy drama into one of the most magical films to come along in years." – David Germain, Associated Press
"This is a fantasy realm so fully and elegantly realized, it might be the adaptation of a classic novel. Yet the source is Del Toro's own capacious imagination." – Mary Corliss, TIME Magazine
"The movie is that original, and that attuned to the power of myth. I don't see why it shouldn't sit on the same altar of High Fantasy as the Lord of the Rings trilogy – it's that worthy." – Lisa Schwarzbaum, Entertainment Weekly
Director

Guillermo del Toro
Starring

Ivana Baquero, Sergi López, Maribel Verdú, Doug Jones
Year

2006
Rated

R
Country

Spain/Mexico/USA
Format

35mm
Running Time

118 minutes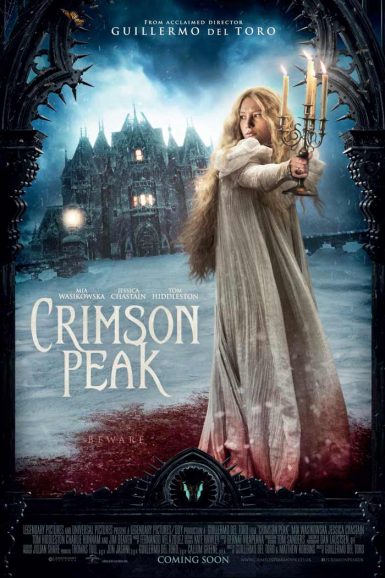 Crimson Peak
In Guillermo del Toro's Crimson Peak, a beautifully designed, gorgeously photographed and stunningly costumed homage to the classic British horror films made by Hammer during '60s, a young American author is swept away by her mysterious new husband to a remote English mansion where his possibly-sinister sister holds their dark family secrets amidst cobwebbed hallways and ghostly corridors.
"[Crimson Peak] is lurid and ghastly and immensely enjoyable" – Andrew O'Hehir, Salon.com
"Even the pristine white snow bleeds bright scarlet in Crimson Peak, the malformed love child between a richly atmospheric gothic romance and an overripe Italian giallo." – Peter Debruge, Variety
"The insanely lush Gothic romance and ghost story plays like a hitherto unrecorded collaboration between Edgar Allan Poe, Edith Wharton, the designers of Disneyland's Haunted Mansion and whoever directed all those Bonnie Tyler music videos in the 1980s. The result is del Toro's best film since Pan's Labyrinth, one that should rightly become a staple for many Halloweens to come." – Alonso Duralde, TheWrap
Ariel Schudson discusses Crimson Peak on the New Beverly blog.
Director

Guillermo del Toro
Starring

Mia Wasikowska, Jessica Chastain, Tom Hiddleston, Charlie Hunman
Year

2015
Rated

R
Country

USA/Canada
Format

35mm
Running Time

119 minutes