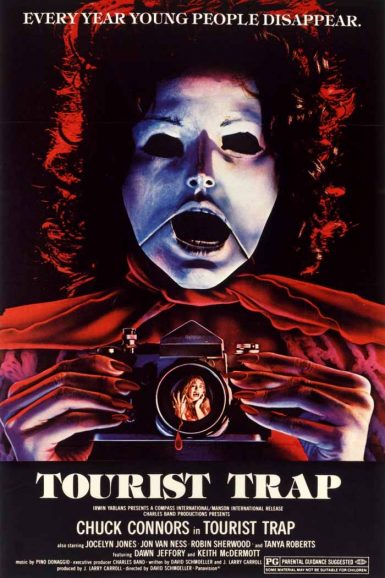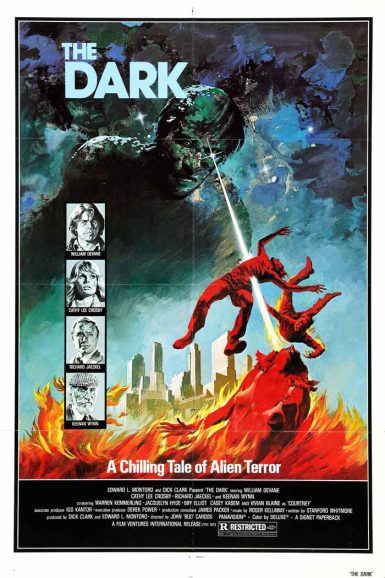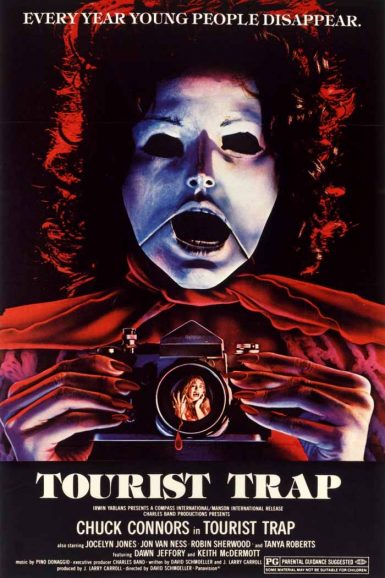 Tourist Trap
Every year hundreds of young people travel the country… and disappear! When a carload of friends breaks down near a seemingly-deserted roadside Tourist Trap, they discover a wax museum full of terrifyingly lifelike mannequins and the madman behind it (The Rifleman himself, Chuck Connors). A woefully underseen late night creepfest, Tourist Trap is sinister and strange with mood-drenched atmosphere, nightmarish visuals and a haunting Pino Donaggio score. Absolutely mandatory viewing for big screen fright fans!
"[Tourist Trap] wields an eerie spooky power" – Stephen King
David DeCoteau discusses Tourist Trap for Trailers From Hell.
Marc Edward Heuck discusses Tourist Trap on the New Beverly blog.
Director

David Schmoeller
Starring

Chuck Connors, Jocelyn Jones, Jon Van Ness, Robin Sherwood, Tanya Roberts
Year

1979
Rated

PG
Country

USA
Format

35mm
Running Time

90 minutes
Slithis
Finally, nature unleashes its revenge from the depths of the Venice canals! Spawned by pollution from nuclear waste, our worst nightmare comes to life as a scaly muck-monster terrorizes the citizens of California's picturesque seaside town. Now it's up to a high school teacher and his odd assortment of friends to stop the radioactive beast's bloody reign of carnage in Slithis.
Director

Stephen Traxler
Starring

Alan Blanchard, Judy Motulsky, J.C. Claire, Dennis Falt, Mello Alexandria
Year

1978
Rated

PG
Country

USA
Format

35mm
Running Time

87 minutes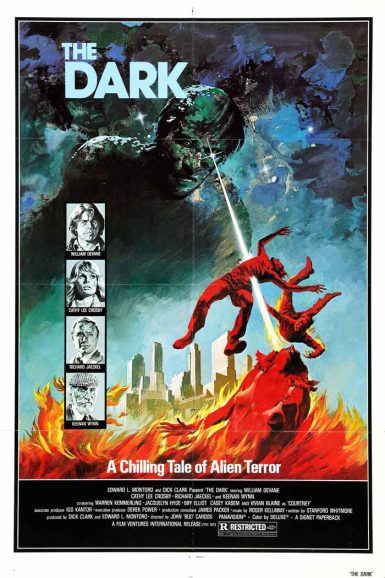 The Dark
After fear… beyond terror… there is The Dark! Director John 'Bud' Cardos (Kingdom of the Spiders) throws everything and the kitchen sink into his wild, totally bonkers grindhouse mix of serial killer thriller, zombie flick and outer space menace about an alien invader stalking the streets of Los Angeles, shooting laser beams from his eyes and ripping the heads off his victims. Out to stop it are Rolling Thunder's William Devane as a vengeful father, tv vet Cathy Lee Crosby as an intrepid reporter and character actor legend Richard Jaeckel as a cop. Casey Kasem shows up, too, in this Dick Clark produced mindbender.
Marc Edward Heuck discusses The Dark on the New Beverly blog.
Director

John 'Bud' Cardos
Starring

William Devane, Cathy Lee Crosby, Richard Jaeckel, Keenan Wynn, Warren J. Kemmerling, Biff Elliot, Casey Kasem
Year

1979
Rated

R
Country

USA
Format

35mm
Running Time

92 minutes