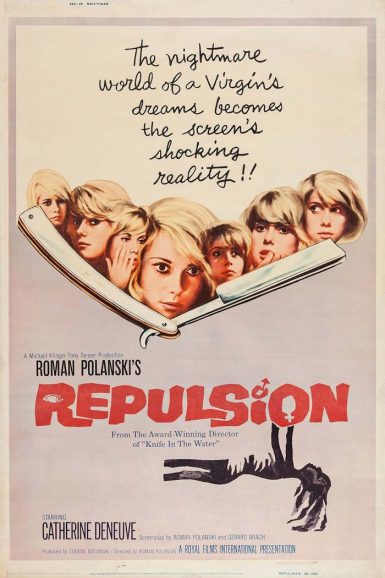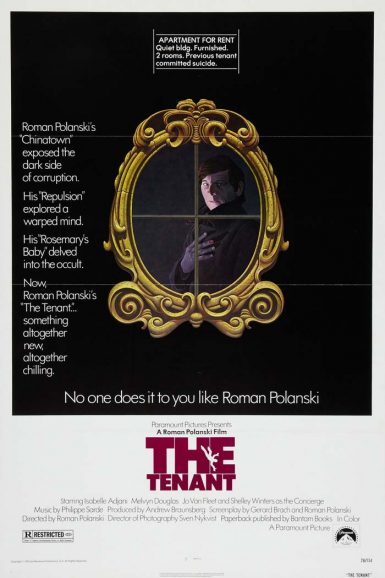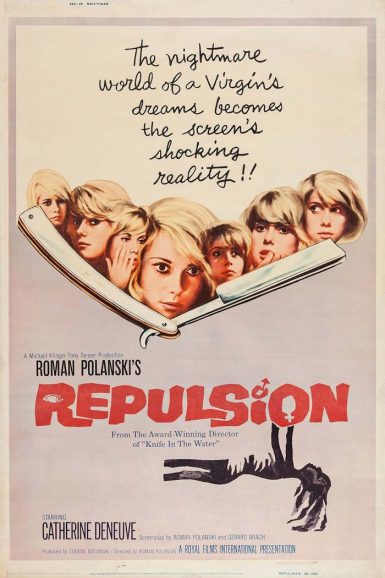 Repulsion
Catherine Deneuve stars in Roman Polanski's masterful 1965 psychological thriller Repulsion. Deneuve is Carol, a young, reserved Frenchwoman living in London with her sister. She works at a salon and keeps to herself, but when her sister goes on vacation, she is left alone in her apartment where unsettling events start to happen. Is any of it real or all in her mind? Polanski directs this slow burn thriller with the utmost precision, crafting one of his finest cinematic works.
"An absolute knockout of a movie" – Bosley Crowther, The New York Times
"Roman Polanski's first English-language film is still a creepy little horror masterpiece." – Chris Nashawaty, Entertainment Weekly
"Still perhaps Polanski's most perfectly realised film, a stunning portrait of the disintegration, mental and emotional, of a shy young Belgian girl (Deneuve) living in London." – Geoff Andrew, Time Out
"At second glance, or as often as a moviegoer can bear to peek through his knotted fingers, it is a Gothic horror story, a classic chiller of the Psycho school and approximately twice as persuasive." – TIME Magazine
Director

Roman Polanski
Starring

Catherine Deneuve, Ian Hendry, John Fraser, Yvonne Furneaux, Patrick Wymark
Year

1965
Country

UK
Format

35mm
Running Time

105 minutes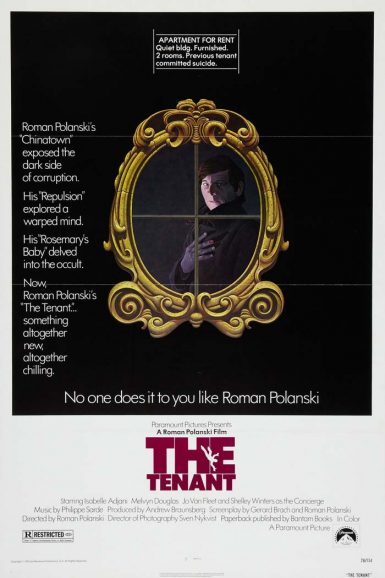 The Tenant
Roman Polanski directs and stars in the 1976 paranoid thriller The Tenant. In the film he plays Trelkovsky, a man who takes over the apartment of a woman who has just recently committed suicide. He is surrounded by odd, creepy neighbors and makes the acquaintance of a friend of the previous tenant, played by a radiantly beautiful Isabelle Adjani. She tries to help Trelkovsky cope with his paranoid fantasies, but there is something about the apartment that is changing him, making him into something new and frightening. Polanski acquits himself well in the lead role but its his direction that really shines, conveying an atmosphere of fear and dread that surrounds everything. The audience is taken on a journey of madness and is kept guessing as to what is real and what is not. The Tenant ranks with the best of Polanski's thrilling filmography and is a nightmarish must see.
"It's an exercise in urban paranoia and mental disintegration that echoes or anticipates everything from Repulsion and Rosemary's Baby to Bitter Moon and The Pianist." – J. Hoberman, Village Voice
Director

Roman Polanski
Starring

Roman Polanski, Isabelle Adjani, Melvyn Douglas, Jo Van Fleet
Year

1976
Rated

R
Country

France
Format

35mm
Running Time

126 minutes