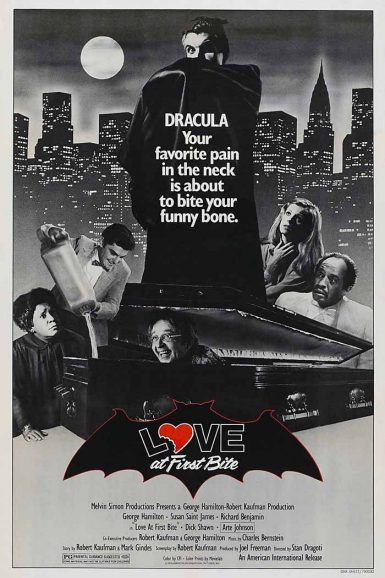 Quentin's Horror Comedy All-Nighter (Sold Out!)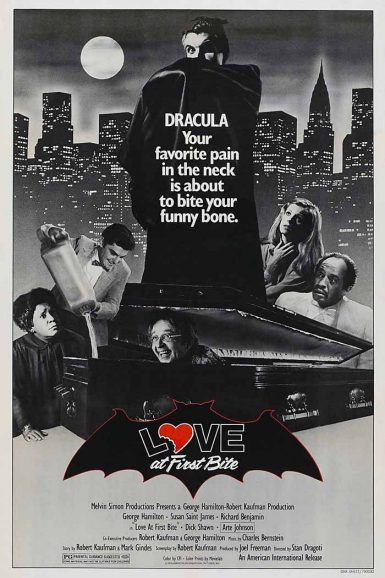 Quentin's Horror Comedy All-Nighter (Sold Out!)
Please note this show is now SOLD OUT. Unlike other New Bev shows, we will not be holding aside a batch of tickets for sale at the door. However, we will have a standby line the night of the event for seats that may become available due to refunds or cancellations. All tickets $20.
You'll laugh 'til you scream with an all-night marathon packed with ghoulish delights, featuring five horror comedy classics personally selected by Quentin Tarantino plus rare trailers, vintage shorts and other fright-filled, gruesomely hilarious surprises! All tickets $20.
Love at First Bite
1979, USA, 96 min, 35mm
Directed by Stan Dragoti
Starring George Hamilton, Susan Saint James, Richard Benjamin,
Dick Shawn, Arte Johnson, Sherman Hemsley, Isabel Sanford
Your favorite pain in the neck is about to bite your funny bone! When Count Dracula (the forever suave George Hamilton) is evicted from his Transylvanian castle, he must adjust to life in disco-era New York City while in search of his Bride. But when the bumbling romantic rival (Richard Benjamin) for his modern beloved (Susan Saint James) proves to be a descendant of the vampire-hunting Van Helsings, he'll discover Love at First Bite may be more than he can chew in this gut-busting spooftacular!
An American Werewolf in London
1981, UK, 97 minutes, 35mm
Directed by John Landis
Starring David Naughton, Jenny Agutter, Griffin Dunne, John Woodvine
In John Landis' cult classic, a pair of students on holiday are viciously attacked during a backpacking trip in England. While the survivor (David Naughton) heals with the aid of a lovely young nurse (Jenny Agutter), a full moon approaches and visions of his dead friend (Griffin Dunne) warn of his becoming An American Werewolf in London. Featuring ground-breaking, Oscar-winning transformation effects by Rick Baker!
Beetlejuice
1988, USA, 92 min, 35mm
Directed by Tim Burton
Starring Michael Keaton, Alec Baldwin, Geena Davis,
Winona Ryder, Catherin O'Hara, Jeffrey Jones and Glenn Shadix
Tim Burton's afterlife spooktacular is a spectacular mix of goth fantasy and laugh-out-loud comedy! When newlyweds Geena Davis and Alec Baldwin die in a car accident, they must haunt their recently departed home and scare away the obnoxious new tenants. But they get more trouble than they bargained for when they recruit Michael Keaton's rambunctious "bio-exorcist" Beetlejuice to help. Featuring Winona Ryder, Catherin O'Hara, Jeffrey Jones and Glenn Shadix.
Modern Problems
1981, USA, 89 min, 16mm
Directed by Ken Shapiro
Starring Chevy Chase, Patti D'Arbanville, Dabney Coleman,
Mary Kay Place, Nell Carter, Brian Doyle-Murray
Chevy Chase has got Modern Problems in a wild and wacky comedy that's out-of-control fun! He's overworked & overstressed, his girlfriend left him and he just got splashed with toxic waste. But the glowing goo has imparted the power of telekinesis and he's gonna move the world to get his girl back. With Patti D'Arbanville, Dabney Coleman, Mary Kay Place, Nell Carter & Brian Doyle-Murray.
The Fearless Vampire Killers
1967, USA/UK, 108 min, 35mm
Directed by Roman Polanski
Starring Jack MacGowran, Alfie Bass, Jessie Robins,
Sharon Tate, Ferdy Mayne, Roman Polanski
Who says vampires are no laughing matter? Roman Polanski's dazzlingly macabre comedy The Fearless Vampire Killers is a pitch-perfect tribute to the gothic horror maestros at Hammer Films. When a vampire-hunting professor (Jack MacGowran) and his awkward assistant (Polanski, doing double duty) hole up in a small village, they must save a beautiful damsel (Sharon Tate) before she meets the dreaded fangs of a dastardly Count (Ferdy Mane). Featuring lush scope photography by Douglas Slocumbe, gorgeous costumes and a stunning score by Krzysztof Komeda.