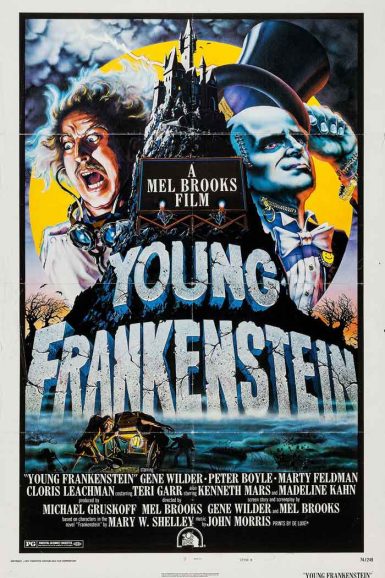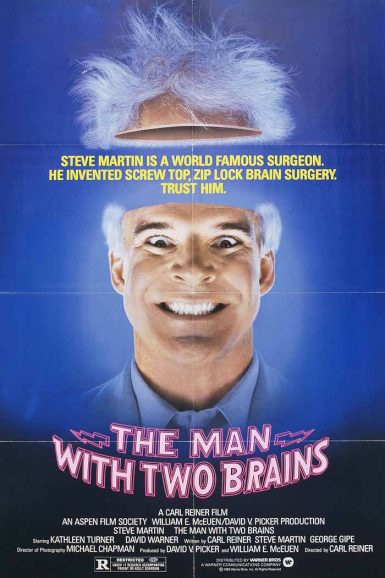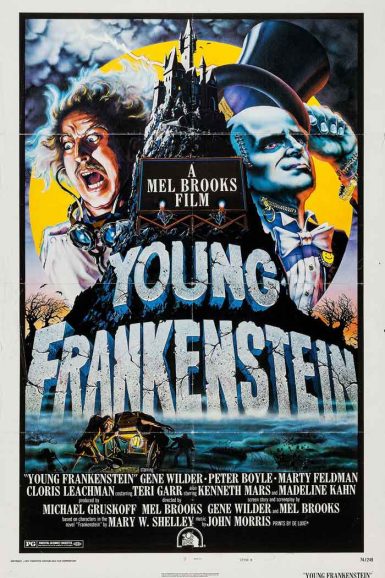 Young Frankenstein
Perhaps the most beloved film from Mel Brooks and Gene Wilder, Young Frankenstein lovingly skewers and pays homage to 1930s Universal's horror film franchise. Wilder is the Baron's great grandson, Cloris Leachman is notorious Frau Blucher, Madeline Kahn is Wilder's uptight fiancée Elizabeth, Terri Garr is sweet Inga, Marty Feldman is hunchback Igor and Peter Boyle is unforgettable as the monster. Some of the most memorably hilarious scenes include Boyle's encounter with a blind hermit (Gene Hackman) in the woods and Boyle's literal roll in the hay with Kahn (which leaves her more than satisfied.) Wilder had come up with the idea for the film and convinced Brooks to collaborate. Brooks recalls: "Little by little, every night, Gene and I met at his bungalow at the Bel Air Hotel… we proceeded on a dark narrow twisting path to the eventual screenplay in which good sense and caution are thrown out the window and madness ensues."  The movie was a smash hit, following on the heels of Brooks' Blazing Saddles.
"Wilder's hysteria seems perfectly natural… he delivers what Harpo promised." – Pauline Kael, The New Yorker
"Young Frankenstein is as funny as we expect a Mel Brooks comedy to be, but it's more than that: It shows artistic growth and a more sure-handed control of the material by a director who once seemed willing to do literally anything for a laugh. It's more confident and less breathless." – Roger Ebert
Alan Spencer discusses Young Frankenstein for Trailers from Hell.
Ariel Schudson discusses Young Frankenstein on the New Beverly blog.
See a collection of Young Frankenstein lobby cards on the New Beverly forum.
Director

Mel Brooks
Starring

Gene Wilder, Peter Boyle, Marty Feldman, Madeline Kahn, Cloris Leachman, Teri Garr
Year

1974
Rated

PG
Country

USA
Format

35mm
Running Time

106 minutes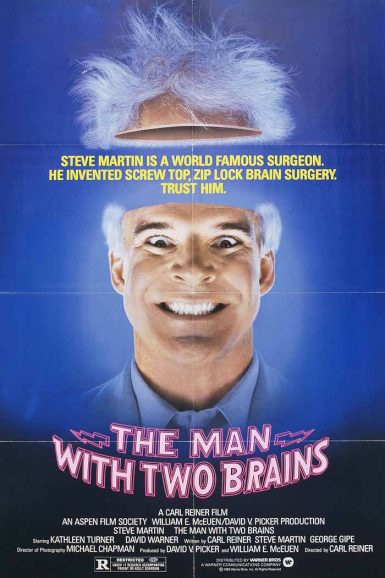 The Man with Two Brains
Director Carl Reiner and Steve Martin teamed up for this funny science-fiction spoof with Martin as a pioneering brain surgeon victimized by his gold-digging new wife (Kathleen Turner). When the two combine Martin's medical convention trip with their honeymoon, they learn the city of Vienna is being terrorized by the Elevator Killer. Just by chance, Martin runs into a mad scientist (David Warner) who has found a way to keep brains alive in jars. He's been recycling the grey matter from the Elevator Killer's victims, and when Martin visits his lab, he falls in love with a female brain (voiced by an uncredited Sissy Spacek). Coincidentally, Martin's vicious new wife, Turner, is the Elevator Killer's next victim. Can you tell where we're going with all this?
"This is the most assured and hilarious of the three Martin-Carl Reiner collaborations." – Richard Schickel, Time
"Hilarious. Underrated Martin." – Jeffrey M. Anderson, San Francisco Examiner
"Martin wasn't a particularly dirty comic on his various albums, but The Man With Two Brains is brazenly R-rated, hilariously filthy, and the film feels like it could have only happened with [Steve Martin and Carl Reiner] working together." – Drew McWeeny, HitFix
View the full set of German lobby cards for The Man With Two Brains on the New Beverly forum.
Tim Lucas discusses The Man With Two Brains on the New Beverly blog.
Director

Carl Reiner
Starring

Steve Martin, Kathleen Turner, David Warner, Paul Benedict, Richard Brestoff, James Cromwell
Year

1983
Rated

R
Country

USA
Format

35mm
Running Time

93 minutes