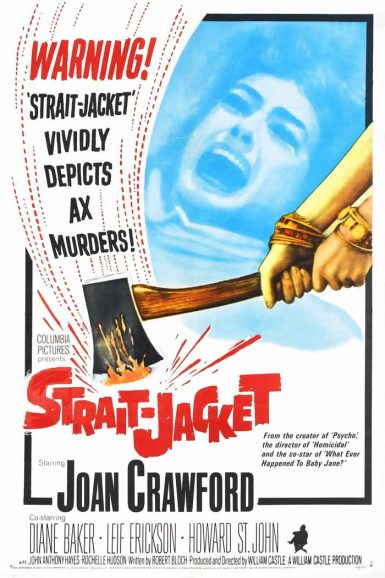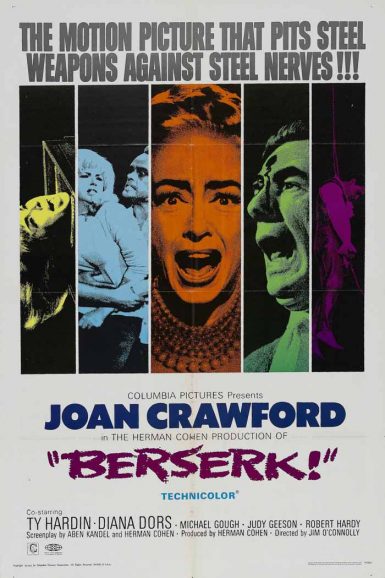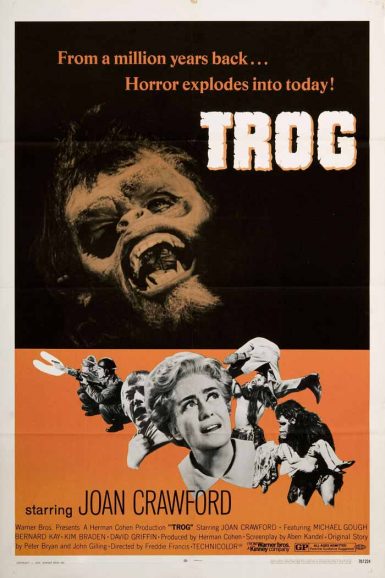 Strait-Jacket
Berserk!
Trog (IB Tech Print)
Buy Tickets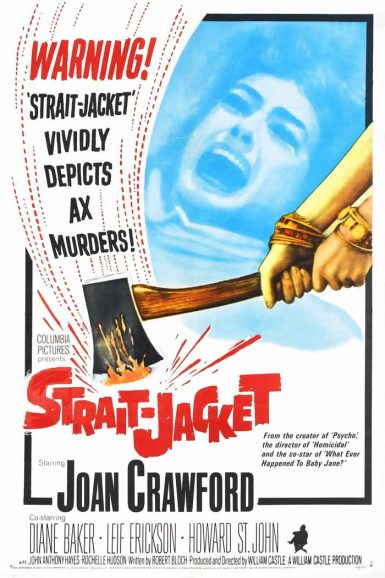 Strait-Jacket
When a convicted axe-murderess is released from her twenty year stay at a mental institution, she reconnects with family for a shaky homecoming. But when the chop-chop-chopping recommences, is history repeating itself or is something more sinister at play? You'll find out when Strait-Jacket mounts to its crescendo of electrifying terror! Screen icon Joan Crawford gives a shattering portrayal of a frantic woman in this classic William Castle shocker from the pen of Psycho-scribe Robert Bloch.
Director

William Castle
Writer

Robert Bloch
Starring

Joan Crawford, Diane Baker, Leif Erickson, Howard St. John
Year

1964
Country

USA
Format

35mm
Running Time

93 minutes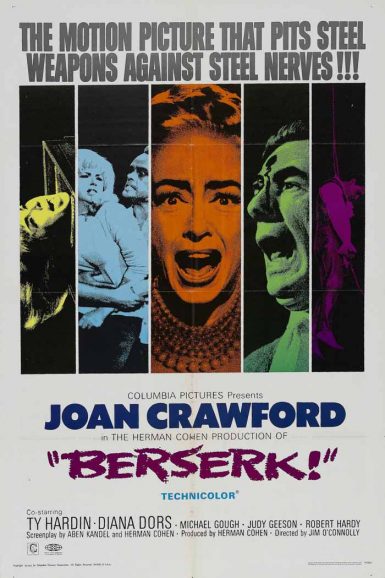 Berserk!
The motion picture that pits steel weapons against steel nerves! Circus ringmaster Joan Crawford finds menace in every shadow and fear in every footstep as the performers in her traveling troupe get picked off in a variety of grotesque Grand Guignol set pieces. As the vicious killings come ever closer, Crawford skillfully chews the scenery in an over-the-top performance for the ages. The fantastic supporting cast includes Ty Hardin, Diana Dors, Michael Gough, and Judy Geeson.
Director

Jim O'Connolly
Starring

Joan Crawford, Ty Hardin, Diana Dors, Michael Gough, Judy Geeson, Robert Hardy
Year

1967
Country

UK
Format

35mm
Running Time

96 minutes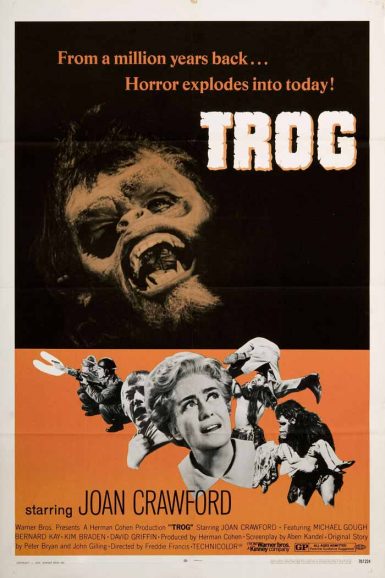 Trog (IB Tech Print)
Vibrant I.B. Technicolor print! From the boiling rage of a world hurled back one million years comes Trog! In her final feature, Joan Crawford plays a sympathetic anthropologist convinced she's found the missing link when a primitive troglodyte is miraculously found alive in the ice caves of the English countryside. As she tries to soothe the savage beast, the townspeople dread the threat of his violent escape. Freddie Francis' often-maligned caveman creature feature is a howlingly good time that filmmaker John Waters has lovingly declared a highlight of trash cinema.
Director

Freddie Francis
Starring

Joan Crawford, Michael Gough, Bernard Kay, Kim Braden, David Griffin
Year

1970
Country

UK
Format

I.B. Technicolor 35mm
Running Time

93 minutes