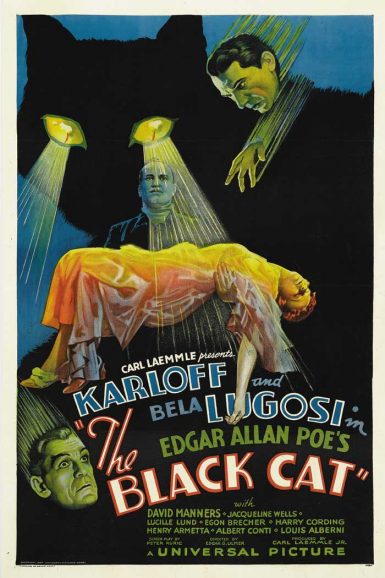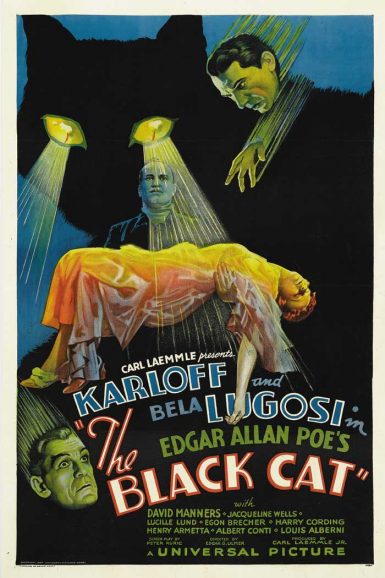 The Black Cat (1934)
The first pairing of Boris Karloff and Bela Lugosi is a nightmarishly bizarre pre-code terror treat! Detour director Edgar G. Ulmer helms The Black Cat, following a pair of newlyweds honeymooning in Hungary whose trip is cut short when they accompany a mysterious scientist (Lugosi) to a gothic castle, the horrific home of a Satan-worshipping priest (Karloff).
"Wildly expressionistic, the movie has nothing to do with the Poe story from which it takes its title and everything to do with Ulmer's sense of the Nazi menace." – J. Hoberman, Village Voice
"Sumptuously subversive… one of the very best horror movies Universal ever made." – Tony Rayns, Time Out
Director

Edgar G. Ulmer
Starring

Boris Karloff, Bela Lugosi, David Manners, Jacqueline Wells
Year

1934
Country

USA
Format

35mm
Running Time

65 minutes
The Raven (1935)
An Edgar Allen Poe mystery show! Bela Lugosi stars as a Poe-obsessed mad surgeon with a diabolical torture chamber inspired by the poet's work in the Universal classic The Raven. But when the crazed doctor's overtures are rebuffed by the beautiful dancer under his care, he plots his grisly revenge, operating on a fugitive killer (Boris Karloff) to turn him into a disfigured beast who'll aid in kidnapping the woman and destroying her father and fiancé. It's a macabre and fast-paced nail-biter headlined by two of horror's greatest icons!
Director

Lew Landers
Starring

Boris Karloff, Bela Lugosi, Lester Matthews, Irene Ware
Year

1935
Country

USA
Format

35mm
Running Time

61 minutes