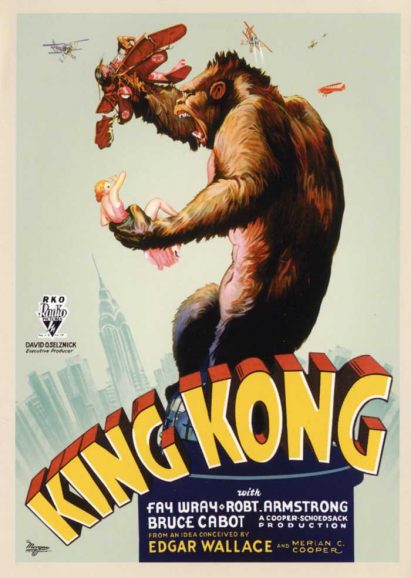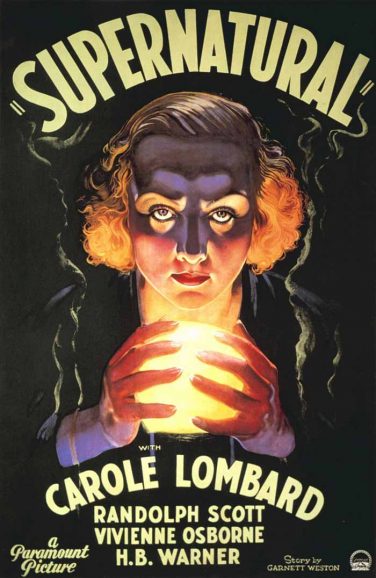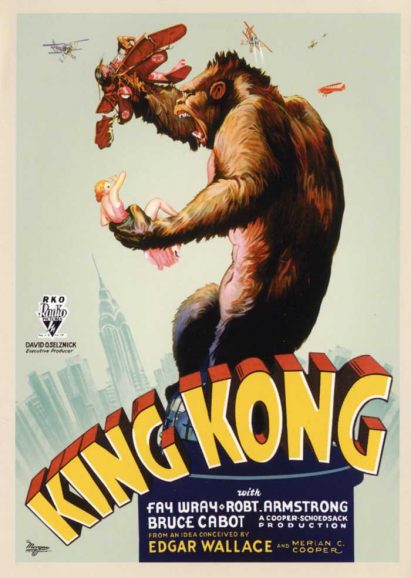 King Kong (1933)
Merian C. Cooper and Ernest Schoedsack direct the great grand daddy of giant monster movies. Huckster filmmaker Carl Denham (Robert Armstrong) and actress Ann Darrow (Fay Wray) leave New York on a charter ship. Once out to sea, Denham reveals the coordinates to Kong Island, while Ann falls in love with first mate, Jack (Bruce Cabot). Cooper and Schoedsack build suspense as the group lands and encounters hostile natives. When the islanders spot Ann, turmoil erupts, and the crew hurries her away to the safety of the ship. That night she is kidnapped, destined to be sacrificed as the bride of something called Kong. Rapid fire action kicks into high gear as Denham and Jack lead the crew in fighting off natives, then dinosaurs and finally the giant ape Kong to rescue the hapless maiden. Groundbreaking leaps in special effects use of matte paintings, stop-motion animation and rear-screen projection supply a heady atmosphere of a jungle alive with prehistoric monsters. Somehow, after many crewmen's deaths, Denham's surviving men knock Kong out with gas, bind him and load him on the ship. The ship returns to New York and, shortly thereafter, all hell breaks loose.
"Audiences will wonder how it's done. Kong mystifies as well as it horrifies, and may open up a new medium for scaring babies via the screen." – Joe Bigelow, Variety
Kim Morgan discusses King Kong on the New Beverly blog.
Director

Merian C. Cooper and Ernest B. Schoedsack
Starring

Fay Wray, Robert Armstrong, Bruce Cabot, Frank Reicher
Year

1933
Country

USA
Format

35mm
Running Time

100 minutes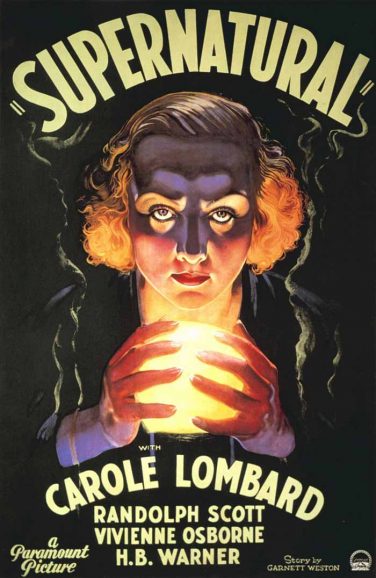 Supernatural
Finding himself a hot commodity after the success of his Bela Lugosi favorite White Zombie, director Victor Halperin moved to Paramount for his next scare outing, Supernatural. What should have been a casting coup with loaned-out-from-Fox star Carole Lombard reportedly made neither the actress or the director happy. Nevertheless, Lombard is great as Roma, a woman who inherits a fortune after her brother dies, then immediately becomes the target of a fake medium, Bavian (Alan Dinehart), who promises a spiritual reunion. Coincidentally, triple murderess Ruth Rogen (Vivienne Osbourne) is fried in the electric chair and the prison releases her body to a scientist (H. B. Warner) for research. Once he attempts to resuscitate her, the electric current releases her soul to immediately possess Roma. Roma's beau (Randolph Scott) is alarmed at her abrupt change. Forced to believe in the transference, he does his best to free her before Ruth's spirit can avenge herself on her enemies – especially spiritualist Bavian.
"This is my favorite of the Halperin Brothers' horror movies… they seemed to put as much work into their movies as their budgets would permit… genuinely eerie and full of good performances." – Fantastic Movie Musings and Ramblings
Ariel Schudson explores the terrifying tradition of late night spook shows on the New Bev blog.
Ariel Schudson discusses Supernatural on the New Beverly blog.
Director

Victor Halperin
Starring

Carole Lombard, Alan Dinehart, Vivienne Osborne, Randolph Scott
Year

1933
Country

USA
Format

35mm
Running Time

65 minutes