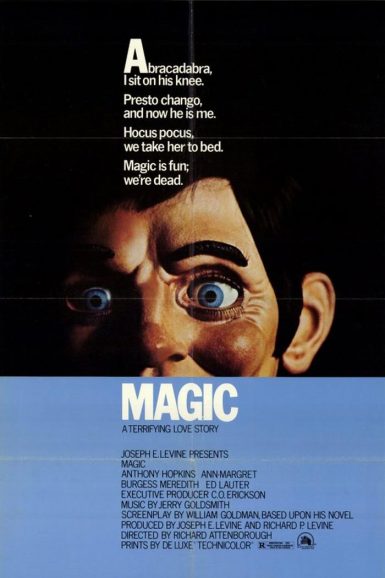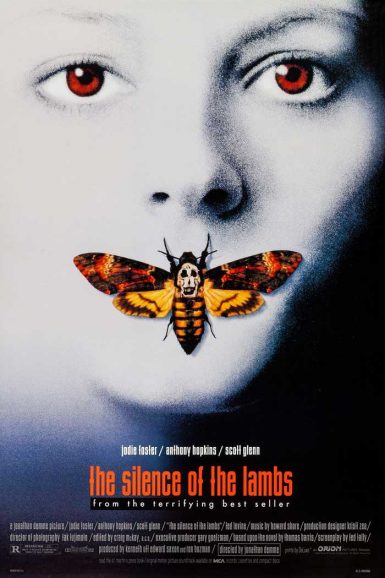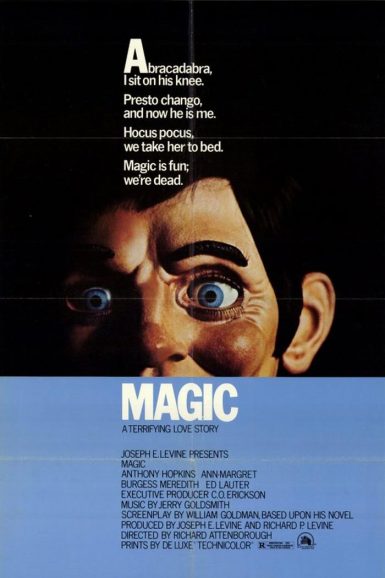 Magic
Before Anthony Hopkins was the well-mannered sociopath with slicked back hair and economy of movement in Silence of the Lambs, he gave a nervy portrayal of mental illness in Magic, as failed magician turned ventriloquist Corky Withers – who experiences a career renaissance with "Fats," his insult hurling wooden dummy. When his agent Ben Greene (Burgess Meredith), who is on the precipice of getting Corky his own television show, informs him the network will require a medical evaluation – Corky flees to the Catskills for fear that his schizophrenic tendencies will be discovered. Once there, he re-connects with his high school crush Peggy Ann Snow (Ann Margaret), as he battles his fragile psyche and Fats' influence that leads him towards his darker nature. Burgess Meredith and Ann Margaret give polished performances that serve to remind us of the screen icons they both are, and Jerry Goldsmith's score creates the perfect atmosphere as Corky's nervous breakdown spirals out of control. Richard Attenborough's direction, and William Goldman's script that he adapted from his best-selling novel, turned horror into a higher art.
"In adapting his own best-seller, William Goldman has opted for an atmospheric thriller, a mood director Richard Attenborough fleshes out to its fullest." – Variety
Ariel Schudson discusses Magic on the New Beverly blog.
Director

Richard Attenborough
Starring

Anthony Hopkins, Ann-Margret, Burgess Meredith, Ed Lauter, E.J. André, David Ogden Stiers, Jerry Houser
Year

1978
Rated

R
Country

USA
Format

35mm
Running Time

107 minutes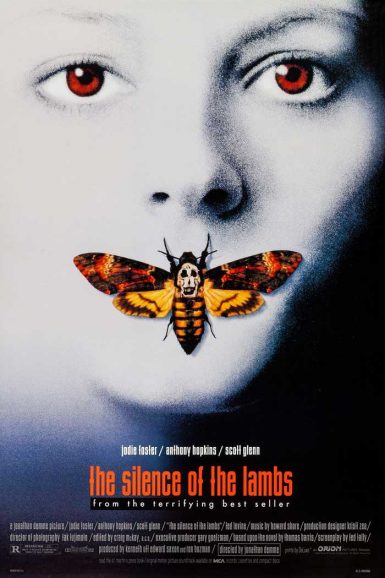 The Silence of the Lambs
The late Jonathan Demme left behind a stunning masterwork in The Silence of the Lambs, a psychological crime thriller that created career defining turns for both Jodie Foster as the brilliant, but green, FBI Agent Clarice Starling, and Anthony Hopkins as serial killer Hannibal Lecter. In an attempt to help catch the elusive serial killer "Buffalo Bill" (Ted Levine), who covets his victims skin for his own metamorphosis, Jack Crawford (Scott Glenn) tasks Clarice to interview the incarcerated, cannibalistic psychiatrist and serial killer Lecter in the hopes of gleaming some information about the case. Lecter dines on young Clarice's fear like the victims he turned into elaborate cuisine, and his statue like presence, cultured manners and hypnotic vocal cadence, belies a sinister genius who trades his knowledge of the case in order to delve into Clarice's fragile psyche. Demme deftly tightens the noose as the macabre images literally hang on the screen, building to a breath holding conclusion in Ted Tally's gripping adaption of the Thomas Harris novel.
"Pop film making of a high order." – Vincent Canby, The New York Times
"The popularity of Jonathan Demme's movie is likely to last as long as there is a market for being scared." – Roger Ebert
"Jonathan Demme's thriller is artful pulp – tabloid material treated with intelligence and care and a weird kind of sensitivity." – Terrence Rafferty, New Yorker
"Hopkins' performance may be the film's bravura showpiece, but Foster's goes the whole distance, steadfast, controlled, heartbreakingly insightful, a fine addition to her gallery of characterizations." – Sheila Benson, Los Angeles Times
Director

Jonathan Demme
Starring

Jodie Foster, Anthony Hopkins, Scott Glenn, Ted Levine
Year

1991
Rated

R
Country

USA
Format

35mm
Running Time

118 minutes