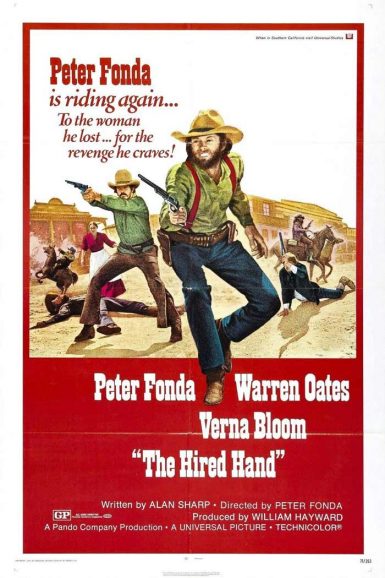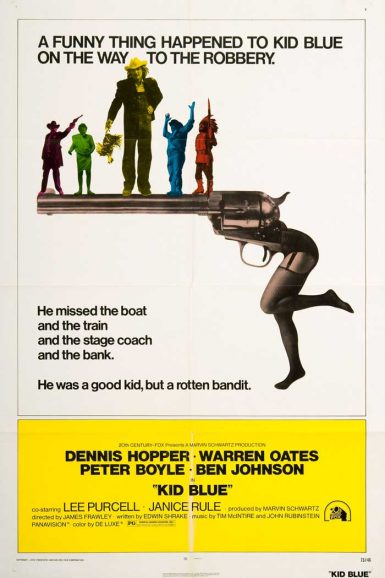 The Hired Hand (IB Tech Print)
Vibrant I.B. Technicolor 35mm Print!
Kid Blue
Buy Tickets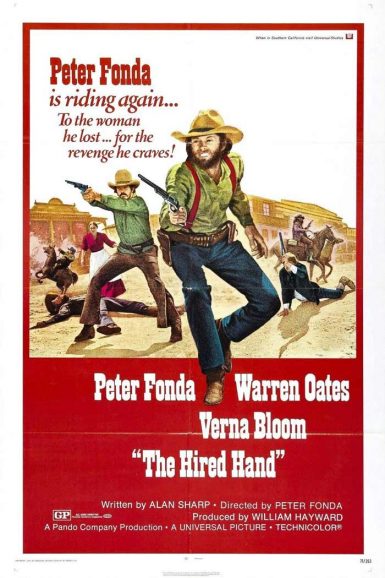 The Hired Hand (IB Tech Print)
Following the success of Easy Rider, Universal gave Peter Fonda a million dollars to make his directorial debut, The Hired Hand, a hypnotic hippie western that bombed at the box office but has since been reevaluated as a minor classic. In this elegiac oater, a drifting cowboy (Peter Fonda) and his saddle tramp friend (Warren Oates) return to the wife (Verna Bloom) that Fonda had deserted years before. But as the cold unease of the couple's estrangement thaws, Fonda will have to choose between his rekindled home life and saving the life of his friend. Scripted by Alan Sharp (Night Moves), beautifully shot by cinematographer Vilmos Zsigmond (McCabe & Mrs. Miller) and featuring a stellar score by Bruce Langhorne, The Hired Hand ranks as one of the great counterculture films of the '70s.
"The closest anyone will come to getting inside of Fonda's head without going blind on 'shrooms and pharmaceuticals." – Scott Tobias, The A.V. Club
"Fonda, touching as an actor, proves astonishing as a director, using a fluid, tactile style to conjure a life lived close to the elements and to sudden death." – Michael Sragow, New Yorker
Kim Morgan discusses The Hired Hand on the New Beverly blog.
Director

Peter Fonda
Starring

Peter Fonda, Warren Oates, Verna Bloom, Robert Pratt, Severn Darden
Year

1971
Rated

R
Country

USA
Format

I.B. Technicolor 35mm
Running Time

91 minutes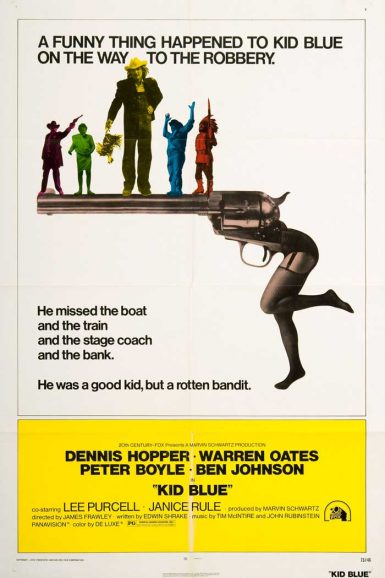 Kid Blue
An offbeat western comedy set at the turn of the century, Kid Blue finds its hapless namesake outlaw (Dennis Hopper) trying to go straight and get an honest job in a small Texas town of eccentrics (including Warren Oates, Peter Boyle, Ben Johnson and Lee Purcell). He was a good kid, but a rotten bandit, and he'll soon find that old habits are hard to break.
"Kid Blue has a meandering jug band sensibility and a premise hilariously relevant to Hopper's situation." – J. Hoberman, The New York Times
"A gentle little fable about the mechanization of the west and its effects on a small-time outlaw." – Don Druker, Chicago Reader
Ariel Schudson discusses Kid Blue on the New Beverly blog.
Director

James Frawley
Starring

Dennis Hopper, Warren Oates, Peter Boyle, Ben Johnson, Lee Purcell, Janice Rule, Ralph Waite, Clifton James
Year

1973
Rated

PG
Country

USA
Format

35mm
Running Time

100 minutes