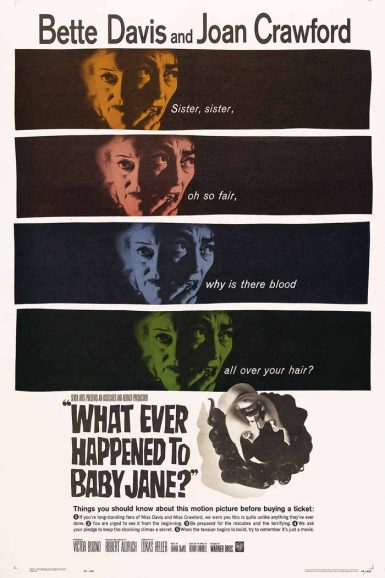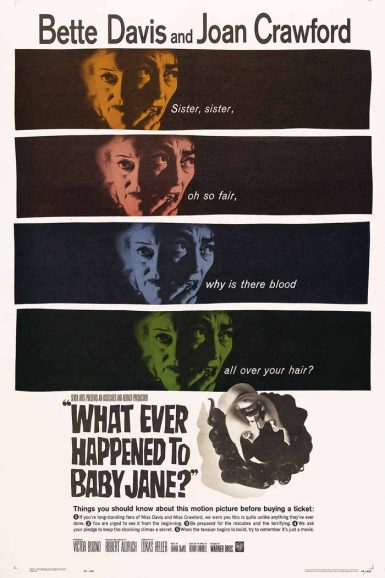 What Ever Happened to Baby Jane?
Sister, sister, oh so fair, why is there blood all over your hair? As a child, "Baby Jane" was a vaudevillian star, while her older sister lived in her shadow. But their fortunes flipped when Blanche became a successful film actress and her younger sister was forgotten. Now the old pair waste away in a decaying mansion, Blanche a paraplegic and Jane her caretaker. A dynamite Bette Davis and Joan Crawford star in Robert Aldrich's nightmarish Hollywood melodrama about simmering secrets and searing sibling hatred, an all-timer of suspenseful atmosphere and darkly comic torment, featuring legendary fireworks between the stars both on and off the screen.
"One of Hollywood's best gothic grotesqueries." – Roger Ebert
"A lurid melodrama of hate, revenge and murder, a high-class horror film, in the Hitchcock vein, with virtuoso performances from Bette Davis and Joan Crawford, and moments both searing and poignant." – James Powers, The Hollywood Reporter
Director

Robert Aldrich
Starring

Bette Davis, Joan Crawford, Victor Buono
Year

1962
Country

USA
Format

35mm
Running Time

134 minutes
Upcoming Showtimes
2:00 pm
What Ever Happened to Baby Jane?