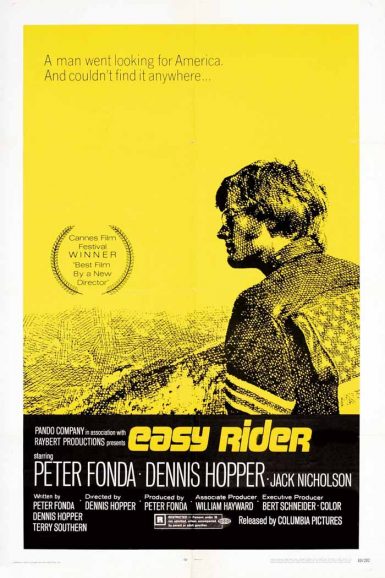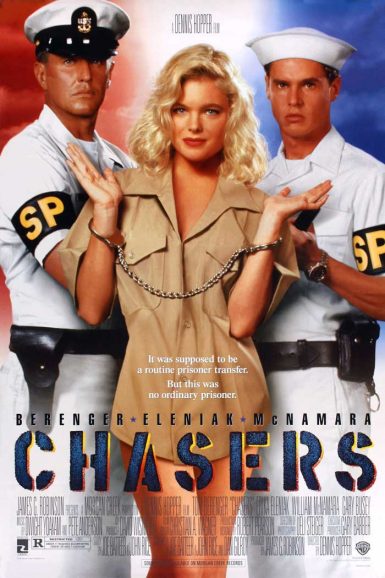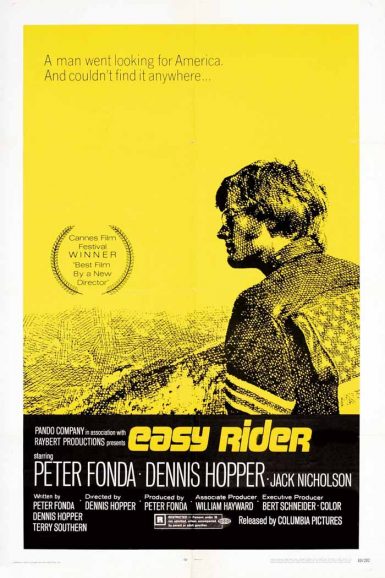 Easy Rider
Maverick filmmakers Peter Fonda and Dennis Hopper crashed the gates of Hollywood with their reimagining of the western hero in Easy Rider, a seminal film that paved the road for 1970s independent cinema. Billy (Dennis Hopper) and Wyatt/Captain America (Peter Fonda) are bikers who traffic some cocaine from Mexico to Los Angeles in order to fund their motorcycle journey south in time for Mardi Gras in New Orleans. Their plans are interrupted after they are arrested for "parading without a permit" where they meet-up with ACLU lawyer George Hanson (Jack Nicholson), who gets them out of jail and joins them on their trek. The hassles they encounter run contrary to the American flag painted on Wyatt's gas tank and helmet, as the wide-open America that legendary cinematographer Laszlo Kovacs (Paper Moon) captures, is ending for Wyatt and Billy – with an all-time road-trip movie ending that mourns the end of the 1960s. The Byrds, Roger McGuinn, The Jimi Hendrix Experience, The Band, and Steppenwolf drive the film's iconic soundtrack.
"Fonda and Hopper, it should by this time go without saying, give immense performances." – Charles Champlin, Los Angeles Times
"It was inevitable that a great film would come along, utilizing the motorcycle genre, the same way the great Westerns suddenly made everyone realize they were a legitimate American art form, Easy Rider is the picture." – Roger Ebert
On the New Beverly blog, Garret Mathany interviews Illeana Douglas about her connections to Dennis Hopper and Easy Rider.
Kim Morgan discusses Easy Rider on the New Beverly blog.
Director

Dennis Hopper
Starring

Peter Fonda, Dennis Hopper, Jack Nicholson
Year

1969
Rated

R
Country

USA
Format

35mm
Running Time

95 minutes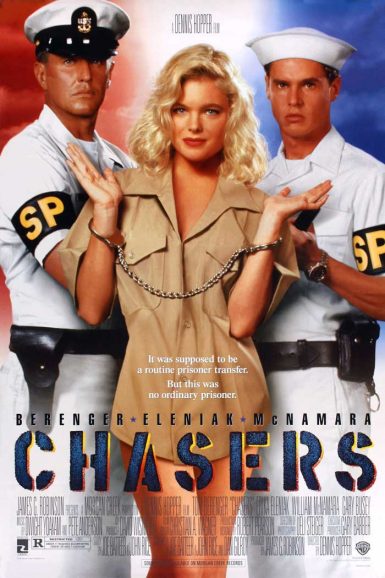 Chasers
Dennis Hopper directs Chasers, a comedy about a couple of Navy men, one of whom is a sailor about to be discharged, tasked with transporting a prisoner back to their naval base to face hard time. What they don't know is that the prisoner in question is a comely young lady who has no intention of doing said time and is planning an escape, come hell or high water. Hijinks ensue, as the prisoner does everything she can to break free, flummoxing her captors at every turn. Hopper directs this out-of-character comedy with aplomb, and it's a far cry from his better known, more serious works like Easy Rider and Colors. It would be his last feature directing gig before his passing in 2010, and while little known, it is well worth the time to seek out and see on the big screen.
Marc Edward Heuck discusses Chasers on the New Beverly blog.
Director

Dennis Hopper
Starring

Tom Berenger, Erika Eleniak, William McNamara, Gary Busey, Crispin Glover, Dean Stockwell, Seymour Cassel, Frederic Forrest, Dennis Hopper
Year

1994
Rated

R
Country

USA
Format

35mm
Running Time

102 minutes