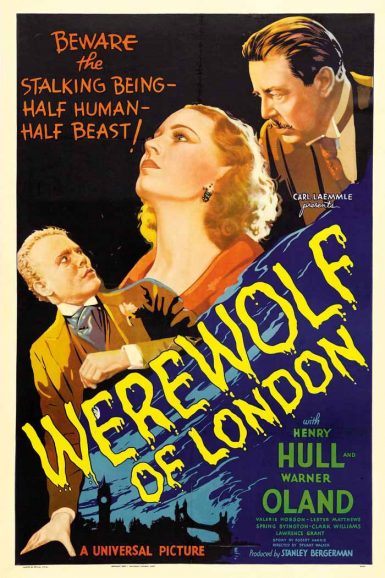 Werewolf of London
plus
The Wolf Man (1941)
Buy Tickets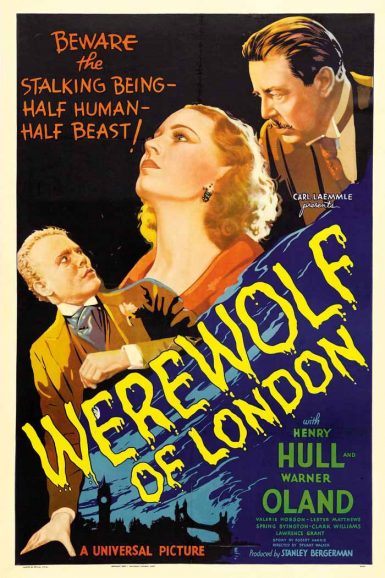 Werewolf of London
Six years before The Wolf Man, Universal took their first stab (or should I say bite?) at a werewolf story with the inventive Werewolf Of London. A mysterious creature attacks world-renowned botanist Dr. Glendon while he surveys plants in Tibet. Back in London, he starts to notice strange fur on his hands while experimenting with artificial moonlight. As he starts to understand what bit him, he recoils from loved ones. He knows werewolves seek to kill whom they love most. This exciting, tragic tale is lycanthropy is brought to life with Universal's trademark vivacious humor and chimerical set design, a pleasure all those who watch, as long as they don't get bit.
"Designed solely to amaze and horrify, the film goes about its task with commendable thoroughness, sparing no grisly detail and springing from scene to scene with even greater ease than that oft attributed to the daring young aerialist." – Frank S. Nugent, The New York Times
Director

Stuart Walker
Starring

Henry Hull, Warner Oland, Valerie Hobson, Lester Matthews, Lawrence Grant, Spring Byington, Clark Williams
Year

1935
Country

USA
Format

35mm
Running Time

75 minutes
The Wolf Man (1941)
Elevating the monster movie to the level of Shakespeare, The Wolf Man is the Hamlet of Classic Universal Monsters. Centered on Lon Chaney Jr.'s heartrending performance as prodigal son-turned-werewolf Larry Talbot, this film charts his descent as violent transformation rocks his entire world. Claude Rains co-stars as his stern, but sympathetic father, and Bela Lugosi features as a portentous gypsy. Writer Curtis Siodmak invented defining traits of the werewolf legend including fallibility only to silver implements/bullets and symbolic use of pentagrams. He also drew upon his experience living in Nazi Germany.
"The Wolf Man serves its horror straight. A very substantial cast undertakes to sell believably a tale of superstitious folklore." – Hollywood Reporter
"Good direction and performances by an above par assemblage of players" – Variety
Kim Morgan discusses The Wolf Man on the New Beverly blog.
Director

George Waggner
Starring

Lon Chaney Jr, Claude Rains, Ralph Bellamy, Warren William, Patric Knowles, Bela Lugosi
Year

1941
Country

USA
Format

35mm
Running Time

70 minutes