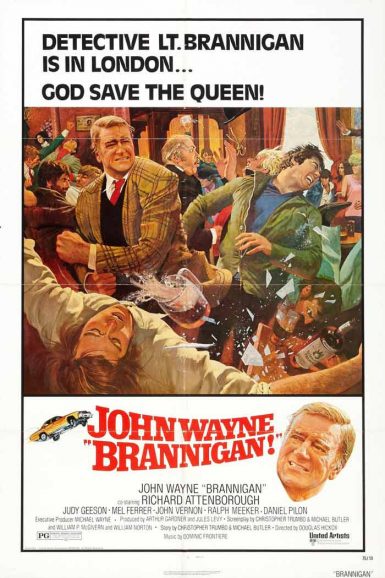 McQ (IB Tech Print)
Vibrant I.B. Technicolor 35mm Print!
Brannigan
Buy Tickets
McQ (IB Tech Print)
John Wayne regretted turning down the lead in Dirty Harry, so he was keen to star in his own action thriller about a maverick cop playing by his own rules. He got to bring his brash, politically incorrect style to director John Sturges' McQ, about a hard-nosed Seattle detective in a hurricane of vengeance against those responsible for his partner's murder. But McQ taps into a conspiracy way bigger than he'd expect. It could go all the way to the top! Littered with beach-front car chases and submachine gun violence, the film also features New Bev favorite Clu Gulager as top brass and Al Lettieri (in one of his last roles) as Manny Santiago, the head of the Seattle criminal underground.
Director

John Sturges
Starring

John Wayne, Eddie Albert, Diana Muldaur, Colleen Dewhurst, Clu Gulager, David Huddleston, Julian Christopher, Al Lettieri
Year

1974
Rated

PG
Country

USA
Format

I.B. Technicolor 35mm
Running Time

109 minutes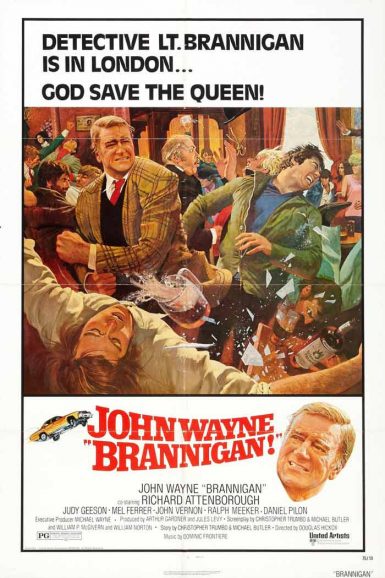 Brannigan
If McQ is John Wayne's Dirty Harry, then Brannigan is his Coogan's Bluff. He's a cavalier Chicago P.D. lieutenant sent to London with extradition papers and handcuffs for American mobster Ben Larkin (John Vernon). The operation goes south when a rival syndicate kidnaps Larkin, and Brannigan has to work with uptight commander Sir Charles Swann (Richard Attenborough) to retrieve the bounty. Brannigan has no qualms taking on both the world's most dangerous hit men and stuffy British society in this fish- out-of-water cop thriller, which features the Duke in a blistering car chase through the streets of London (driving on the left side!).
"A well-crafted action movie and, besides, it's got John Wayne in it." – Roger Ebert
Director

Douglas Hickox
Starring

John Wayne, Richard Attenborough, Judy Geeson, Mel Ferrer, John Vernon
Year

1975
Rated

PG
Country

UK/USA
Format

35mm
Running Time

111 minutes