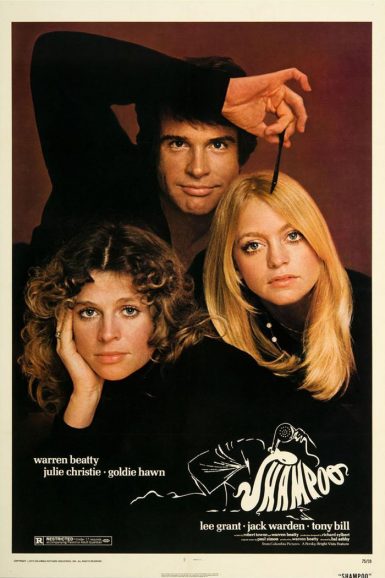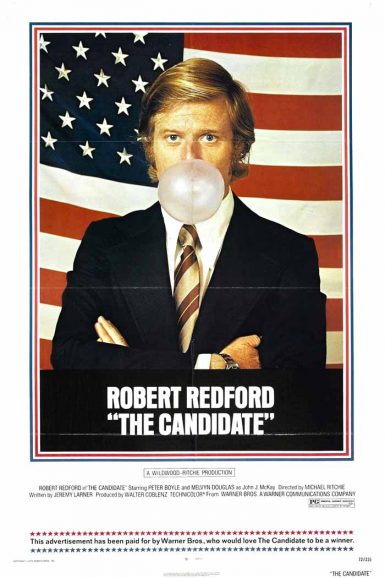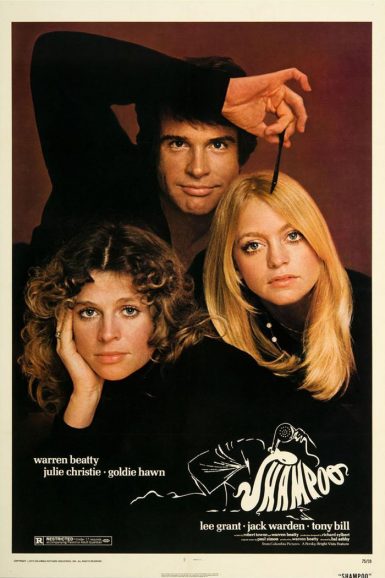 Shampoo
Three of New Hollywood's most important voices (Hal Ashby, Robert Towne and Warren Beatty) come together to make this pivotal 70's film. Beatty stars as George Roundy, a womanizing Beverly Hills hairdresser who beds his female clients while their husbands think he must be gay. His professional and personal life comes to a head on Election Day 1968. This rich satire was a long-gestating passion project for Towne, who spent eight years re-writing the script. Beatty's energetic chemistry with his co-stars, especially real-life love Julie Christie, makes this film his. Of course, he was the producer, too, and meddled with Ashby's direction at every turn.
"Shampoo, made in 1975 but set in 1968, the night before Richard Nixon's election to the presidency, was directed by Hal Ashby and written by Robert Towne and Warren Beatty, who may have produced one of the best scripts in the last three decades." – Carina Chocano, Los Angeles Times
Read an excerpt from Lee Grant's memoir about her steamy Shampoo days with Warren Beatty.
View the full set of US lobby cards for Shampoo on the New Beverly forum.
Kim Morgan discusses Shampoo on the New Beverly blog.
Director

Hal Ashby
Starring

Warren Beatty, Julie Christie, Goldie Hawn, Lee Grant, Jack Warden, Tony Bill, George Furth
Year

1975
Rated

R
Country

USA
Format

35mm
Running Time

110 minutes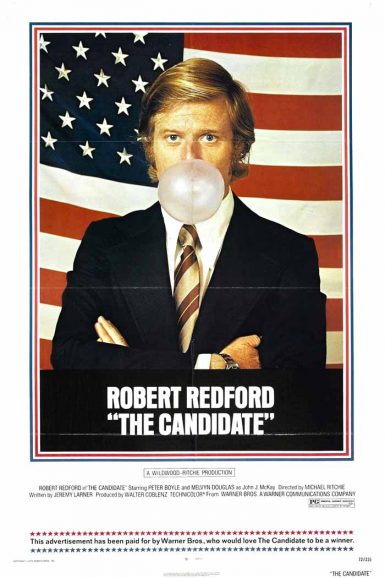 The Candidate
A candid, warts-in-all look at the political process, this solid character study follows Robert Redford as Bill McKay, golden boy lawyer and prodigal son of a former California governor (Melvyn Douglas), as he runs for senator against a popular incumbent. Frank and refreshing, like the candidate himself, the film manages to explore the campaign trail without moralizing or satirizing, portraying a nuanced, reluctant politician who questions the value of politics itself and presenting himself to voters unvarnished and real. Like a gritty 70's crime film, but for the meat grinder of politics, this movie remains urgently and thoughtfully relevant to this day.
"Screenwriter Jeremy Lardner earned an Oscar for The Candidate, a sharp, unsentimental, mordantly funny dissection of big-time politics. More surprising by far, though, was Robert Redford not receiving an Oscar nod after one of the strongest, most nuanced performances of his career." – Ben Cosgrove, Time
View the full set of US lobby cards for The Candidate on the New Beverly forum.
Director

Michael Ritchie
Starring

Robert Redford, Peter Boyle, Melvyn Douglas, Don Porter, Allen Garfield
Year

1972
Rated

PG
Country

USA
Format

35mm
Running Time

110 minutes