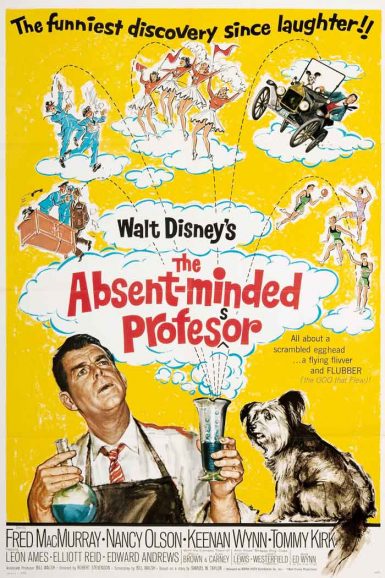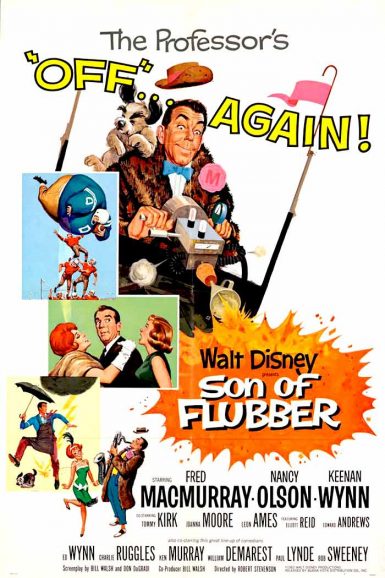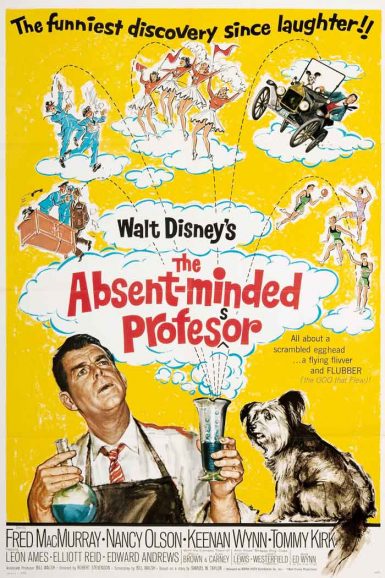 The Absent-Minded Professor
Fred MacMurray, one of America's favorite TV dads on My Three Sons, stars in the Disney comedy classic The Absent-Minded Professor. He plays Ned Brainard, a professor at Medfield College, who invents an anti gravity substance that he calls "Flubber." Short for flying rubber, the newfound material is avidly sought by a crooked local businessman, Alonzo Hawk (Keenan Wynn), and highjinks ensue as Brainard attempts to protect his invention and find it a more fitting home with the U.S. military. Remade in 1997 as the Robin Williams starrer Flubber, the 1961 original still stands tall and is more than capable of thoroughly entertaining modern moviegoers of all ages.
"A very funny piece of hyperbolic humor in the grand American tradition of Paul Bunyan, and Director Robert Stevenson and Scriptwriter Bill Walsh get plenty of bounce out of every ounce." – TIME Magazine
"MacMurray is ideally cast as the car-hopping prof, and plays the role with warmth and gusto." – Variety
"This is a zanily inventive piece of work, with delightful special effects, which set the style for a long series of live-action Disney films." – TV Guide
Director

Robert Stevenson
Starring

Fred MacMurray, Nancy Olson, Keenan Wynn, Tommy Kirk
Year

1961
Country

USA
Format

35mm
Running Time

96 minutes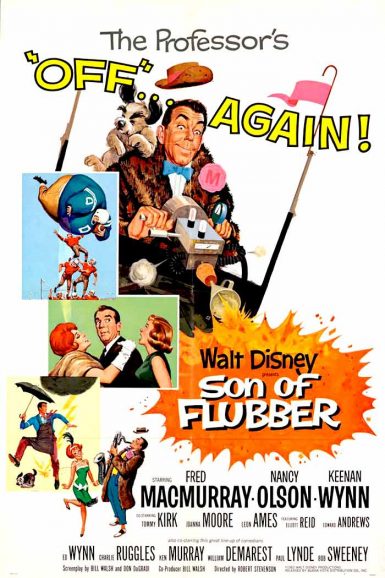 Son of Flubber
Professor Ned Brainard (Fred MacMurray) has a new invention up his sleeve in Disney's Son of Flubber. This time it's Flubbergas, a substance capable of helping to control the weather. Once again, the nefarious Alonzo Hawk (Keenan Wynn) is after his creation, while also seeking to shut Ned's school down. Ned must use his wits, and the help of his students, to fight back against his naysayers, which also include the local authorities. From its showstopping, zany football game scene to its rousing courtroom finale, Son of Flubber takes its viewers on a wild ride through a real humdinger of a film.
"It is crazy, of course, in the spirit of old-fashioned sight-gag slapstick farce, but it is fun—and, indeed, a bit of a satire on the weird inventions of the new atomic age. It has all the wholesome ingredients of perennial family comedy, including Mr. Disney's infant grandson in a small but expandable role." – Bosley Crowther, The New York Times
Director

Robert Stevenson
Starring

Fred MacMurray, Nancy Olson, Keenan Wynn, Tommy Kirk, Ed Wynn, Charlie Ruggles, Leon Ames, WIlliam Demarest, Paul Lynde
Year

1963
Country

USA
Format

35mm
Running Time

100 minutes