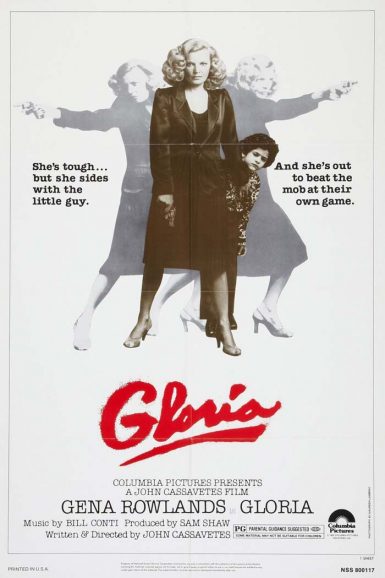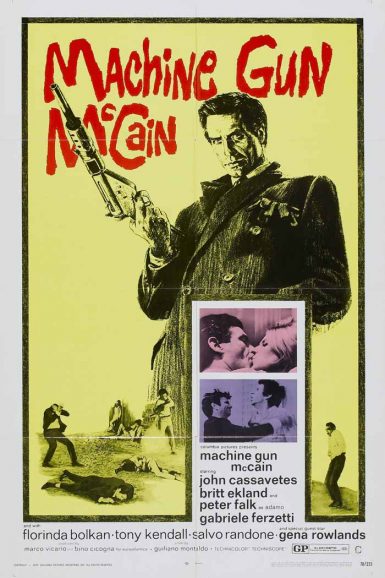 Gloria
Machine Gun McCain (IB Tech Print!)
Vibrant IB Technicolor 35mm Print!
Buy Tickets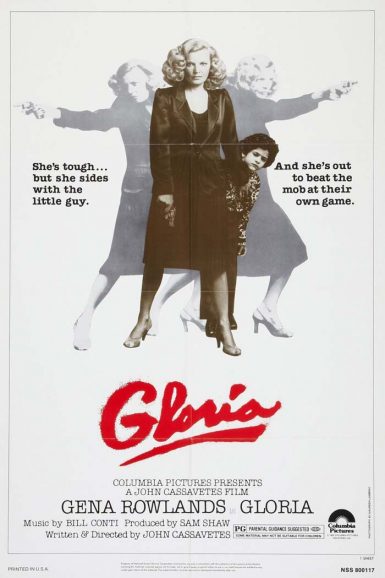 Gloria
Filmmaker John Cassavetes originally wrote the screenplay for this genre melodrama to make money. But when spouse Gena Rowlands was cast in the lead, she asked her husband to direct. A mob accountant (Buck Henry) and his family have been marked for death since Henry has turned informant. When neighbor Gloria (Rowlands), a gang boss' ex-girlfriend, knocks on the door to borrow some coffee, Henry's wife begs Gloria to take her kids. Gloria reluctantly agrees, but is only able to spirit away the son when the daughter barricades herself in the bathroom. Minutes afterwards, Gloria hears gunfire, and dragging the kid with her, they go on the run through the boroughs of New York, one step ahead of certain death. One remembers Cassavetes as an actor in Elaine May's quirky mob drama Mikey and Nicky, not to mention directing his own Killing of a Chinese Bookie, and one wonders what it would have been like if he had made more crime films with his naturalistic style and refusal to follow formulaic conventions.
"Rowlands is typically superb as the tough talking New York moll – half-whore, half-mother… Cassavetes and the two leads keep maudlin sentimentality at bay until the very bitter end… Terrific." – Time Out
View the full set of US lobby cards for Gloria on the New Beverly forum.
Director

John Cassavetes
Starring

Gena Rowlands, John Adames
Year

1980
Rated

PG
Country

USA
Format

35mm
Running Time

121 minutes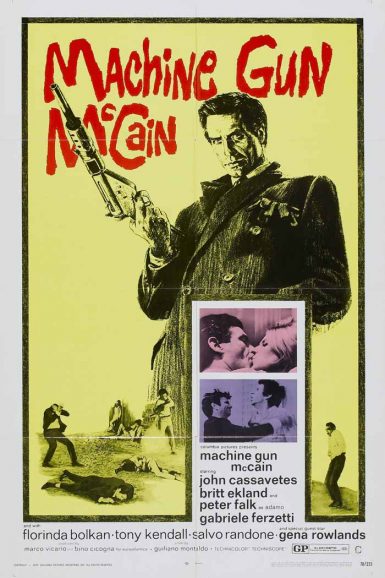 Machine Gun McCain (IB Tech Print!)
Recently released from prison, Machine Gun McCain (John Cassavetes) returns to a life of crime, only to find himself a pawn in a ruthless mob rebellion. But nobody stands between McCain and his money… or his machine gun, erupting an all-out gang war.
"Haunted by a score by Ennio Morricone, Machine Gun McCain is a to-the-bone genre film…  as tight yet rigorous as a crime film could be asked to be." – Chris Cabin, Slant
Kim Morgan discusses Machine Gun McCain on the New Beverly blog.
Director

Giuliano Montaldo
Starring

John Cassavetes, Britt Ekland, Peter Falk, Gabriele Ferzetti, Luigi Pistilli, Florinda Bolkan and Gena Rowlands
Year

1969
Rated

GP
Country

Italy
Format

IB Technicolor 35mm
Running Time

95 minutes