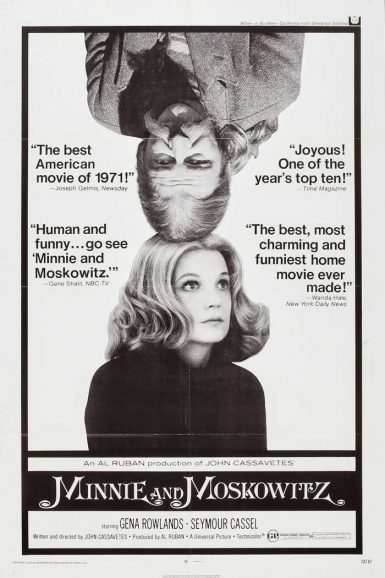 Minnie and Moskowitz
Made between Husbands and A Woman Under the Influence, John Cassavetes' offbeat romantic fairy tale may be the director's most accessible & charming movie. A quirky, joyous and punch-drunk love story, the film follows an unlikely, opposites-attract romance blossoming between museum curator Minnie (Gena Rowlands) and parking lot attendant Moskowitz (Seymour Cassel). It's an acting tour de force with Timothy Carey, Val Avery, Cassavetes and his mother Katherine in key supporting roles.
"The best American movie of 1971!" – Joseph Gelmis, Newsday
"The best, most charming and funniest home movie ever made!" – Wanda Hale, New York Daily News
"It is a movie on the side of love, and it is one of the finest movies of the year." – Roger Ebert
Kim Morgan discusses Minnie and Moskowitz on the New Beverly blog.
Director

John Cassavetes
Starring

Gena Rowlands, Seymour Cassel, Val Avery, Timothy Carey
Year

1971
Rated

GP
Country

USA
Format

35mm
Running Time

114 minutes