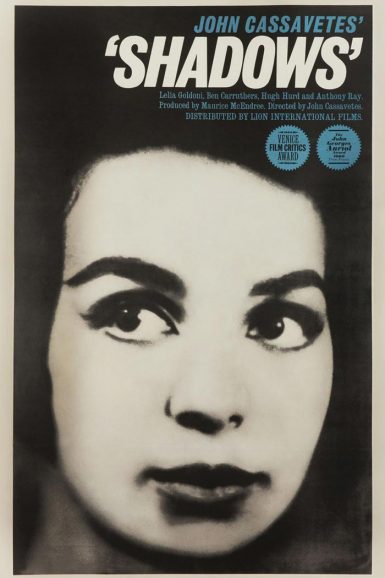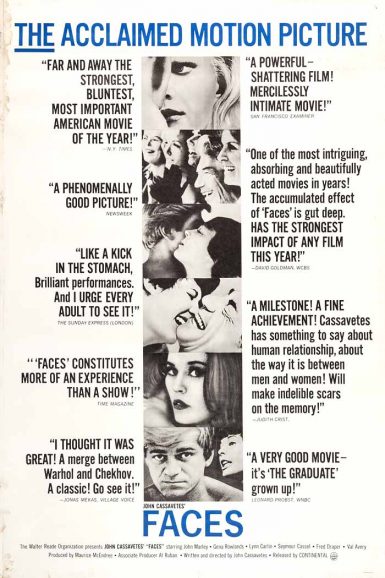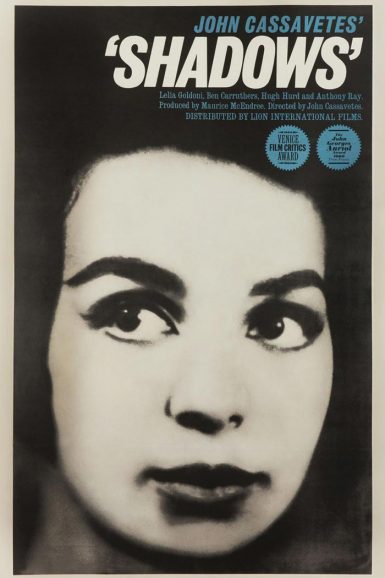 Shadows
Straight out the gate, John Cassavetes signaled himself a singular voice in American cinema with this landmark independent film and his feature debut, Shadows. Set among the jazz set in gritty, post-war New York, this feverish, free form film centers on the affair between a light-skinned black woman and a white male musician. It employs a savage dissection of race relations as well as showbiz pressure, and shows a striking awareness of character dramatics and thematic material. Filmed in the acting workshop where Cassavetes taught in the 50's, the film was largely improvised and features an upright bass score from the legendary Charles Mingus.
"Fitfully dynamic, endowed with a raw but vibrant strength, conveying an illusion of being a record of real people, and it is incontestably sincere." – Bosley Crowther, The New York Times
"Again and again the line between acting and living is erased. Caught in the ecstasy of collective creation, a handful of earnest amateurs have almost accidentally produced a flawed but significant piece of folk art." – Time
On Slate.com read how John Cassavetes' startling directorial debut changed American movies forever.
Ariel Schudson discusses Shadows on the New Beverly blog.
Director

John Cassavetes
Starring

Ben Carruthers, Lelia Goldoni, Hugh Hurd, Anthony Ray
Year

1959
Rated

PG
Country

USA
Format

35mm
Running Time

81 minutes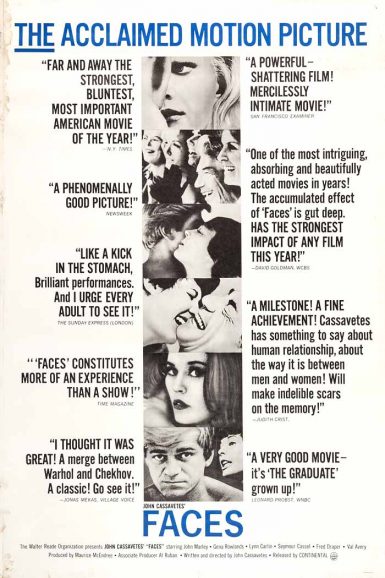 Faces
Like a smack to the face followed by laughter, Faces assaults your expectations with its searing double portrait of gin-soaked marital dissolution and the couple's thrashing attempts at respite in the arms of others. Raw and unrelenting, Cassavetes fully articulates his hyper-real brand of storytelling, drawing on the magnetic and vulnerable work of performers John Marley, Lynn Carlin, Seymour Cassel and Gena Rowlands. They generate an emotional tension unseen before on film, highlighting the almost-feral animus running through everyday relationships. He spent three years in post-production on the film, and the result pays off with a deeply troubling battle of the sexes, a film culturally urgent and psychologically acute. In short, Faces accomplishes what few films can: honestly portraying human behavior in its near-unutterable capacity for both cruelty and grace.
"John Cassavetes' Faces is the sort of film that makes you want to grab people by the neck and drag them into the theater and shout: 'Here!' It would be a triumphant shout. What Cassavetes has done is astonishing. He has made a film that tenderly, honestly and uncompromisingly examines the way we really live." – Roger Ebert
Director

John Cassavetes
Starring

John Marley, Gena Rowlands, Lynn Carlin, Fred Draper, Seymour Cassel
Year

1968
Rated

R
Country

USA
Format

35mm
Running Time

130 minutes