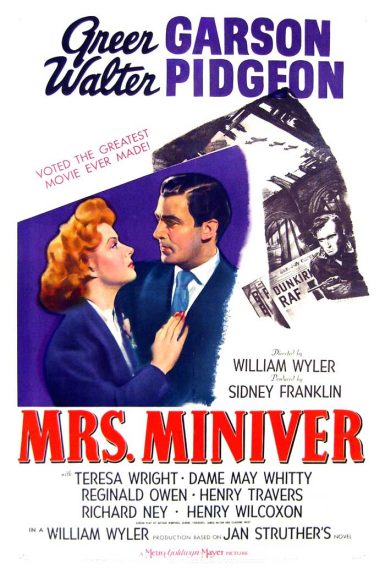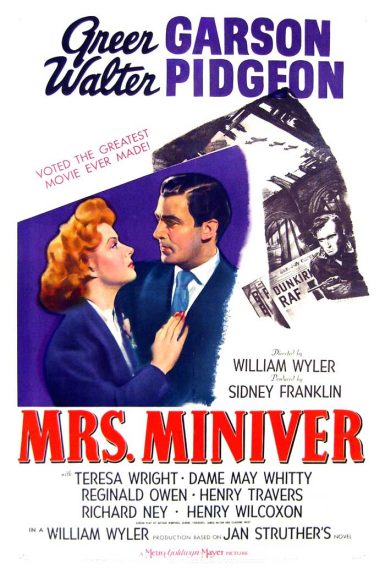 Mrs. Miniver
Perhaps the finest wartime propaganda film ever made, William Wyler's Mrs. Miniver stands, not just as a great film, but as an immeasurable contribution to the Allied war effort, as well. Joseph Goebbels himself lauded the film's measured pathos, calling it "refined and powerful." Indeed, the Nazi minister was right to be in awe of Wyler's deeply moving family portrait, centering on the stalwart titular matriarch played by Greer Garson (for which she won as Oscar). It resonates with, and is a tribute to, the persistence of grace in wartime, a merciful ode to the freedom and bonds, which we were fighting for. And no one will bring you to tears with a thousand-yard stare quite like Mrs. Miniver.
"That almost impossible feat, a great war picture that photographs the inner meaning, instead of the outward realism of World War II." – TIME Magazine
"A poignant story of the joys and sorrows, the humor and pathos of middle-class family life in wartime England." – Herb Golden, Variety
"It is hard to believe that a picture could be made within the heat of present strife which would clearly, but without a cry for vengeance, crystallize the cruel effect of total war upon a civilized people. Yet that is what has been magnificently done in Mrs. Miniver… the finest film yet made about the present war, and a most exalting tribute to the British" – Bosley Crowther, The New York Times
Ariel Schudson discusses Mrs. Miniver on the New Beverly blog.
Director

William Wyler
Starring

Greer Garson, Walter Pidgeon, Teresa Wright, May Whitty, Reginald Owen, Henry Travers
Year

1942
Country

USA
Format

35mm
Running Time

134 minutes