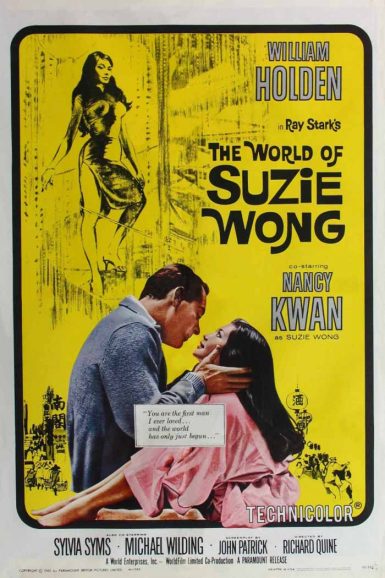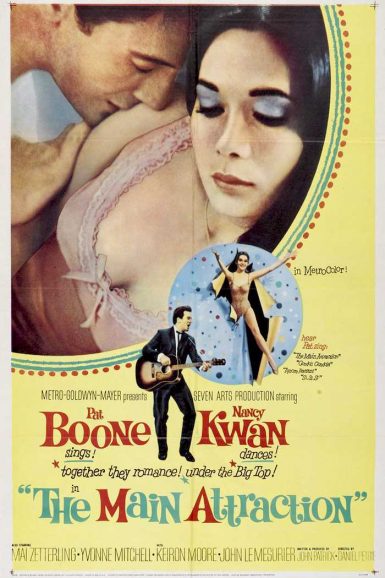 The World of Suzie Wong
Vibrant IB Technicolor 35mm print!
The Main Attraction (IB Tech Print)
Not Available on DVD! Vibrant IB Technicolor 35mm print!
Buy Tickets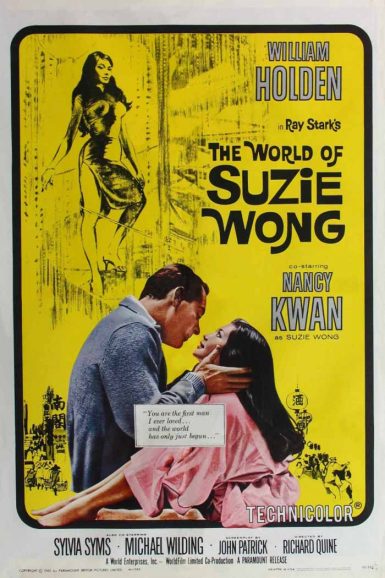 The World of Suzie Wong
Architect Robert Lomax (William Holden) abandons his career to become a painter and moves to Hong Kong on a limited budget. Almost immediately, he meets prostitute Suzie Wong (Nancy Kwan) but refuses to patronize her except as a model. Recognizing integrity in each other, the two fall in love, frustrating the hopes of Lomax's British friends in the colony. When Lomax's money runs out, the true mettle of the couple's staying power is put to the ultimate test. Trained for months at the behest of producer Ray Stark, novice actress Kwan was brought in at the last minute to replace ailing original star, France Nuyen, after half the film had been shot. Original director Jean Negulesco was also replaced by Columbia Studios veteran Richard Quine.
"The intelligent and fair-minded romantic drama…acknowledges cultural hypocrisy without adding to it…A man cozies up to a 'fallen woman' – of another race – and she isn't hit by lightning or swallowed up by a volcano… Ms. Kwan's performance is truly impressive – she shows a facility with moods and shifts of tone, and projects mischief and integrity in equal doses." – Glenn Erickson, DVD Savant
"In this wildly romantic, vividly imagined color film.. there is packaged the glowingest commercial for love conquering everything" – Bosley Crowther, The New York Times
Marc Edward Heuck discusses The World of Suzie Wong on the New Beverly blog.
Director

Richard Quine
Starring

William Holden, Nancy Kwan, Sylvia Syms, Michael Wilding
Year

1960
Rated

Approved
Country

UK/USA
Format

IB Technicolor 35mm
Running Time

126 minutes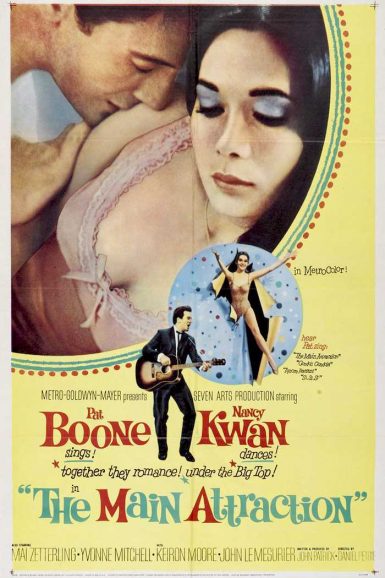 The Main Attraction (IB Tech Print)
There's drama under the big top in the impossibly hard-to-see rarity The Main Attraction when a guitar-slingin', smooth-voiced American drifter (Pat Boone) joins a European circus as the singing, boy-toy sidekick for their ventriloquist (Mai Zetterling). Things get sticky when he falls in love with the circus' horse rider (Nancy Kwan). Their budding romance lights the fuse of already seething conflicts behind the scenes. Co-starring Kieron Moore and Yvonne Mitchell. At the premiere, puritanical Boone was reportedly concerned over the lurid aspects of a few scenes and compromises were negotiated behind closed doors.
"Thanks to the cryptic, lifelike dialogue of John Patrick, the producer, the smooth direction of Daniel Petrie, and the competent playing of a good, small cast, the movie unfolds as a tightly knotted, adult story of sexual tensions and jealousies. Here is a backstage circus yarn, with no spangled nonsense and some workable, simmering frictions – and one ring." – Bosley Crowther, The New York Times
View a collection of rare US lobby cards for The Main Attraction on the New Beverly forum.
Download a PDF of the original press book for The Main Attraction here.
Director

Daniel Petrie
Starring

Pat Boone, Nancy Kwan, Mai Zetterling, Yvonne Mitchell
Year

1962
Country

UK
Format

IB Technicolor 35mm
Running Time

89 minutes