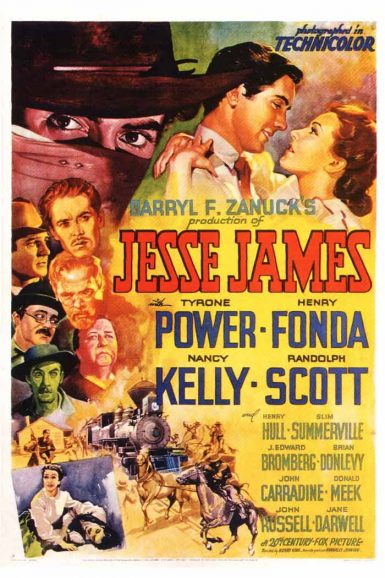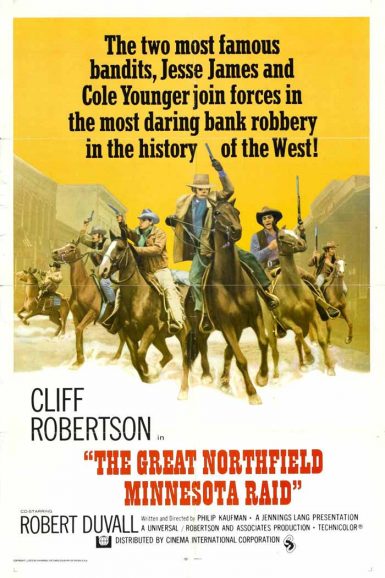 Jesse James
The Great Northfield Minnesota Raid (IB Tech Print)
Vibrant I.B. Technicolor 35mm Print!
Buy Tickets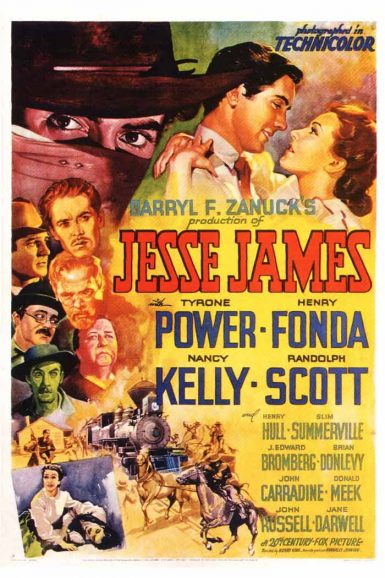 Jesse James
Legendary 20th Century Fox producer Darryl F. Zanuck put together the wildly successful (and grossly inaccurate) picture about Wild West folk hero Jesse James. Swashbuckling Tyrone Power stars as the titular outlaw, with a young Henry Fonda as his brother Frank. A dispute with land-hungry railroad men sets young Jesse and his gang on the path to outlawry. The film's amazing on-location, early-color photography is a sight to behold, as well as the thrilling train robbery sequences. This romantic ballad of thieves also boasts John Carradine as Bob Ford, the desperate gang member would ultimately pull the trigger on James.
"The best screen entertainment of the year… an authentic American panorama, enriched by dialogue, characterization, and incidents imported directly from the Missouri hills." – The New York Times
Director

Henry King
Starring

Tyrone Power, Henry Fonda, Nancy Kelly, Randolph Scott, Henry Hull, Slim Summerville
Year

1939
Country

USA
Format

35mm
Running Time

106 minutes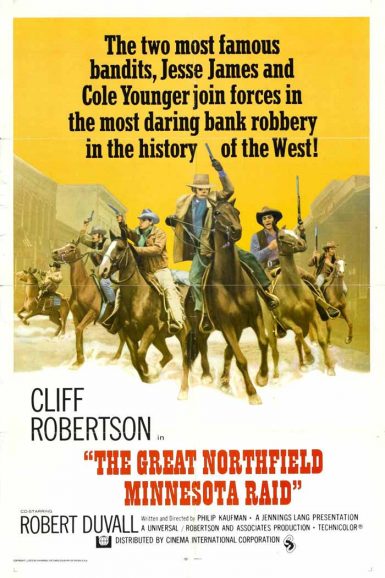 The Great Northfield Minnesota Raid (IB Tech Print)
Robert Duval is Jesse James and Cliff Robertson is Cole Younger in the 1972 western The Great Northfield Minnesota Raid. Based on a true story, these two leaders of the infamous James-Younger gang head up a robbery attempt on the so called biggest bank west of the Mississipi, located in the aforementioned wintery burgh. Not all goes as planned though, starting with infighting among the outlaws themselves, followed by the threat of Pinkerton detectives on their trail and more. Writer/director Philip Kaufman, later of the Invasion of the Body Snatchers (1978) and The Right Stuff fame, shows a sure hand helming this oater with great performances from the two Oscar-winning stars.
"The Great Northfield Minnesota Raid is the kind of first movie so rich in texture and invention that we can look forward to a lot more from Philip Kaufman." – Jay Cocks, TIME Magazine
"An offbeat, ragged but totally absorbing Western." – TV Guide
Director

Philip Kaufman
Starring

Cliff Robertson, Robert Duvall, Luke Askew, R.G. Armstrong, Dana Elcar, Donald Moffat
Year

1972
Rated

PG
Country

USA
Format

I.B. Technicolor 35mm
Running Time

91 minutes