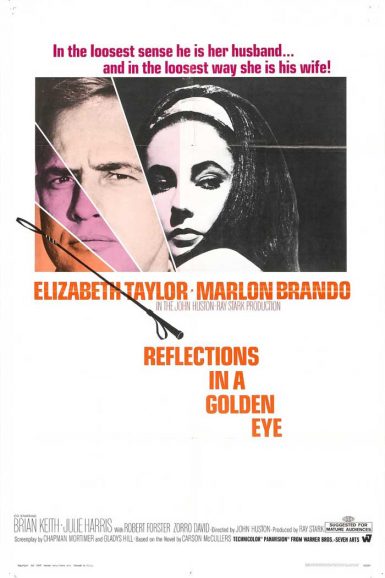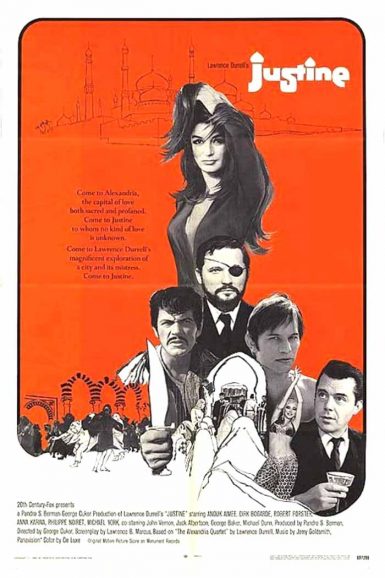 Reflections in a Golden Eye (IB Tech Print)
Vibrant I.B. Technicolor print!
Justine
Buy Tickets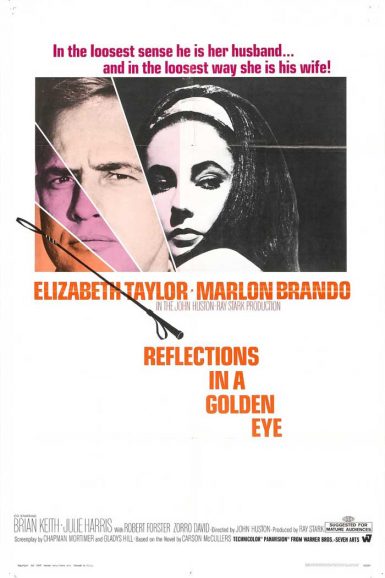 Reflections in a Golden Eye (IB Tech Print)
Based on the novel of the same name, Hollywood royalty Elizabeth Taylor and Marlon Brando create quite the bitches brew as a married couple with secrets and desires bubbling to the surface in director John Huston's sexual psychodrama Reflections in a Golden Eye. Set on a military base in the deep south, Brando plays Major Weldon Penderton, a man whose repressed homosexual desires begin to seep through his masculine military visage, when he is intrigued by a handsome young private (Robert Forster). Elizabeth Taylor gives a magnificent performance as Leonora Penderton, the Major's cheating wife who enjoys taunting and emasculating her husband with her sexuality, while engaging in an affair with their neighbor Lt.Colonel Langdon (Brian Keith). Houston slowly reels in the film's opening line – "There is a fort in the South where a few years ago a murder was committed," in a slow burn of twisted voyeuristic erotica, captured in lush southern gothic beauty by cinematographer Aldo Tonti.
"A superbly controlled exercise in the malevolent torments of despair." – Time Out
"Reflections is a better film than we had any right to expect. It follows the McCullers story faithfully and without compromise. The performances are superb. Besides Brando, there is Miss Taylor, proving once again as she did in Virginia Woolf that she really can act" – Roger Ebert
Director

John Huston
Starring

Elizabeth Taylor, Marlon Brando, Brian Keith, Julie Harris, Robert Forster, Zorro David
Year

1967
Country

USA
Format

I.B. Technicolor 35mm
Running Time

108 minutes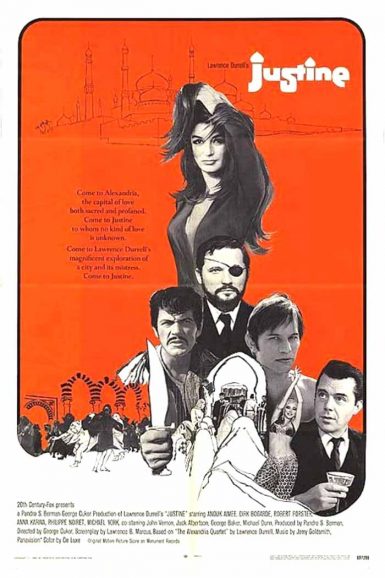 Justine
Set in Egypt's bustling and exotic port city of Alexandria on the eve of World War II, Justine follows aspiring British poet and schoolteacher Darley (Michael York) as he falls in with a consular officer Pursewarden (Dirk Bogarde) and a wealthy local banker's alluring wife Justine (Anouk Aimee). His secret romance with the cryptic and seductive Justine hurtles him into a dangerous web of intrigue and terror that may involve a Jewish underground militia operating secretly inside Egypt. A historical romance suffused with baroque tragedy, this Lawrence Durrell adaptation weaves together enigmatic sensuality and high-wire political tension into an unforgettable journey around the world.
Director

George Cukor
Starring

Anouk Aimée, Dirk Bogarde, Robert Forster, Anna Karina, Philippe Noiret, Michael York, John Vernon
Year

1969
Country

USA
Format

35mm
Running Time

116 minutes