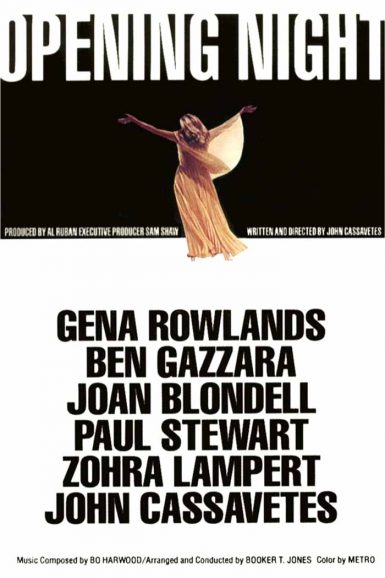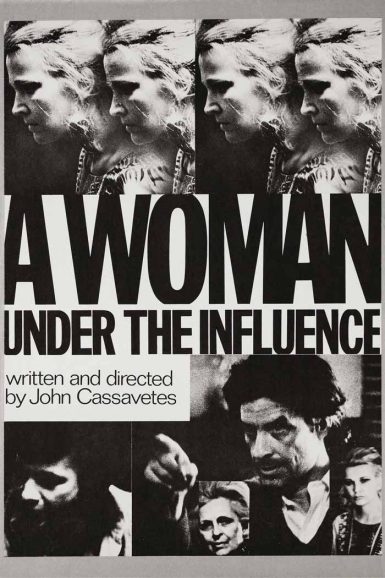 Opening Night (Gena Rowlands In Person!)
A Woman Under the Influence
Buy Tickets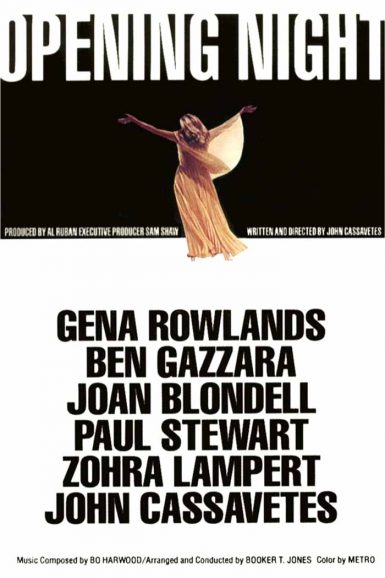 Opening Night (Gena Rowlands In Person!)
Legendary actress Gena Rowlands will join us IN PERSON, schedule permitting, for a Q&A immediately following our screening of Opening Night on November 11.
Director John Cassavetes follows muse/spouse/leading lady Gena Rowlands as alcoholic Broadway actress, Myrtle Gordon, making a comeback in a play mirroring her own fears about aging. When an overzealous young fan is accidentally run over and killed right in front of Myrtle, it exacerbates her insecurities into near hysteria on opening night. Ben Gazzara is the play's director trying to hold things together as his main star's persona disintegrates as the evening progresses. Cassavetes appears as a supporting actor in the play, and veteran movie star Joan Blondell is the philosophical playwright. Director Cassavetes was beset by a critical backlash when Opening Night received its initial limited and sparsely-attended release in Los Angeles and New York. The following year 1978, the Berlin Film Festival bestowed its Silver Bear Award on Rowlands for Best Actress. It wasn't until 1991, two years after Cassavetes' death, that the film found wider distribution and experienced a critical rehabilitation.
"Gena Rowlands plays the role at perfect pitch" – Roger Ebert
"This is Cassavetes at his most complex and compelling. The air of ambiguity is palpable. The image is packed with possibility." – Matthew Clayfield, Senses of Cinema
"Woody Allen said that he could watch a Bergman movie and feel himself gripped as if by a thriller; that's how I felt watching this restored version of John Cassavetes's 1977 picture Opening Night… It is both a psychological drama of eerie, internal strangeness, and a meditation on the enigma and loneliness of being beautiful." – Peter Bradshaw, The Guardian
Read Dennis Lim's essay for Criterion, Opening Night: The Play's the Thing.
Director

John Cassavetes
Starring

Gena Rowlands, John Cassavetes, Ben Gazzara, Joan Blondell
Year

1977
Rated

PG-13
Country

USA
Format

35mm
Running Time

144 minutes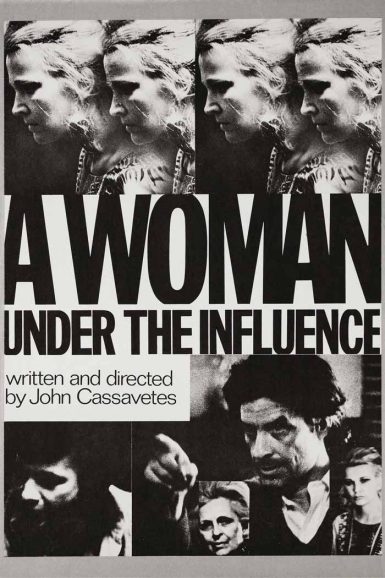 A Woman Under the Influence
John Cassavettes, the true maverick of independent films, intertwines marriage, love, family and the emotional chaos all of that invites – in this honest, raw, and at times uncomfortable to watch film, about a wife who's increasingly odd behavior borders on mental illness. This self financed film that no studio wanted (Cassavettes mortgaged his home and Peter Falk invested $500K), garnered Academy Award nominations for Rowlands portrayal of Mabel (Best Actress) and Cassavettes (Best Director). Peter Falk is brilliant as Nick, a blue collar construction foreman that tries to understand his wife's behavior, as he fights to control his own volatile instincts that have appeared through the cracks in their familial foundation, and all the pressures that come with it. Shot in an almost documentary style, A Woman Under the Influence has a lack of vanity that gives the emotionally charged scenes an authenticity that will not leave you.
A Woman Under the Influence is perhaps the greatest of Cassavetes' films – Roger Ebert
Read Kent Jones' article for Criterion, A Woman Under the Influence: The War at Home.
In the Guardian, John Cameron Mitchell talks about A Woman Under the Influence, the film that changed his life.
Kim Morgan interviews Gena Rowlands on the New Beverly blog.
Director

John Cassavetes
Starring

Peter Falk, Gena Rowlands, Fred Draper, Lady Rowlands, Katherine Cassavetes, Matthew Labyorteaux, Matthew Cassel
Year

1974
Rated

R
Country

USA
Format

35mm
Running Time

147 minutes