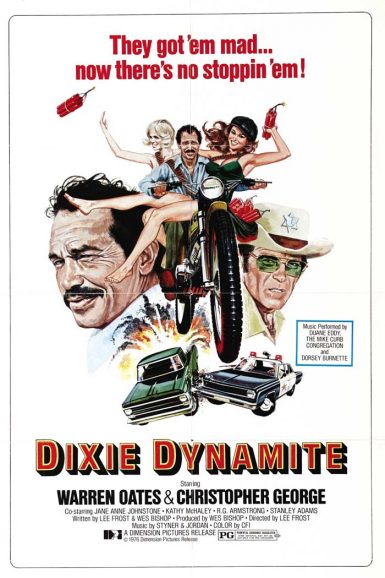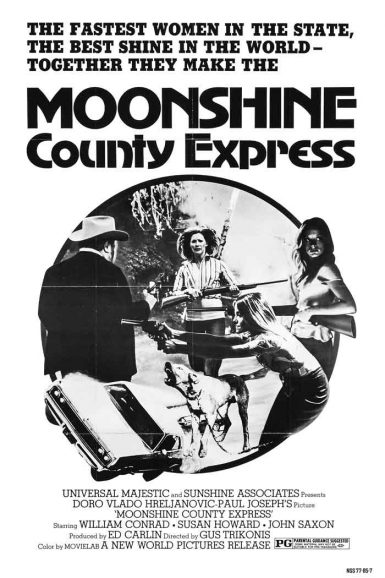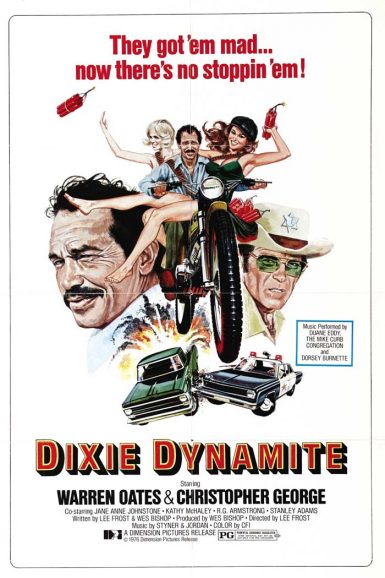 Dixie Dynamite
Long before Thelma & Louise drove off the cliff, there were Dixie & Patsy (Jane Anne Johnstone, Kathy McHaley), two Georgia foxes out to avenge the death of their moonshining pappy (Mark Miller), who was double crossed by the local Sheriff (Christopher George), and in co-hoots with a corrupt local businessman (Stanley Adams). Even the bank President (played by one of the all time great character actors R.G. Armstrong) gets in on the underhanded dealings, by conspiring to foreclose on Dixie & Patsy's family farm. The two girls decide enough is enough, and enlist their motocross riding friend Mack (Warren Oates) to help them with their crime spree. This country fried Chicksploitation has some great explosions (including a shitter that takes off like a rocket), stunts, and a moto-cross cameo (albeit hidden under a helmet) by Steve McQueen. Cover your ears at the New Beverly when these Dixie Chicks light the fuse and kick up some dust.
View a set of promotional stills for Dixie Dynamite on the New Beverly forum.
Kim Morgan discusses Warren Oates and Dixie Dynamite on the New Beverly blog.
Director

Lee Frost
Starring

Warren Oates, Christopher George, Jane Anne Johnstone, Kathy McHaley, Stanley Adams, R.G. Armstrong
Year

1976
Rated

PG
Country

USA
Format

35mm
Running Time

88 minutes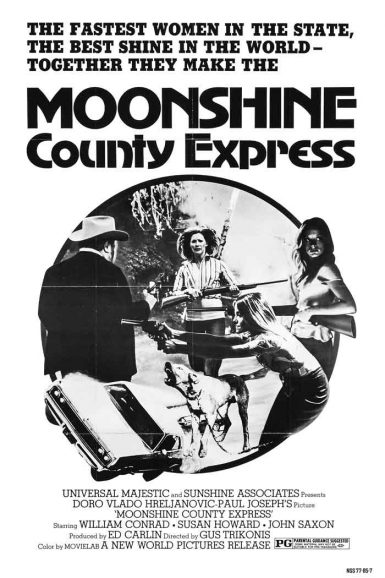 Moonshine County Express
Roger Corman's New World Pictures hits the hicksploitation sweet spot in Moonshine County Express, with gorgeous women, classic muscle cars hauling ass and shine, and a good old cigar chewing villain. After their father is gunned down in cold blood by the backwoods moonshine racketeer, Starkey (William Conrad), the beautiful Hammer sisters (Susan Howard, Claudia Jennings, and Marcia Brady herself – Maureen McCormick) take over their storied father's moonshine supply, including a secret cache of primo prohibition shine their late father had stashed away. Determined to make a fortune, the girls come out fast and furious with guns blazing, and with some help from J.B. Johnson (John Saxon), a bootleg flyer that also runs shine for bad guy Starkey, the girls just might beat the backwoods magnate at his own game. Dub Taylor shines as Uncle Bill, in yet another New Beverly appearance.
Director

Gus Trikonis
Starring

John Saxon, Susan Howard, William Conrad, Morgan Woodward, Claudia Jennings, Maureen McCormick, Albert Salmi, Candice Rialson
Year

1977
Rated

PG
Country

USA
Format

35mm
Running Time

95 minutes