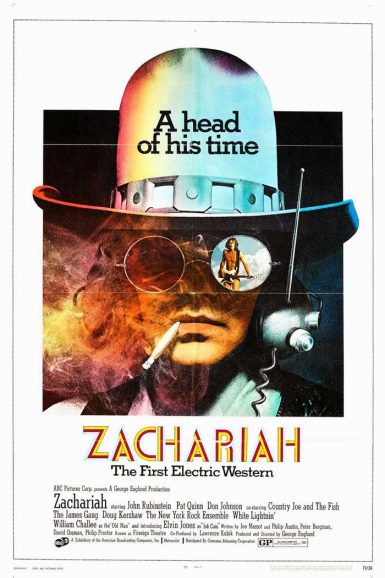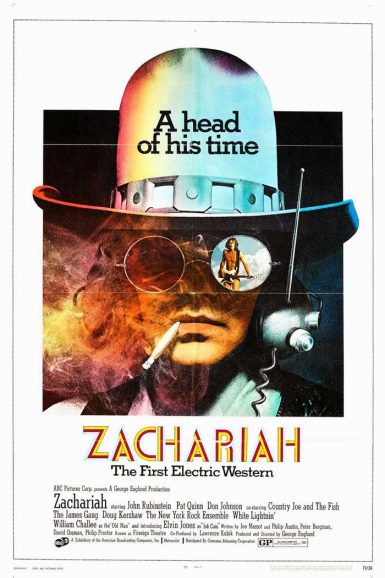 Zachariah
The first and only electric western, Zachariah is a psychedelic midnight movie musical mind trip fueled by groovy tunes and zonked out counterculture comedy. You've never seen anything like it! Zachariah (John Rubinstein) and his trusty pal (Don Johnson) set out on a gun-slinging adventure of self-discovery in this surreal update of Hermann Hesse's Siddhartha scripted by the wild minds behind The Firesign Theatre. A killer lineup of musicians co-star and provide the soundtrack: Country Joe & The Fish, Elvin Jones, The James Gang, Doug Kershaw and more!
"Unusual, refreshing and insightful. The music is just dandy. Had the Beatles made their anticipated western, I am sure that a film similar to this one would have been the final product." – Donald J. Mayerson, Cue Magazine
"Comedy, fantasy and lots of rock… told with an adept blend of real and unreal." – Frances Herridge, New York Post
"A delicious escapade into the world of camp and surrealism packed with with, music and a hell of a lot of humanity." – Craig Zadan, After Dark Magazine
Check out Zachariah's advertising pressbook on the New Beverly forum.
Director

George Englund
Starring

John Rubinstein, Patricia Quinn, Don Johnson, Country Joe and the Fish, Elvin Jones, Doug Kershaw, Dick Van Patten, The James Gang, The New York Rock Ensemble
Year

1971
Country

USA
Format

35mm
Running Time

93 minutes