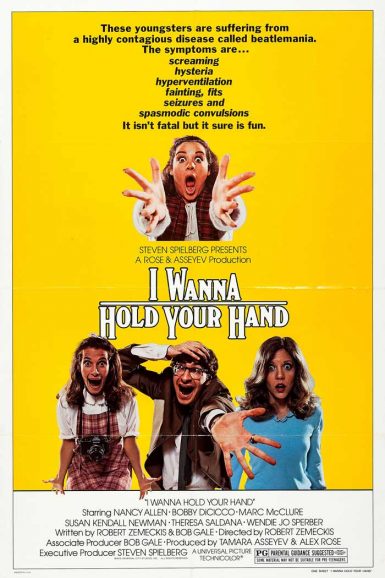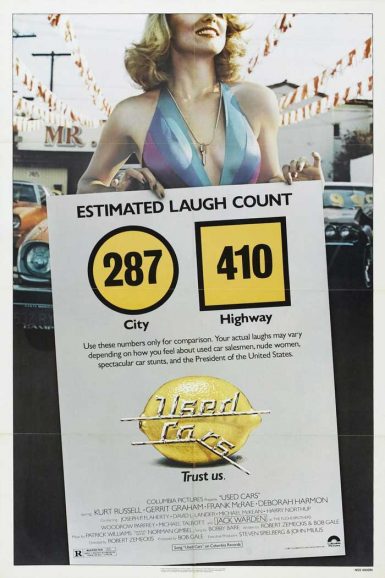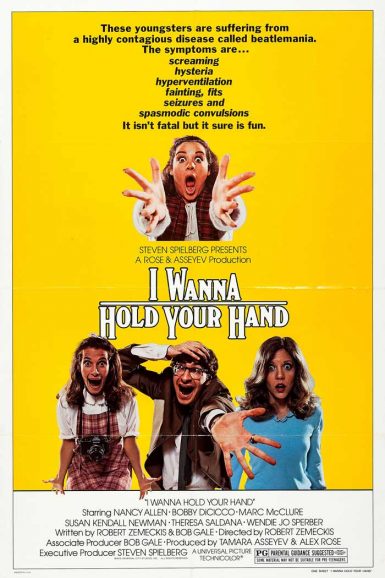 I Wanna Hold Your Hand
It's 1964, Beatlemania is sweeping the nation and six teenage superfans from New Jersey are headed to the Big Apple in hopes of catching the Fab Four in person – and they're not gonna let anything get in their way. In his directorial debut, Robert Zemeckis (with co-writer Bob Gale and producer Steven Spielberg) meticulously crafts a madcap motion picture comedy pulsing with pure excitement and energetic glee. Packed with a wall-to-wall soundtrack of the Beatles greatest hits, it's deliriously propulsive but hilariously held together by the strength of its young cast (including Nancy Allen, Theresa Saldana, Wendie Jo Sperber and Eddie Deezen).
"I Wanna Hold Your Hand re-creates precisely the excitement the Beatles let loose 14 years ago; it transports the audience back to the eye of a phenomenal social hurricane." – Frank Rich, TIME Magazine
"The gimmick behind I Wanna Hold Your Hand is the fact that you never actually see the Beatles; the genius of the film is the fact that you never miss them." – Janet Maslin, The New York Times
Director

Robert Zemeckis
Starring

Nancy Allen, Bobby Di Cicco, Marc McClure, Susan Kendall Newman, Theresa Saldana, Wendie Jo Sperber, Eddie Deezen
Year

1978
Rated

PG
Country

USA
Format

35mm
Running Time

99 minutes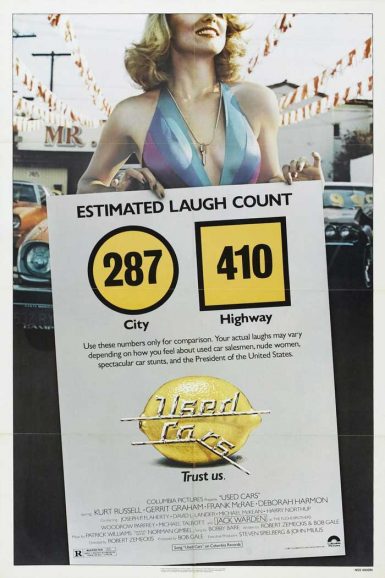 Used Cars
Kurt Russell blows up his Disney image as Rudy Russo, a fast talking, wheeling and dealing used car salesman, that's willing to say or do anything to sell a car. Screen legend Jack Warden pulls double duty, playing Russell's easy going boss Luke Fuchs and his nefarious brother Roy L. Fuchs, who runs the more successful car lot across the street, and is willing to commit murder in order to take over his fledgling brother's dealership – New Deal Used Cars. Used Cars is full of comedy pros the likes of David Landers, Michael McKean, Frank McRae, Joe Flaherty, and the naively charming Deborah Harmon, as Luke's daughter Barbara Jane. Gerrit Graham strikes quotable comedic gold, as he blows up the screen as the superstitious Marshall Lucky – who has a special way of fighting high prices. "Yes sir, you heard me right," there are miles of laughs in this American comedy classic when Used Cars pulls up to the New Beverly, driven by the creative genius of Bob Gale, Robert Zemeckis, John Milius, and Steven Spielberg.
"Used Cars runs on a contemporary screwball motor with a slapstick chassis." – Tom Charity, Time Out
"More laughs in it than any film of the summer except Airplane! Used Cars possesses an intelligent, good-natured skepticism that has all but vanished from comedies today" – Vincent Canby, The New York Times
Director

Robert Zemeckis
Starring

Kurt Russell, Jack Warden, Gerrit Graham, Frank McRae, Deborah Harmon, Joe Flaherty, David L. Lander, Michael McKean, Michael Talbott, Harry Northup
Year

1980
Rated

R
Country

USA
Format

35mm
Running Time

113 minutes
Upcoming Showtimes
7:30 pm
I Wanna Hold Your Hand
9:40 pm
Used Cars
7:30 pm
I Wanna Hold Your Hand
9:40 pm
Used Cars