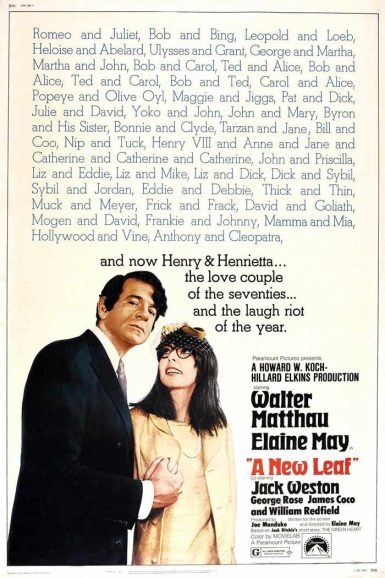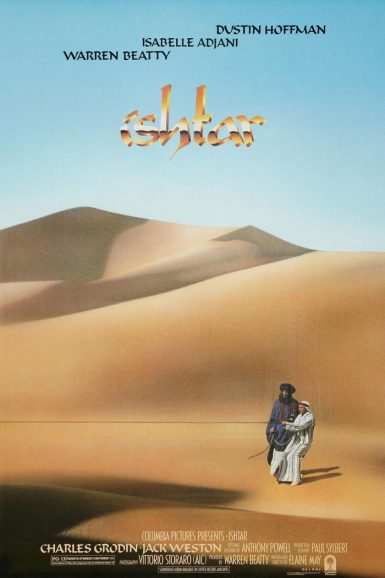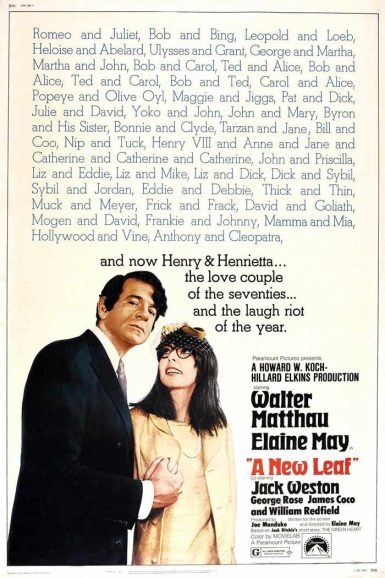 A New Leaf
From the brilliant comedic mind of Elaine May comes her directorial debut, A New Leaf. Also written by and co-starring May, the movie toplines Walter Matthau as Henry Graham, a spoiled, over the hill trust fund baby who suddenly finds himself penniless. He concocts a plan to find and marry a rich woman in a week's time to restore his former financial glory, with his society chums being none the wiser. Enter May's Henrietta Lowell, an ever klutzy, introverted heiress with a passion for botany, all of which Matthau's character pretends to find charming. Can he woo her & get her down the aisle in a mere seven days? Matthau and May make an incredible pair in this hilarious and entertaining comedy classic.
"A New Leaf is one of cinema's great comedies" – Keith Uhlich, Slant
"A film of such wit and comic invention that it belongs among the great American comedies." – Calum Marsh, The Village Voice
"Elaine May's frenzied 1971 comedy, in which she co-stars with Walter Matthau, reveals the essence of marital love more brutally than many confrontational melodramas." – Richard Brody, The New Yorker
View the full set of US lobby cards for A New Leaf on the New Beverly forum.
Marc Edward Heuck discusses director Elaine May on the New Beverly blog.
Kim Morgan discusses A New Leaf on the New Beverly blog.
Director

Elaine May
Starring

Walter Matthau, Elaine May, Jack Weston, George Rose, James Coco, Doris Roberts
Year

1971
Country

USA
Format

35mm
Running Time

102 minutes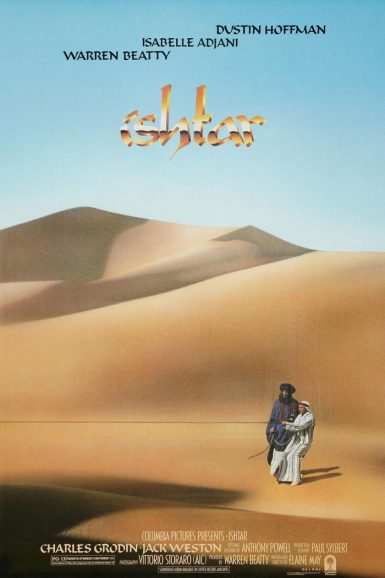 Ishtar
Come take the ultimate comedic Rorschach test with the deadpan brilliance of Elaine May's Ishtar, when two down-and-all-but-out musicians, Lyle Rogers (Beatty) and Chuck Clarke (Hoffman), are galvanized by their love of music, and misery loves company co-dependency. With nothing to lose, and not a whole lot to gain, Lyle and Chuck form the musical duo Rogers & Clarke ("We're not singers, we're songwriters"), and accept a gig as the lounge act at a hotel in Marrakesh, Morocco. Upon their arrival, the musical duos lack of talent is only eclipsed by their lack of self-awareness, as they are separately recruited, and become unknowing pawns in the political unrest fueled by leftist guerrillas, the Emir of Ishtar, and the CIA's Jim Harrison (played with precise comedic subterfuge by Charles Grodin). Isabelle Adjani is a revelation as Shirra, the woman who causes both men to lose their way in the desert, but only a blind camel would not enjoy Beatty and Hoffman performing a dreadful cover of Little Darlin' (wa-wa-wa-wa!), or the so-bad-they're-good lyrics of the film's original music, written by Elaine May and 70's icon Paul Williams, in this Hope and Crosby inspired road movie.
"Ishtar is frequently very funny, and nearly always original." – Noel Murray, The Dissolve
"This is pure Elaine May – astute, fine-tuned neurotic humor" – Janet Maslin, The New York Times
Marc Edward Heuck discusses director Elaine May on the New Beverly blog.
Garret Mathany discusses Ishtar on the New Beverly blog.
View a set of Spanish lobby cards for Ishtar on the New Beverly forum.
Director

Elaine May
Starring

Warren Beatty, Dustin Hoffman, Isabelle Adjani, Charles Grodin, Jack Weston, Tess Harper, Carol Kane
Year

1987
Rated

PG-13
Country

USA
Format

35mm
Running Time

107 minutes