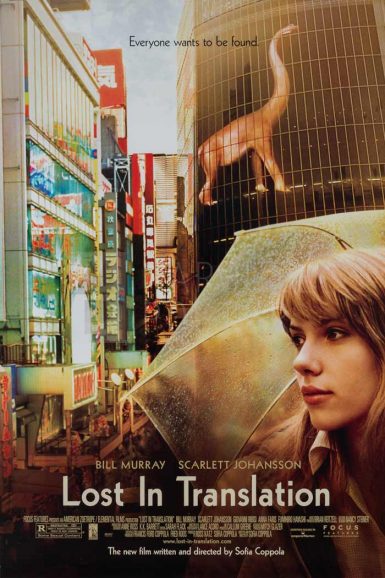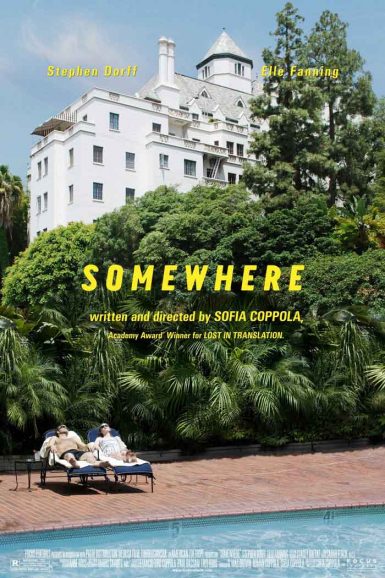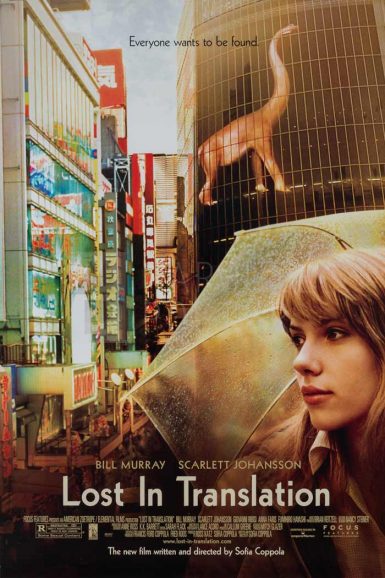 Lost in Translation
Sofia Coppola dazzled us with her second film, Lost in Translation, shot almost entirely inTokyo, taking us through the bright and busy entertainment district, and juxtaposing that against the intimacy of the hotel bar where Bob (Bill Murray) and Charlotte (Scarlett Johansson) meet and form a romantic – albeit unconsummated – romance. Bob has grown disillusioned with his marriage and career, agreeing to do a Japanese whiskey commercial in Tokyo – where the slowdown of his career looms over him. Charlotte is two years into a marriage with her photographer husband (Giovanni Ribisi), who leaves her behind at the hotel while he is engrossed in his own creative endeavors, giving Charlotte time to question just where she fits in his busy life and whether or not she's fulfilling her own potential. Cinematographer Lance Acord captured a neon vivid and, alternately, melancholy Tokyo, and Coppola's Academy Award-winning script and sure handed direction invited the elegant and nuanced performances from Murray and Johansson, as the two Americans grow slowly intoxicated with the sense that their unlikely friendship could grow into something more.
"Sofia Coppola's stealthy romance about two Americans stranded in Tokyo is a work of marvelous delicacy – and offers the performance of Bill Murray's career." – Stephanie Zacharek, Salon
"Tart and sweet, unmistakably funny and exceptionally well observed." – Kenneth Turan, Los Angeles Times
"Well, I loved this movie. I loved the way Coppola and her actors negotiated the hazards of romance and comedy, taking what little they needed and depending for the rest on the truth of the characters." – Roger Ebert
Director

Sofia Coppola
Starring

Bill Murray, Scarlett Johansson, Giovanni Ribisi, Anna Faris, Fumihiro Hayashi
Year

2003
Rated

R
Country

USA/Japan
Format

35mm
Running Time

102 minutes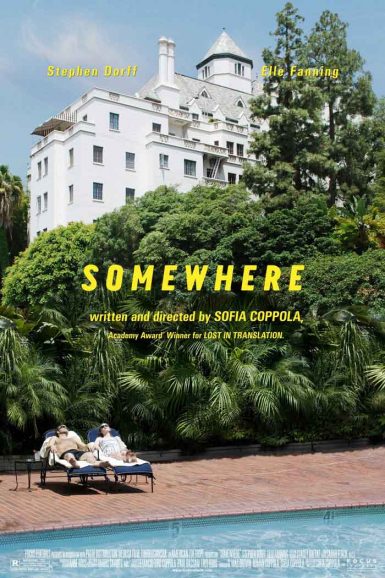 Somewhere
Newfound fame can't suppress the apathy Johnny Marco (Stephen Dorff) experiences in his daily life. Holed up in the Chateau Marmont, the Hollywood actor's day-to-day consists of self-medicating with drinks and drugs, meaningless sex, and driving his Ferrari with no sense of direction. When his daughter Cleo (Elle Fanning) moves in temporarily, Johnny is compelled to reexamine his melancholy as her presence evokes a purpose within that he had long forgotten.
"Exquisite, melancholy and formally audacious." – A.O. Scott, The New York Times
"Coppola is a fascinating director. She sees, and we see exactly what she sees." – Roger Ebert
"Coppola is a true filmmaker, and in Somewhere she pierces the Hollywood bubble from the inside." – Owen Gleiberman, Entertainment Weekly
"As in Lost in Translation, Coppola keeps an eye out for the broken places. That's when Somewhere is really something." – Peter Travers, Rolling Stone
Director

Sofia Coppola
Starring

Stephen Dorff, Elle Fanning
Year

2010
Rated

R
Country

USA
Format

35mm
Running Time

97 minutes