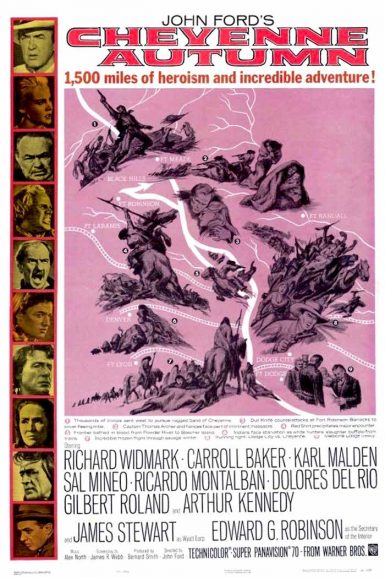 Cheyenne Autumn (Peter Bogdanovich In Person!)
Vibrant IB Technicolor 35mm Print!
Buy Tickets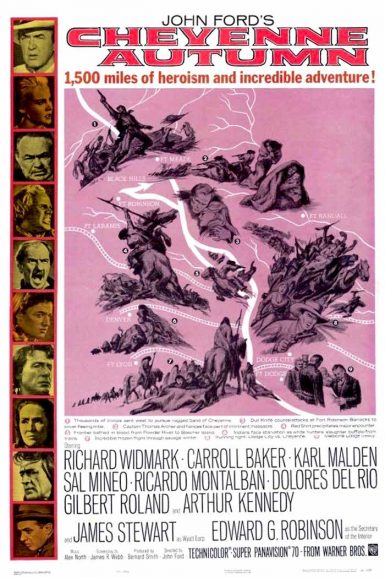 Cheyenne Autumn (Peter Bogdanovich In Person!)
Just Added: Peter Bogdanovich will join us IN PERSON, schedule permitting, to introduce the Sunday, May 21 screening of Cheyenne Autumn. The Academy Award nominated filmmaker of The Last Picture Show visited filming of the western epic to meet veteran director John Ford, forming a friendship that resulted in an interview book, an acclaimed documentary and a lifetime of legendary stories.
In the next to last film he completed as a director, John Ford returned to the Western genre he had long ago mastered. Based on a true story, Cheyenne Autumn concerns the arduous journey home some 200+ Cheyenne undertook in 1878, after the U.S. government relocated them to a barren reservation 1500 miles south, then backed away from their promises to let them return to their native lands. Pursued by a military force tasked with their capture, the Cheyenne bravely soldier on through imposing terrain and harsh weather, fighting off those who chase them along the way. With an all star cast and some of the most breathtaking widescreen cinematography you're ever likely to see on the big screen, Ford goes out with a bang with this epic, late career Western masterwork. Print courtesy of Lowell Peterson, ASC.
"Cheyenne Autumn is a strong film, grandly directed and expertly played by a large cast" – Bosley Crowther, The New York Times
"Imbued with moments of true poetry, thanks largely to William Clothier's magnificent Panavision landscapes." – Geoff Andrew, Time Out
Mark Ayala discusses Cheyenne Autumn on the New Beverly blog.
Director

John Ford
Starring

Richard Widmark, Carroll Baker, Karl Malden, Sal Mineo, Dolores del Rio, Richardo Montalban, Gilbert Roland, Arthur Kennedy, James Stewart
Year

1964
Country

USA
Format

IB Technicolor 35mm
Running Time

154 minutes