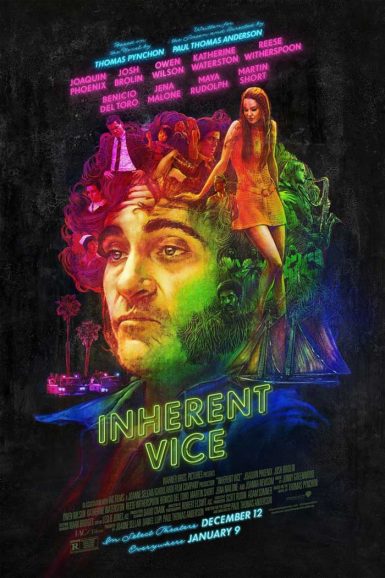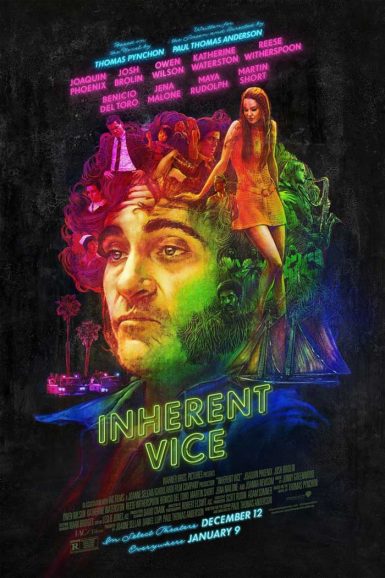 Inherent Vice
Paul Thomas Anderson's adaptation of the Thomas Pynchon novel is a dizzyingly dazed, darkly comic detective tale set amidst the paranoid psychedelia of 1970, a baked Los Angeles noir of rockers, dopers, surfers and dentists, and the stoned private dick (Joaquin Phoenix) trying to put the puzzle together with pieces that don't quite fit. It's a jaw-dropping, head-scratching, immensely rewatchable tour de force from the Boogie Nights auteur, featuring an incredible ensemble cast, an instant classic soundtrack and, perhaps, the greatest frozen banana scene ever filmed.
"Inherent Vice, brilliantly scored by Jonny Greenwood, is an Anderson head trip, impure jazz with a reverb that can leave you dazed, confused and even annoyed. But at no time do you doubt that you are in the hands of a master." – Peter Travers, Rolling Stone
"Mr. Anderson has condensed the book with surgical precision, ditching certain subplots, characters and locales while retaining the novel's sociopolitical tug, barbed asides and chokingly funny details." – Manohla Dargis, The New York Times
"The deftness with comedy and actors are at a level that few filmmakers working today could achieve." – Ben Kenigsberg, AV Club
Kim Morgan discusses Inherent Vice on the New Beverly blog.
Director

Paul Thomas Anderson
Starring

Joaquin Phoenix, Josh Brolin, Owen Wilson, Katherine Waterston, Reese Witherspoon, Benicio Del Toro, Jena Malone, Maya Rudolph, Martin Short
Year

2014
Rated

R
Country

USA
Format

35mm
Running Time

148 minutes