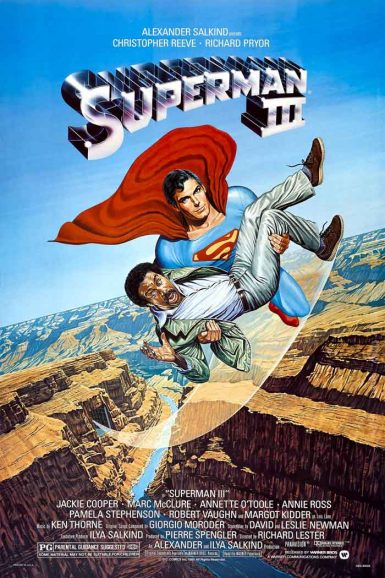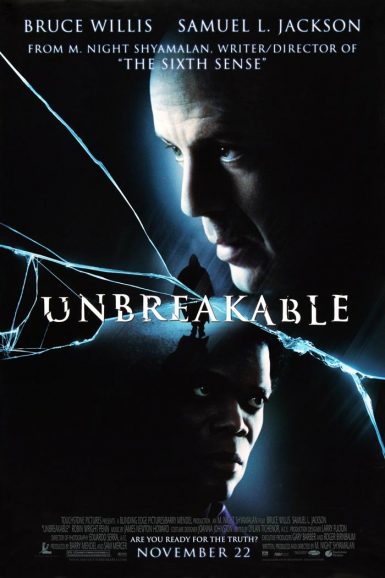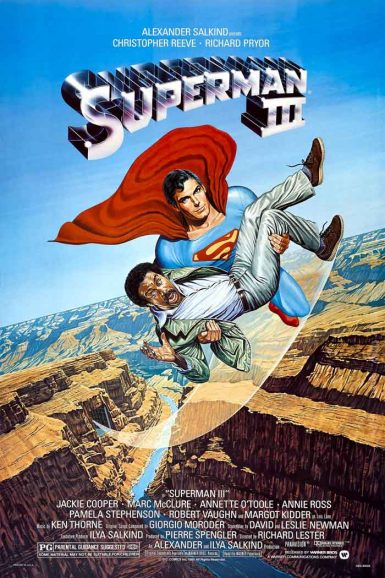 Superman III
The Man of Steel flies high in the wild & wacky Superman III and this time it's Superman vs. the king of computerized crime with Christopher Reeve and Richard Pryor as you've never seen them before – more action – more twists – more comedy – more FUN! Pryor is a bumbling conman and computer genius under the thumb of an evil tycoon (Robert Vaughn). When his newest creation has the power to change the weather, control the world or even reprogram Superman, only the man who pulled the switch can help the caped crusader pull the plug.
"The reason why we love the movies" – Cinescape Magazine
"The vote is in and Superman III is a winner!" – Sci-Fi Magazine
View the full set of US lobby cards for Superman III on the New Beverly forum.
Marc Edward Heuck discusses our August 2016 Richard Lester Film Festival on the New Beverly blog.
Chris D explores Richard Lester's diverse career on the New Beverly blog.
Director

Richard Lester
Starring

Christopher Reeve, Richard Pryor, Jackie Cooper, Marc McClure, Annette O'Toole, Annie Ross, Pamela Stephenson, Robert Vaughn and Margot Kidder
Year

1983
Rated

PG
Country

USA/UK/Netherlands
Format

35mm
Running Time

122 minutes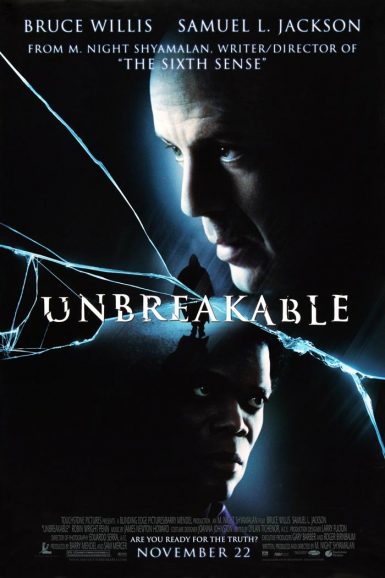 Unbreakable
In Unbreakable, contemporary master of suspense M. Night Shyamalan shifts his focus to the comic book movie genre. Bruce Willis stars as David Dunn, a downtrodden security guard with a troubled marriage and a knack for escaping injury and sickness. The yin to his yang is Samuel L. Jackson's Elijah Price, an art dealer with a rare genetic condition that leaves him susceptible to broken bones from something as little as a misstep. The two are brought together by a horrific accident, and through it and their successive interactions, David learns his true destiny and Elijah's part in shaping it. Following the huge success of The Sixth Sense, Shyamalan departs somewhat from his thriller genre bread & butter to make what many consider to be his best film and one of the best superhero movies ever made, with nary a computer generated image or spandex costume to be seen.
"Is Superman III basically just a comic take on the same story in M. Night Shyamalan's Unbreakable? In both stories a superhero is forced to confront two different sides of himself due to a black misfit genius with a world domination plan. Which means Bruce Willis is Superman and Richard Pryor is Mr. Glass." – Quentin Tarantino
Director

M. Night Shyamalan
Starring

Bruce Willis, Samuel L. Jackson, Robin Wright
Year

2000
Rated

PG-13
Country

USA
Format

35mm
Running Time

106 minutes