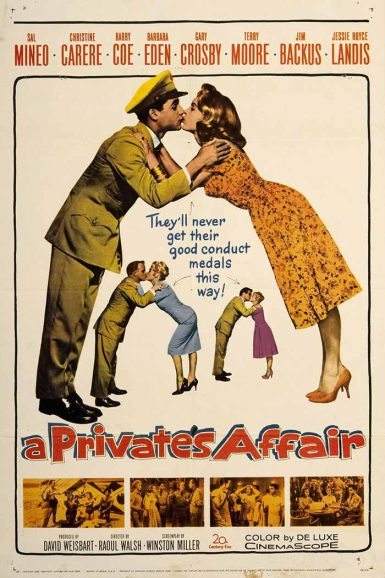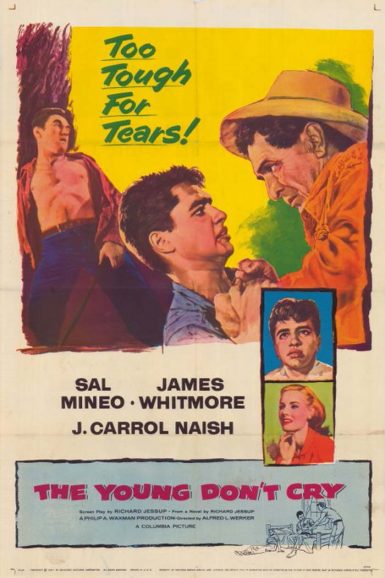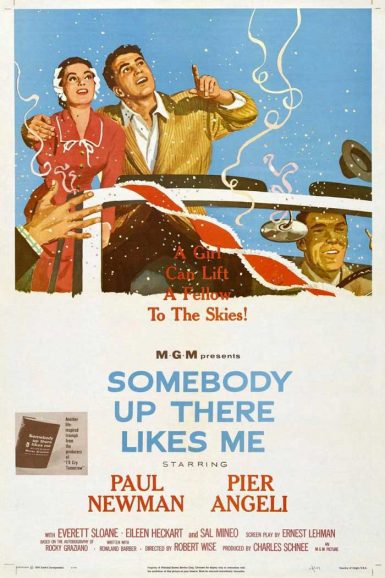 A Private's Affair
The Young Don't Cry
Not Available on DVD!
Somebody Up There Likes Me
Buy Tickets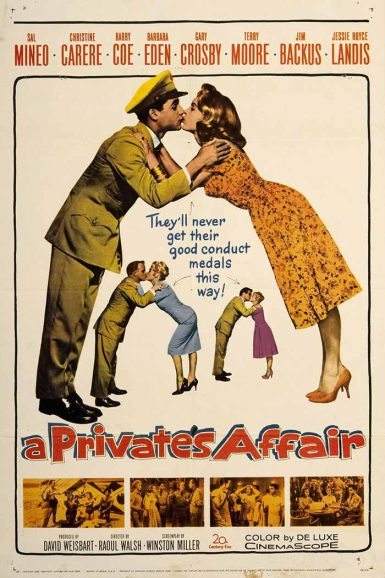 A Private's Affair
A trio of young Army recruits become fast friends in A Private's Affair, the fun & funny musical romp that was one of veteran director Raoul Walsh's final films. NY beatnik Luigi (Sal Mineo), wholesome Jerry (Barry Coe in a Golden Globe winning performance) and rancher Mike (Gary Crosby, Bing's son) find they share a talent for tunes and a taste for girls when they ship off to boot camp. Presented with an opportunity to represent their troupe on a nationally televised show, the threesome will get caught up in the increasingly comedic chaos of madcap mix-ups and hysterical surprises as they attempt to woo a bevy of beauties (Christine Carère, Terry Moore, Barbara Eden) while singing & dancing their way to the top.
View a collection of promotional stills for A Private's Affair on the New Beverly forum.
Director

Raoul Walsh
Starring

Sal Mineo, Christine Carère, Barry Coe, Barbara Eden, Gary Crosby, Terry Moore, Jim Backus
Year

1959
Country

USA
Format

35mm
Running Time

93 minutes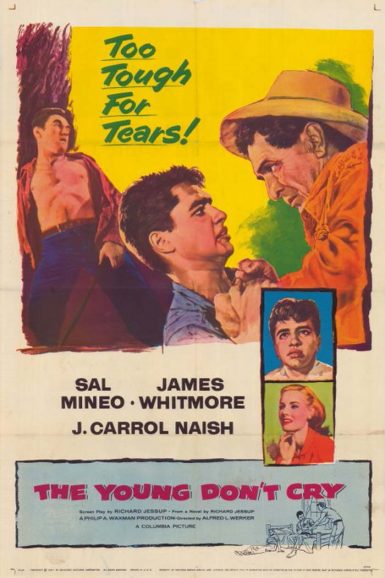 The Young Don't Cry
He's too tough for tears… because he had to grow up too fast! Here's the story of a teenager who tried to make it the hard way… with all the odds against him! Filmed on location at the Bethesda Home for Boys in Savannah, Georgia, a brooding loner (Sal Mineo) befriends a convict (James Whitmore) at a nearby work release farm. But when the prisoner makes a break for it, the troubled teen will have to decide if he should aid in the escape or turn him in. An extremely rare JD melodrama specifically tailored for Mineo, The Young Don't Cry benefits greatly from the swampy southern locale and the sweaty theatrics of the lead performers.
Director

Alfred L. Werker
Starring

Sal Mineo, James Whitmore, J. Carrol Naish, Gene Lyons, Paul Carr
Year

1957
Country

USA
Format

35mm
Running Time

89 minutes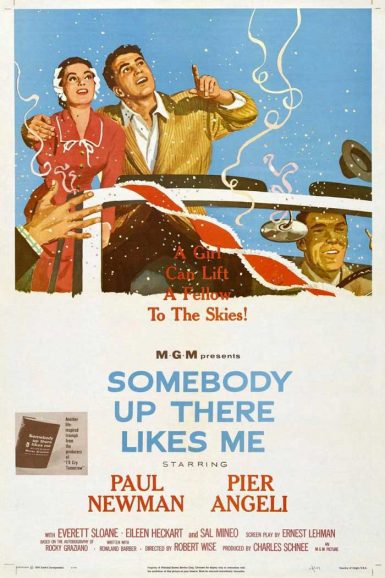 Somebody Up There Likes Me
In a role originally meant for James Dean, Paul Newman plays famed prizefighter Rocky Graziano in Robert Wise's hard-hitting biopic about the pugilist's rise from petty criminal to middleweight champion. Based on the boxer's autobiography, Somebody Up There Likes Me puts you in the heart and head of a fighter, where the toughest contests are not always in the ring. The film feels intimate, immediate and alive with outstanding performances and Oscar-winning cinematography & art direction. Newman is electric in his star-making performance, supported by an excellent ensemble including Pier Angeli as his wife and Sal Mineo as his troubled young friend. Steve McQueen, Dean Jones and Robert Loggia appear briefly. Print courtesy of the British Film Institute
"Somebody Up There Likes Me is a superbly done, frank and revealing film probe of Rocky Graziano, the East Side punk who overcame a lawless beginning to win respect and position as middle-weight champion of the world. Paul Newman's talent is large and flexible, revealing an approach to the Graziano character that scores tremendously." – Variety
"Robert Wise's direction is fast, aggressive and bright, and the picture is edited to give it a tremendous crispness and pace. The representation of the big fight of Graziano with Tony Zale is one of the whoppingest slugfests we've ever seen on the screen." – Bosley Crowther, The New York Times
Director

Robert Wise
Starring

Paul Newman, Pier Angeli, Everett Sloane, Eileen Heckart, Sal Mineo
Year

1956
Country

USA
Format

35mm
Running Time

113 minutes
Upcoming Showtimes
7:30 pm
A Private's Affair
9:30 pm
The Young Don't Cry
11:15 pm
Somebody Up There Likes Me
7:30 pm
A Private's Affair
9:30 pm
The Young Don't Cry
11:15 pm
Somebody Up There Likes Me