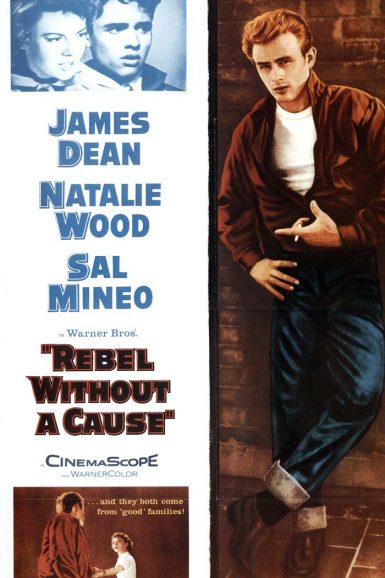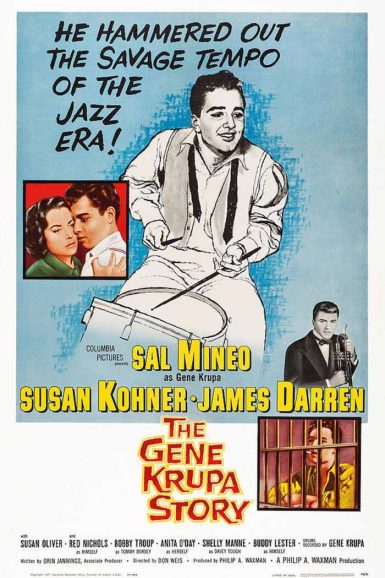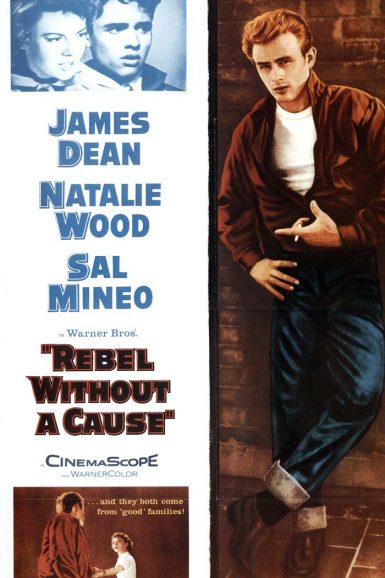 Rebel Without A Cause
Hollywood royalty James Dean is the lonely new kid in town, trying to make sense of the alienation he suffers from his parents, authority, and his new high school's in-crowd clique, in Nicholas Ray's watershed film Rebel Without a Cause (1955). The entire story takes place in a 24-hour period with Dean, Wood and Mineo drawn together as kindred spirits, and forever changed by tragedy. Natalie Wood is Judy, a young woman who's taken by Dean's vulnerability and quiet cool, as he accepts the "Chickie Run" challenge offered by Buzz – the school's main leader and tough guy. Sal Mineo's Plato is the most at risk teen of the group, as he seemingly struggles with his sexuality, and is quick to cast Dean in a father figure role. Filmed in vivid color and wide screen Cinemascope, the ensemble cast keeps pace with the method acting Dean, whose tragic death just a month before the film opened, forever solidified the legend of an acting giant.
"Enormously influential at the time, a milestone in the creation of new idea about young people. 4 Stars" – Roger Ebert
"This tale of tempestuous kids and their weird ways of conducting their social relations is tense with explosive incidents." – Bosley Crowther, The New York Times
"Almost free of mannerisms under Ray's pacing, Dean is very effective as a boy groping for adjustment to people. As a 'farewell' performance he leaves behind, with this film, genuine artistic regret, for here was a talent which might have touched the heights. His actor's capacity to get inside the skin of youthful pain, torment and bewilderment is not often encountered." – Variety
Garret Mathany discusses Rebel Without A Cause on the New Beverly blog.
Director

Nicholas Ray
Starring

James Dean, Natalie Wood, Sal Mineo, Jim Backus, Ann Doran, Corey Allen, Dennis Hopper
Year

1955
Country

USA
Format

35mm
Running Time

111 minutes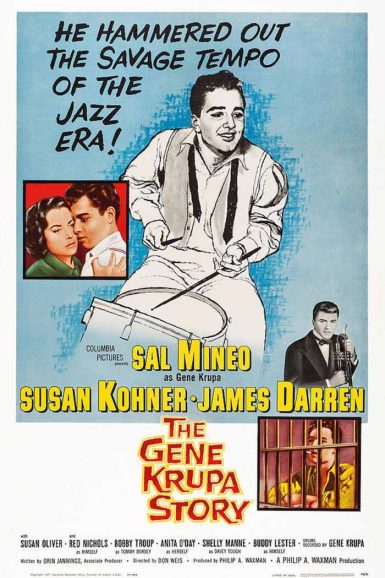 The Gene Krupa Story
He hammered out the savage tempo of the jazz era! In one of his best roles, Sal Mineo gives a fiery performance as the legendary drummer in The Gene Krupa Story, a thrilling biopic with a percussive beat. Chronicling the turbulent ups and downs in the musical genius' life, the film follows the icon from his passionate youth, first love (Golden Globe winner Susan Kohner) and initial success to the downfall of women, drugs and alcohol that came when he hit it big. Mineo pops on screen, seemingly possessed by the dynamic drummer, and the soundtrack sizzles with stellar Krupa as well as special appearances by Anita O'Day and Red Nichols.
View a collection of promotional stills and lobby cards for The Gene Krupa Story on the New Beverly forum.
Tim Lucas discusses The Gene Krupa Story on the New Beverly blog.
Director

Don Weis
Starring

Sal Mineo, Susan Kohner, James Darren, Susan Oliver, Yvonne Craig, Lawrence Dobkin
Year

1959
Country

USA
Format

35mm
Running Time

101 minutes