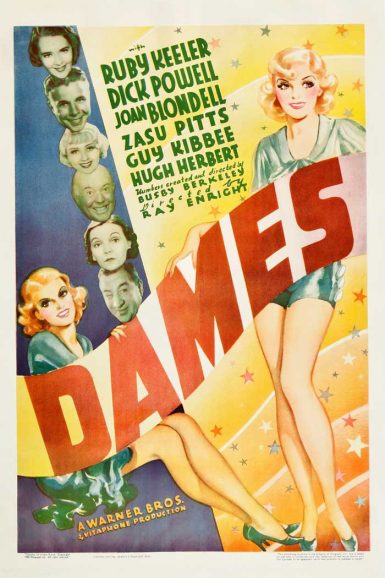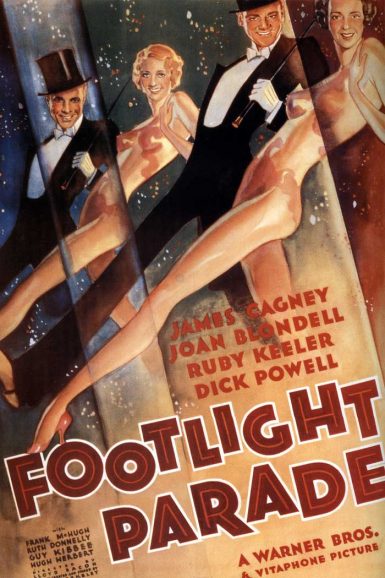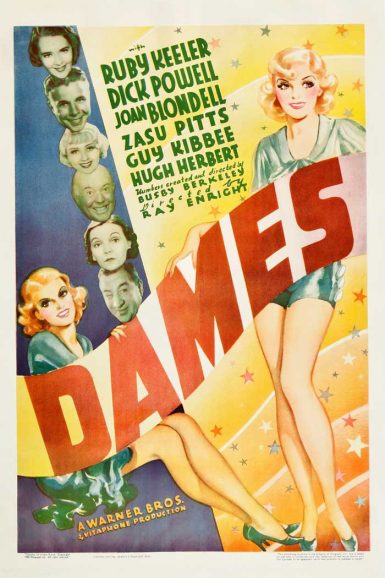 Dames
In the dazzling Warner Bros. musical spectacular Dames, the legendary Busby Berkeley creates a series of staggeringly jaw-dropping, kaleidoscopic dance numbers thank rank among some of cinema's absolute best. An eccentric millionaire pledges to give his fortune away to family under the condition they live moral lives. But this reformer's relatives (ZaSu Pitts & Guy Kibbee) are in a bit of trouble when their daughter (Ruby Keeler) wins the lead in a scandalous new show and has eyes not just on singing and dancing, but also her black-sheep cousin (Dick Powell). Joan Blondell co-stars in this backstage Broadway comedy blast that features some of Berkeley's most iconic sequences.
Director

Ray Enright, Busby Berkeley
Starring

Ruby Keeler, Dick Powell, Joan Blondell, Zasu Pitts, Guy Kibbee, Hugh Herbert
Year

1934
Country

USA
Format

35mm
Running Time

91 minutes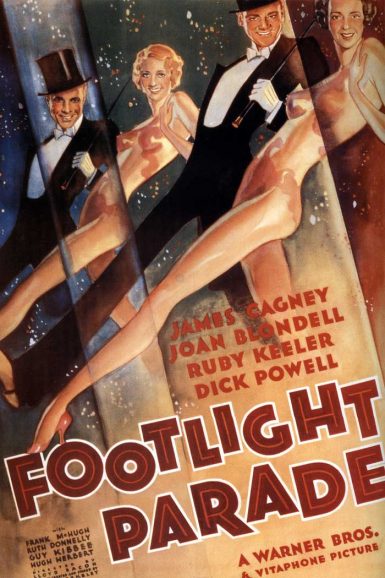 Footlight Parade
Featuring some of Busby Berkeley's biggest, most dazzlingly kaleidoscopic set pieces (the last half hour will plant your jaw on the floor), Footlight Parade is a non-stop spectacular! James Cagney stars as an out-of-work Broadway director whose new job is to produce short musical prologues for the movies. But it's a cutthroat business and he'll need the help of his love-struck secretary (Joan Blondell) to pull off his latest showstopper. Featuring 42nd Street co-stars Ruby Keeler & Dick Powell, deliciously risqué pre-code comedy and the stunning sight of Cagney hoofing it on his own!
"Fast, furious and funny" – Time Out
Director

Lloyd Bacon
Starring

James Cagney, Joan Blondell, Ruby Keeler, Dick Powell, Frank McHugh, Guy Kibbee
Year

1933
Country

USA
Format

35mm
Running Time

104 minutes