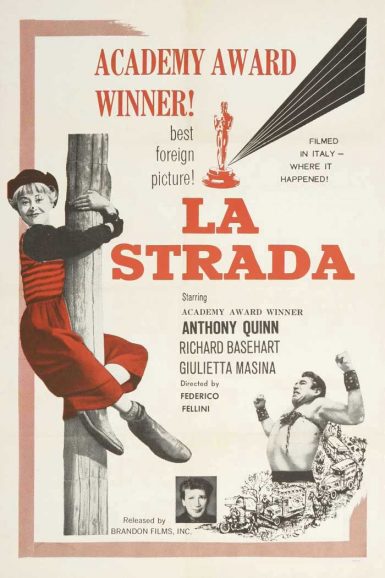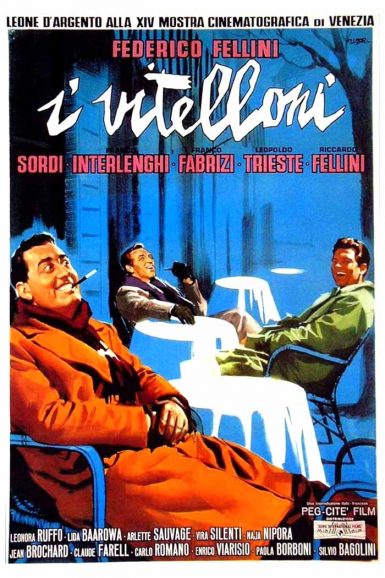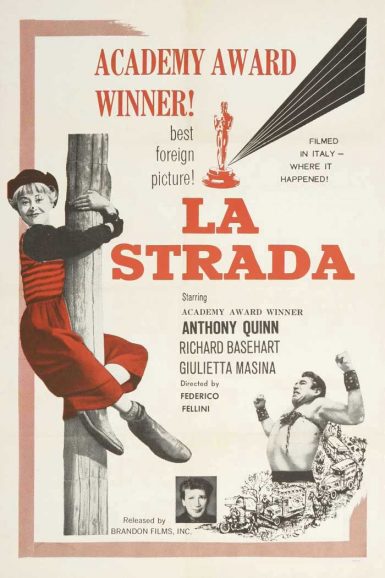 La Strada
One of Federico Fellini's early masterpieces, La Strada projects the director's fabulist sensibilities onto an intimate love triangle set on society's margins in a rapidly modernizing Italy. Giulietta Masina (Fellini's wife and life-long collaborator) stars as a wide-eyed provincial girl sold to a brutish traveling daredevil (Anthony Quinn) in order to bail out her poor family. Their reluctant partnership grows into a kind of love, as she becomes an invaluable part of his sideshow attraction and lonely life. But their quiet communion is upended when a charming but self-satisfied fool from a rival circus tries to win the young lady's hand. All of that carnival-esque Fellini magic is on full display here, but elegantly textured into the sweetness and melancholy of a peasant romance. In Italian with English subtitles.
"The first film that can be called entirely Felliniesque." – Roger Ebert
"Signor Fellini has used his small cast, and, equally important, his camera, with the unmistakable touch of an artist. His vignettes fill his movie with beauty, sadness, humor and understanding." – A.H. Weiler, The New York Times
Director

Federico Fellini
Starring

Anthony Quinn, Giulietta Masina, Richard Basehart, Aldo Silvani, Marcella Rovere, Livia Venturini
Year

1954
Country

Italy
Format

35mm
Running Time

108 minutes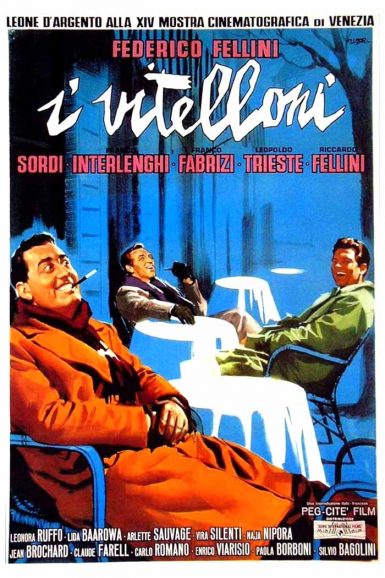 I Vitelloni
SCHEDULE UPDATE: Due to an unexpected issue with the film print, Fellini's I Vitelloni is replacing our previously announced screenings of Il Bidone.
Federico Fellini's semiautobiographical classic vividly paints five young men driftingly lazily in their small seacoast village, spending their cash on booze and women, while daydreaming of different lives. A pivotal work in the director's early career, I Vitelloni was an international success, winning the Venice Film Festival's Silver Lion and earning a Best Screenplay nomination at the Academy Awards. In Italian with English subtitles.
"It was this ineffably poignant semiautobiographical reverie that unleashed fully Fellini's shimmering, flowing poetic style." – Kevin Thomas, Los Angeles Times
"What stays fresh (and enhanced by the beautifully restored black- and-white print) is how so many of Fellini's gifts and obsessions are already apparent in this early work." – Lisa Kennedy, Denver Post
Director

Federico Fellini
Starring

Franco Interlenghi, Alberto Sordi, Fanco Fabrizi, Leopoldo Trieste, Riccardo Fellini
Year

1953
Country

Italy/France
Format

35mm
Running Time

103 minutes