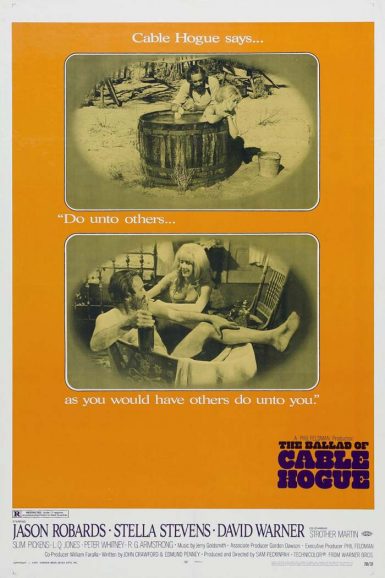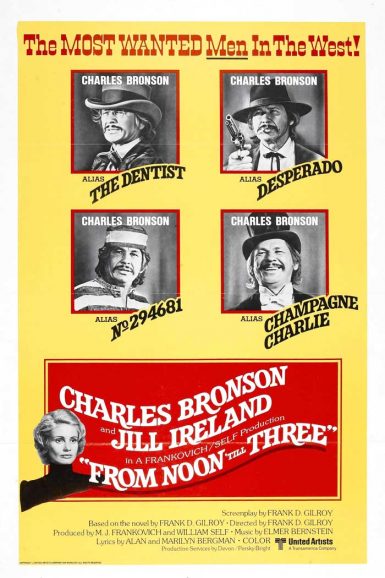 The Ballad of Cable Hogue (IB Tech Print!)
Vivid IB Technicolor Print!
From Noon Till Three
Buy Tickets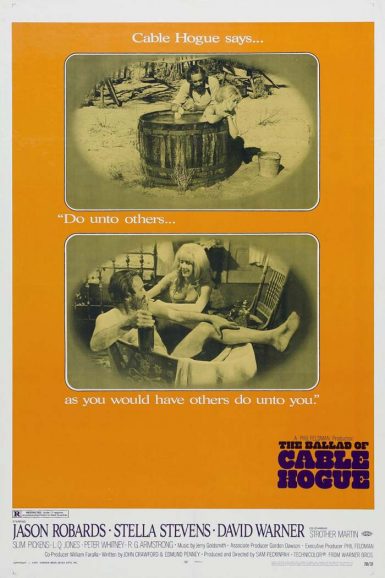 The Ballad of Cable Hogue (IB Tech Print!)
Sandwiched between The Wild Bunch & Straw Dogs in the director's filmography, Sam Peckinpah's The Ballad of Cable Hogue goes in an unexpected direction, eschewing violence in favor of humor to create a subtle, light-hearted & laid back tribute to the dying Old West. A pitch-perfect Jason Robards stars as a bedraggled prospector, betrayed & left for dead in the desert, whose luck turns around upon discovering water. There he'll turn a simple spring into a thriving business with the help of a wandering preacher (David Warner) and a jovial prostitute (Stella Stevens), eagerly awaiting the day when his disloyal former partners (L.Q. Jones & Strother Martin) might stop by his watering hole.
"Sam Peckinpah's The Ballad of Cable Hogue is a splendid example of the New Western. It's also a fine movie, a wonderfully comic tale we didn't quite expect from a director" – Roger Ebert
Ariel Schudson discusses The Ballad of Cable Hogue on the New Beverly blog.
Director

Sam Peckinpah
Starring

Jason Robards, Stella Stevens, David Warner, Strother Martin, Slim Pickens, L.Q. Jones, R.G. Armstrong
Year

1970
Rated

R
Country

USA
Format

I.B. Technicolor 35mm
Running Time

121 minutes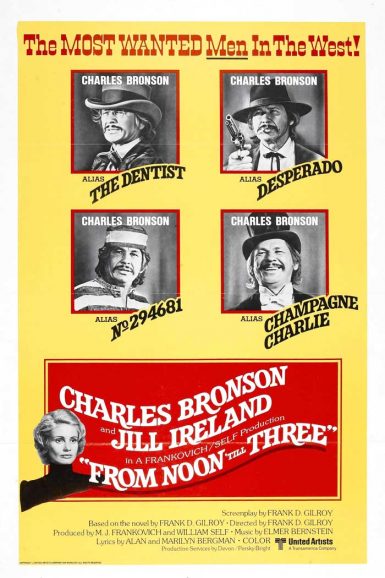 From Noon Till Three
Pulitzer Prize-winning playwright Frank D. Gilroy directs a big screen adaptation of his offbeat western novel, casting real life husband & wife Charles Bronson & Jill Ireland in a romantic comedy that'll keep you on the edge of your saddle! Following a passionate three hour tryst From Noon Till Three, a young widow (Ireland) spins a tall tale about the supposed deeds of her outlaw paramour (Bronson) into a lucrative book. But when her old flame returns to town, he'll have a hard time living up to the legend that his lover has created.
"From Noon Till Three is neither a conventionally comic Western nor a conventional comedy, and it certainly isn't a conventional Bronson film. More than anything else, I suppose, it is an ebulliently cheerful satire of contemporary myth-making and celebrity, cast as a fable of the Old West." – Vincent Canby, The New York Times
"We don't expect Bronson to make small talk, to be charming, to sweep a pretty woman off her feet – but that's what he does in From Noon to Three. And he does it with a certain rugged grace." – Roger Ebert
View the full set of Spanish lobby cards for From Noon Till Three on the New Beverly forum.
Director

Frank D. Gilroy
Starring

Charles Bronson, Jill Ireland, Douglas Fowley, Stan Haze
Year

1976
Rated

PG
Country

USA
Format

35mm
Running Time

99 minutes